Robbie Ray
Robbie Ray
Road warrior Ray leads D-backs against Pirates (May 30, 2017)
Published
May. 29, 2017 11:54 p.m. ET

PITTSBURGH -- Robbie Ray's friendly confines so far are nowhere close to home.
The Arizona Diamondbacks left-hander is 4-3 with a 3.45 ERA, and his 74 strikeouts are tied for sixth in the National League. However, he has been two different pitchers, depending on the locale -- Phoenix, or anyplace else.
Pitching at home, Ray is 1-2 with a 6.75 ERA. In 26 1/3 innings, he has 31 strikeouts and 16 walks. On the road, he is 3-1 with an 0.81 ERA, 43 strikeouts and 13 walks in 33 1/3 innings.
Given that, Ray should find it encouraging to be starting at PNC Park on Tuesday against the Pittsburgh Pirates. Even so, he said geography is irrelevant.
"I don't know anything about it," he said. "All I can say is I'm going out there every five days trying to do the same thing."
Ray is 0-2 over his career against the Pirates with an 8.00 ERA in four starts, including 0-2 with a 5.73 ERA in two starts at PNC Park.
Of the home-away disparity, Ray's manager, Torey Lovullo, said, "Sometimes you have to chalk it up to it just being baseball."
Ray is coming off two outstanding starts, on the road, of course. He pitched 7 2/3 scoreless innings in San Diego on May 20, yielding two hits, and followed that with seven scoreless innings, again giving up two hits, in Milwaukee on Thursday. Winning both games, Ray struck out 15 and walked three.
He attributes his recent work to more consistent mechanics, a quicker delivery and less time spent between pitches.
"I'm starting to feel good about where I am mechanically, feel good about my pitches," he said. "I'm feeling confident. Everything's starting to flow together a lot better. My tempo's been better.
"I'm getting the ball back, I'm getting on the mound, I'm not thinking a whole lot between pitches. I'm just, 'Here we go, here's what I'm throwing, this is what it's gonna be.' Maybe a little less time between pitches to think, sometimes you can get in your own way."
Lovullo added, "Credit to him, where he needed to change his tempo a little bit. It's translated into two very good outings. That's the process every player, not just pitchers, go through during the course of the season. Finding things that click and work and making adjustments."
Challenging Ray not only will be the Pirates' hitters but his mound opponent, right-hander Ivan Nova, perhaps Pittsburgh's most consistent starter.
Nova is 5-3 with a 2.83 ERA, but his value goes beyond that. He has pitched at least six innings in each of his 10 starts, and he has gone at least seven innings five times, including a complete-game shutout. Such extended work eases the workload on his relievers, crucial in today's bullpen-intensive game. He has thrown 70 innings, tied for third in the NL.
In his most recent start, Nova pitched 8 1/3 innings in a 9-4 win over the Atlanta Braves on Thursday, but he was upset he could not go the distance.
"I'm still a firm believer that a guy that can go out and give you seven innings is a great guy to have on the staff," Pirates manager Clint Hurdle said. "We're very happy that we've got Nova here, the work that he's done. He was very hard on himself the other day that he wasn't able to finish. However, you can't just continue to pitch all day, either."
Nova is 1-0 with a 4.09 ERA in two career starts against the Diamondbacks.
---
---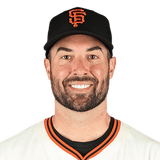 Get more from Robbie Ray
Follow your favorites to get information about games, news and more
---