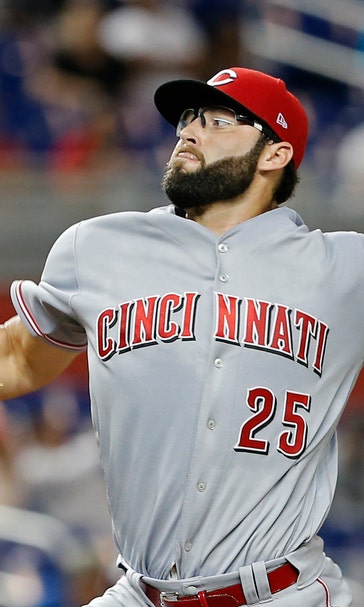 Reed wins in 1st major league start, Reds top Marlins 4-2
September 20, 2018
MIAMI (AP) — Cody Reed is enjoying his starter's role.
After spending the majority of his three-year career in the bullpen, Reed joined the Cincinnati Reds rotation last month, and on Thursday night the left-hander won his first decision as a starter.
Reed pitched six shutout innings and Scooter Gennett homered and doubled to lead the Reds to a 4-2 victory over the Miami Marlins.
"I was happy I got the first but the team got the win, that's the most important thing," Reed said. "I feel good."
Reed (1-2) scattered five hits and struck out six and extended his scoreless streak to 11 innings.
"I was just throwing the ball over the plate," Reed said. "Getting those quick outs and getting the team off the field and back swinging the sticks was good."
Gennett's two-run home run in the seventh gave Cincinnati a 4-0 lead. Gennett's blast off Miami reliever Elieser Hernandez landed in the upper deck in right field and was his 23rd homer.
"I knew I got that one," Gennett said.
The Marlins threatened in the sixth as Starlin Castro and J.T. Realmuto singled, but Reed retired Peter O'Brien on a double-play grounder and Austin Dean on a fly to center.
"He could be a real weapon for us as we face our division where none of those left-handed hitters sit," Reds manager Jim Riggleman said of Reed. "We talk about it all the time. In our own division, we have to find somebody to get those left-handed hitters out and we're hoping he can be one of the guys that can do it."
Realmuto's two-out RBI double off reliever Jared Hughes cut Cincinnati's lead to 4-1. Raisel Iglesias inherited Realmuto and allowed a run-scoring single by O'Brien before retiring pinch hitter Derek Dietrich on a fly to center.
"Everybody went up there and tried to compete," Castro said. "There is nothing more important than coming in here and try to finish strong."
Iglesias walked two in the ninth before Gennett made a diving stop on a hard grounder by Miguel Rojas and threw him out at first for the final out. Iglesias earned his 29th save in 33 opportunities.
"I was just trying to get to the clubhouse and shower, quickest way to do it," Gennett said of his game ending play. "I was kind of playing more straight up rather than pull. If I was, I probably wouldn't have been able to get to it."
The Reds struck early on Gennett's two-run double off Miami starter Jeff Brigham in the third. Gennett drove in Billy Hamilton and Scott Schebler, who had reached on walks.
Brigham (0-3) allowed two runs, three hits, four walks and struck out six in his third major league start since being promoted from Triple A New Orleans on Sept. 1
"I think I learned a lot again in this start," Brigham said. "Every start is a step forward."
REALMUTO VOTED TEAM MVP:
Realmuto, the Marlins' leader in home runs, runs batted in and OPS, has been selected the team's Most Valuable Player in a vote by the South Florida chapter of the Baseball Writers Association. 3B-RF Brian Anderson won the Rookie of the Year award. . The Marlins named OF Austin Dean the organization's Minor League Player of the Year and Nick Neidert Pitcher of the Year. A September call-up, Dean hit .345, 12 home runs and had 68 RBI, in stops at Double-A Jacksonville and Triple-A New Orleans. Neidert, acquired from Seattle for Dee Gordon in the offseason, finished 12-7 with a 3.26 ERA at Double A Jacksonville.
FAMILIAR LINEUPS AHEAD:
The Reds just completed three series against playoff contending teams but Riggleman said he will continue using offensive leaders Gennet, Joey Votto, Eugenio Suarez and Jose Peraza now that the club will play Miami and Kansas City, last in their respective divisions. "I don't anticipate looking at too many different lineups," Riggleman said. "I've been using them as I have to this point."
TRAINER'S ROOM:
Reds: RHP Tyler Mahle, bothered by right shoulder fatigue, will miss his next scheduled start on Sunday and Riggleman is uncertain if he will pitch again this season. "If I had an update as to when he will pitch in a game, I will say so," Riggleman said. "We don't even know if he will pitch in a game between now and the end of the year. He feels fine but we're just going to make a determination - do we want to do it in a controlled simulated situation or putting him a game for two innings?"
UP NEXT:
Reds: RHP Luis Castillo (10-12, 4.52), a former Marlins prospect, will start the second game of the series Friday. Castillo, acquired for RHP Dan Straily before the 2017 season, pitched eight innings, allowed one run and three hits and got the victory in his other previous start against his former team on July 30, 2017.
Marlins: LHP Wei-Yin Chen (6-11, 4.93) will attempt to continue his home success on Friday. Chen has a 1.77 ERA in 12 home starts while his road ERA in 12 starts balloons to 9.29.
---
---