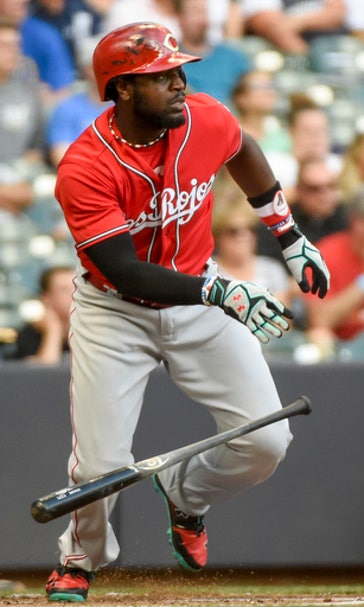 Reds have opening at 2B after trading Phillips to Braves
February 13, 2017

GOODYEAR, Ariz. (AP) The Cincinnati Reds opened a spot for 22-year-old Jose Peraza to become an everyday player when they traded second baseman Brandon Phillips to the Braves for a pair of pitching prospects.
Manager Bryan Price said Monday that Peraza would be the second baseman unless he struggles. Peraza was one of the Reds' most impressive young players last season, batting .324 in 72 games with three homers and 25 RBIs.
''From Peraza's body of work, he's a regular,'' Price said as the Reds opened camp. ''He'd have to play his way off the position.''
The Reds tried repeatedly to trade the 34-year-old Phillips, who used his 10-and-five rights - 10 years in the majors, five with the same team - to block a move. The Reds will pay most of his $14 million salary this season, the final year on his deal.
Cincinnati got left-hander Andrew McKirahan - who missed last season after Tommy John surgery - and right-hander Carlos Portuondo in the deal.
The Reds are in the midst of a massive rebuilding movement, trading most of their core players for prospects in the last two years. They got Peraza from the Dodgers as part of a three-team deal that sent third baseman Todd Frazier to the White Sox after the 2015 season.
With Phillips at second base and Zack Cozart at shortstop, the Reds had trouble getting Peraza regular playing time. Now he has a position. The Reds also could trade the 31-year-old Cozart if another team needs a shortstop.
Phillips' insistence on staying in Cincinnati was blocking Peraza from developing faster. Price was reluctant to sit Cozart or Phillips regularly to give Peraza more time.
''It's not right to take a start a week from established players like that,'' Price said.
The Reds were determined to get Peraza a bigger role somehow even if Phillips had continued to block a trade.
''Going into the offseason, we knew we were going to incorporate Jose Peraza,'' Price said. ''I hope it works out for Brandon.''
Price plans to play Peraza at shortstop and in the outfield during spring training to enhance his versatility. Left fielder Adam Duvall will play at third and first base as well.
Notes: Pitchers and catchers reported and will have their first workout on Tuesday. The first full-squad workout is Friday. ... RHP Homer Bailey had surgery to remove bone spurs from his pitching elbow last week and is expected to start the season on the disabled list. The Reds also will be cautious with minor league right-hander Nick Travieso, who has had shoulder problems. ... The Reds claimed RHP Lisalverto Bonilla off waivers from the Pirates and placed him on the 40-man roster. He last pitched in the majors in 2014, appearing in five games with the Rangers.
---
---