Red Sox rookie's first homer caught by high school opponent
BY foxsports • July 4, 2014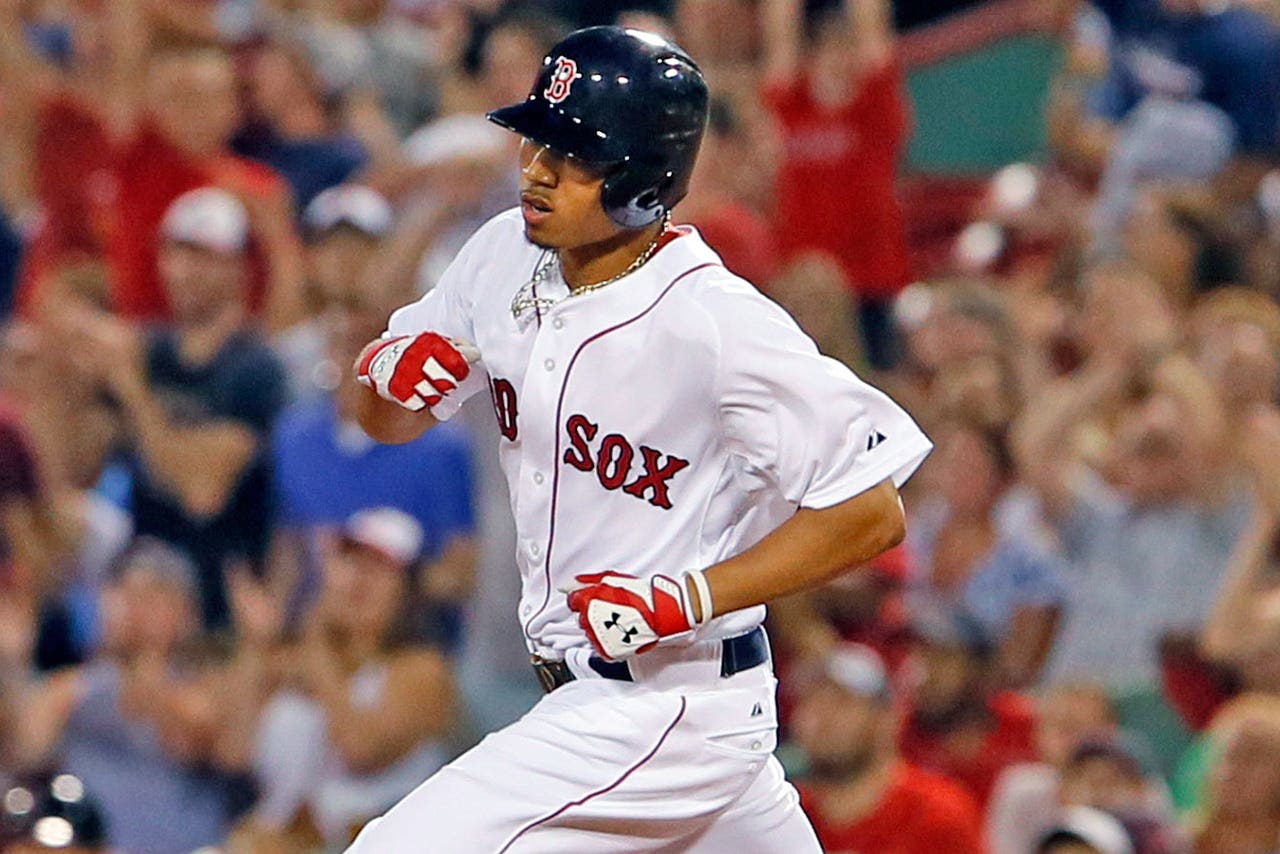 BOSTON — There's been nothing normal about Mookie Betts' ascent through the Boston Red Sox's system. Why would things suddenly change upon the 21-year-old rookie reaching the majors?
Betts hit his first major league home run this week and said much of what you'd expect after the game —€" that it felt great, etc. — but then delivered some eyebrow-raising news: His special homer was caught by a former high school opponent.
Chris Large, a native of Cookeville, Tennessee, corralled Betts' fifth-inning blast into the Green Monster seats. The two played against each other in summer league baseball, with Large even pitching to Betts in a game three years ago. Large tossed a four-hit shutout in that contest, with Betts, not surprisingly, producing two of the hits.
The situation is even crazier when you consider that Large wasn't even in attendance to see Betts play. He just happened to be in Boston, at Fenway Park and sitting in Monster seats when Betts went yard off Chicago Cubs reliever Carlos Villanueva for his first big league long ball.
The coincidence certainly made life easier for Betts, as no bartering was required to obtain the baseball. Large willingly forked over the memento, receiving two autographed baseballs in return.
"Yeah, it is a small world," Betts said. Ya think?
Of course, Betts also said the usual things while talking about the unforgettable moment. In fact, he didn't even think the ball, which easily cleared the left field wall, was going to leave the yard.
"I don't think I'm a home run hitter, so every time I hit it, I'm going to take off sprinting," Betts said. "When I touched home plate, I think I startled A.J. (Pierzynski) because as soon as I turned around he was right there. He started laughing."
Betts said the moment didn't really hit him until he returned to the Red Sox dugout. He's also unsure of how long he'll be able to keep the baseball that Large so kindly returned, as the former fifth-round pick knows his mother, who kept the baseball from Betts' first major league hit Sunday, likely has something up her sleeve.
More from NESN:
Ben Cherington 'Frustrated, Disappointed' About Red Sox's Performance
Jerry Remy Loses Tooth During Broadcast; Don Orsillo Plays Dentist (Video)
Red Sox Trying To Stay Positive Despite Awful Start To Crucial Stretch
---
---