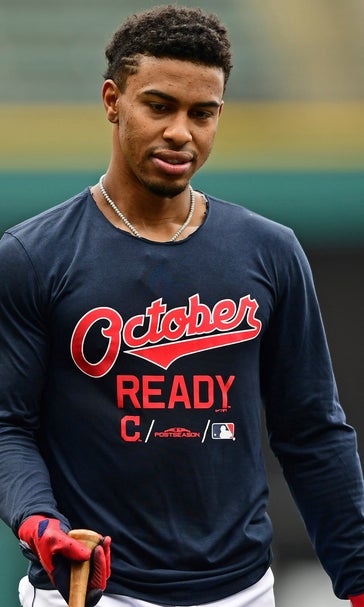 Ready for redemption, Indians eyeing title this October
October 2, 2018
CLEVELAND (AP) — There was new postseason gear awaiting the Indians when they arrived at Progressive Field for an intra-squad scrimmage, one of their last workouts before things get very real.
The fresh swag included blue-and-red T-shirts emblazoned with "October Ready."
"October Redemption" may have been more fitting.
After falling short of a World Series title the past two postseasons with gut-wrenching defeats, the Indians enter the 2018 playoffs looking to finish the job and end baseball's longest championship drought — now at 70 years.
"The last two Octobers," said All-Star catcher Yan Gomes. "We had it in our grasp and it kind of just slipped away."
When the Indians open the AL Division Series on Friday in Houston with 20-game winner Corey Kluber facing Astros star Justin Verlander, those past fall failures won't mean a thing to a Cleveland team that has had several weeks to get healthy and line up its pitching after coasting to a third straight Central title.
But since blowing a 2-0 lead in last year's Division Series to the New York Yankees, the Indians have been focused on getting their next swings on baseball's biggest stage.
This time, they want to make the most off them.
"I certainly think that the way the last the last couple of years have gone have hopefully driven us to work a little bit harder, crave it a little bit more in getting there and being that last team to win a game," said reliever Andrew Miller, whose struggles this season have included three disabled-list stints. "It's not going to be easy. There's a lot of good teams that you got to go through and you got to have a lot of things probably go your way.
"You got to have luck on your side on top of it all, so this team is as capable as anybody. It's just a matter of us getting those breaks and playing up to our ability."
The Indians enter this postseason with fewer questions than in previous years.
Kluber is pitching as well as ever and the two-time Cy Young winner isn't plagued by the back issues that led to him being so ineffective in last season's ALDS. All-Star outfielder Michael Brantley is healthy as well, and Cleveland's lineup — driven by dynamic infielders Francisco Lindor and Jose Ramirez — is deeper than ever following the late-season acquisition of third baseman Josh Donaldson, the 2015 league MVP.
Jason Kipnis has a postseason of playing the outfield under his belt, and Ramirez, who was in the thick of the MVP race before a September swoon, has shown signs of emerging from his slump.
The Indians' bullpen has had some major problems, but lefty Brad Hand gives manager Terry Francona another late-inning option, and don't be surprised if starter Trevor Bauer, who recently returned from a broken leg, is used in key relief situations.
Francona believes his team is hitting its stride at just the right moment.
"We were so unsettled last year in the playoffs," he said. "We went through a lot of that the last two weeks. It's not a lot of fun, because it's unsettling. But I think — in fact, I know — it was for a good reason. Now, we're going to see if it pays off. We think we have Donaldson in a good place. We think Andrew's come so far. Kip's had three weeks to play center field. Jose's had three weeks at second.
"If you have too many question marks, sometimes the answer is no. And we really don't want that to happen."
The Indians don't want a repeat of last October, either.
Cleveland won the first two games at home over New York before losing 1-0 in Game 3, which could have easily gone to the Indians if Yankees right fielder Aaron Judge didn't reach over the right-field wall to rob Lindor of a two-run homer.
The Yankees went on to win Game 4 and closed out the series in Cleveland, bringing back painful memories for Indians fans who witnessed the Chicago Cubs end their Series drought on the same field a year earlier.
"We didn't put our best foot forward the last couple games," Francona said, reflecting for a moment on last season. "Saying that, shoot, you've got to look at things in perspective. If Judge is 6'1 instead of 6'9, we probably win Game 3."
This October run for the Indians begins with a tough matchup against the defending World Series champions.
Houston has it all, including a title Cleveland wants.
"It's going to be one of the most evenly-matched series of the first rounds," Kipnis said. "In terms of staff, we line up with them. In lineup, we line up with them. It's going to be a lot of fun to lace it up and get on out there. It doesn't matter how you've done. In October last year we thought we were the best team and had a lot of wins, and here come the Yankees.
"Once it gets to October, anything goes and anything can happen. That's the fun part about it."
---
---