'Read. The. Report.' — From the scout who signed Jeter
BY foxsports • September 25, 2014
For a number of years, Dick Groch and I have watched many of the same baseball games — mostly at Detroit's Comerica Park, since both of us live in Michigan.
Groch is a special assistant to Milwaukee Brewers general manager Doug Melvin, in charge of pro scouting and player personnel. Within the industry, he has another lofty title: He was the area scout who signed Derek Jeter — of Kalamazoo (Mich.) Central High School — for the New York Yankees in 1992.
I remember one occasion, early in the 2011 season, when Jeter was mired in a slump as the Yankees arrived in Detroit. (Especially in recent years, even a temporary offensive lull for Jeter would create mild hysteria among the media.) I saw Dick in the press box and said something like, "Hey, your guy from Kalamazoo Central isn't doing so well. When's he going to break out of this?"
Dick smiled and said, "I watched him today. He took a good B.P. He's going to be fine."
Jeter started a seven-game hitting streak that night.
So when I saw Dick in Chicago last weekend, the subject of Jeter's retirement naturally was the first thing we discussed. And even more palpably than usual, I could sense Dick's pride at the culmination of Jeter's two decades in the game.
When a scout recommends that his bosses sign a player, he's putting his knowledge of the game, his professional reputation, and even his job security on the line. This is a deeply personal act for baseball lifers. The scout is saying, "I believe this kid can play, and here's how much he is worth." If he's wrong on either of those points — the ability or the dollars — the higher-ups won't forget because the recommendation is in black and white on a scouting report.
Scouts know the number of big leaguers they've signed as instinctively as the number of children they have. So how must it feel to know your name is forever attached to an icon of the sport, a surefire first-ballot Hall of Famer?
"I'm glad the report is still there," Groch said with a grin. "Read. The. Report. I feel very safe in saying, 'Read the report.'"
Within a couple days, Groch's son Brian emailed me a copy of the report.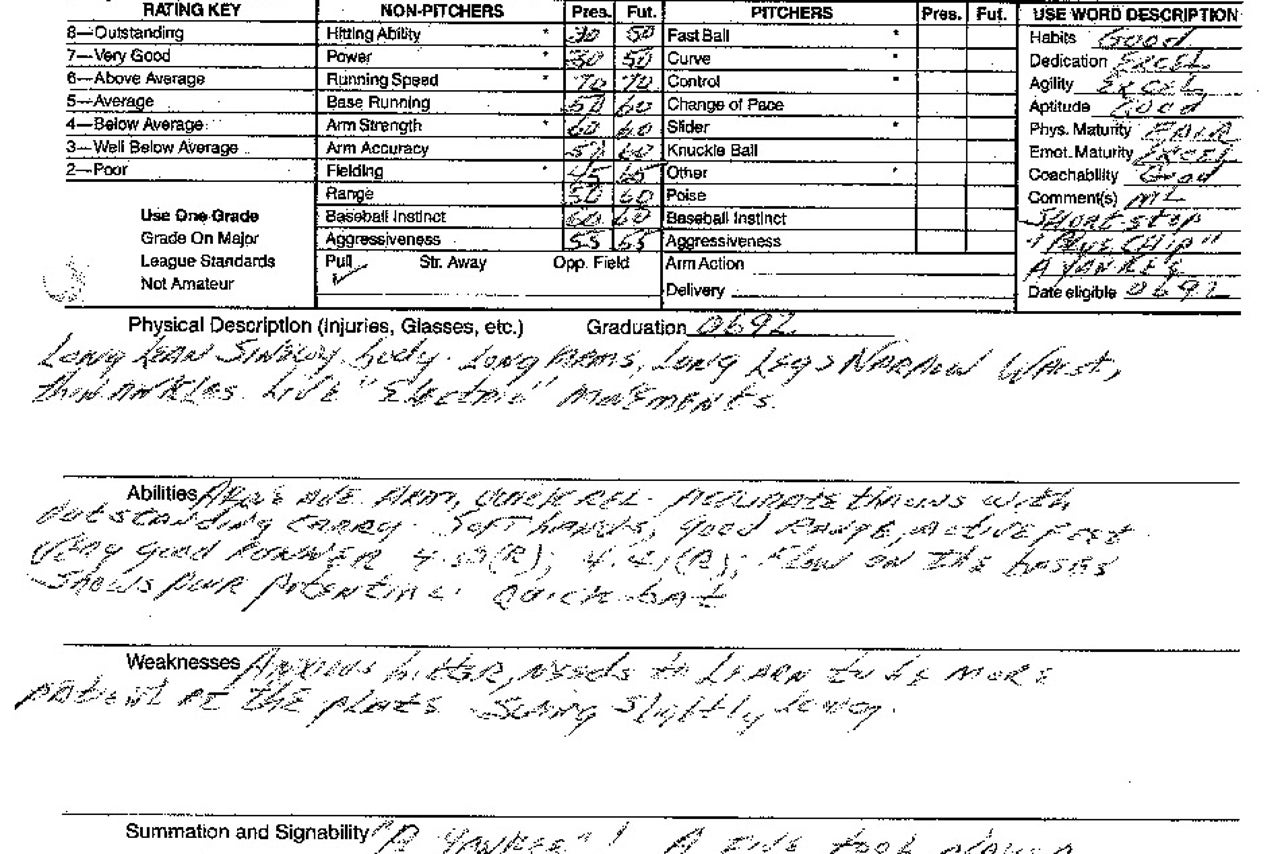 Original Jeter Report
There were the words, at the very bottom:
A Yankee! A five-tool player. Will be a ML star!
Dick Groch was right then, too.
Groch saw Jeter play for the last time in person on Aug. 28, the finale of the Yankees' series in Detroit. He brought his grandson, 12-year-old Ronin, which had historic significance within the family: Groch took Brian to Mickey Mantle's final game in Detroit during the 1968 season.
Groch and Jeter met and talked before that afternoon's game, in a corridor near the Yankees' dugout. Jeter autographed a ball for Ronin; they shook hands and posed for a picture snapped by a photographer from Kalamazoo.
"And I gave him my little speech," Groch recalled. "He said, 'Thanks for what you've done.' I said, 'I didn't do anything but tell the truth.' "
So what was the little speech?
"I really appreciate everything you did baseball-wise, but that's a small part of the contribution you made to society, with the Turn 2 Foundation," Groch remembered telling Jeter. "[Everyone who] buys the Derek Jeter shirts, those kids want to be like you — not only as a player, but as a person. Some of those people followed that track. Others obviously deviated. But there were some who did what needed to be done because they wanted to be like you.
"The last time I went to Yankee Stadium, I saw a guy there with two boys who had Jeter shirts on. I asked them, 'Are you going to see the Yankees play?' They said, 'No, we're going to see Derek Jeter.' That's the influence you have. This is the contribution you're going to be recognized for — the impact on society and young people."
Quite a powerful "little speech."
As Groch told the story, I had one last question: Was he able to enjoy that game solely as a spectator with his grandson . . . or was he scouting, too?
A sheepish look.
Yes, Dick Groch filed a report that day, too.
"I wasn't going to, but [Kyle] Lobstein pitched," Groch said of the Tigers' rookie left-hander. "I hadn't seen him before."
---
---