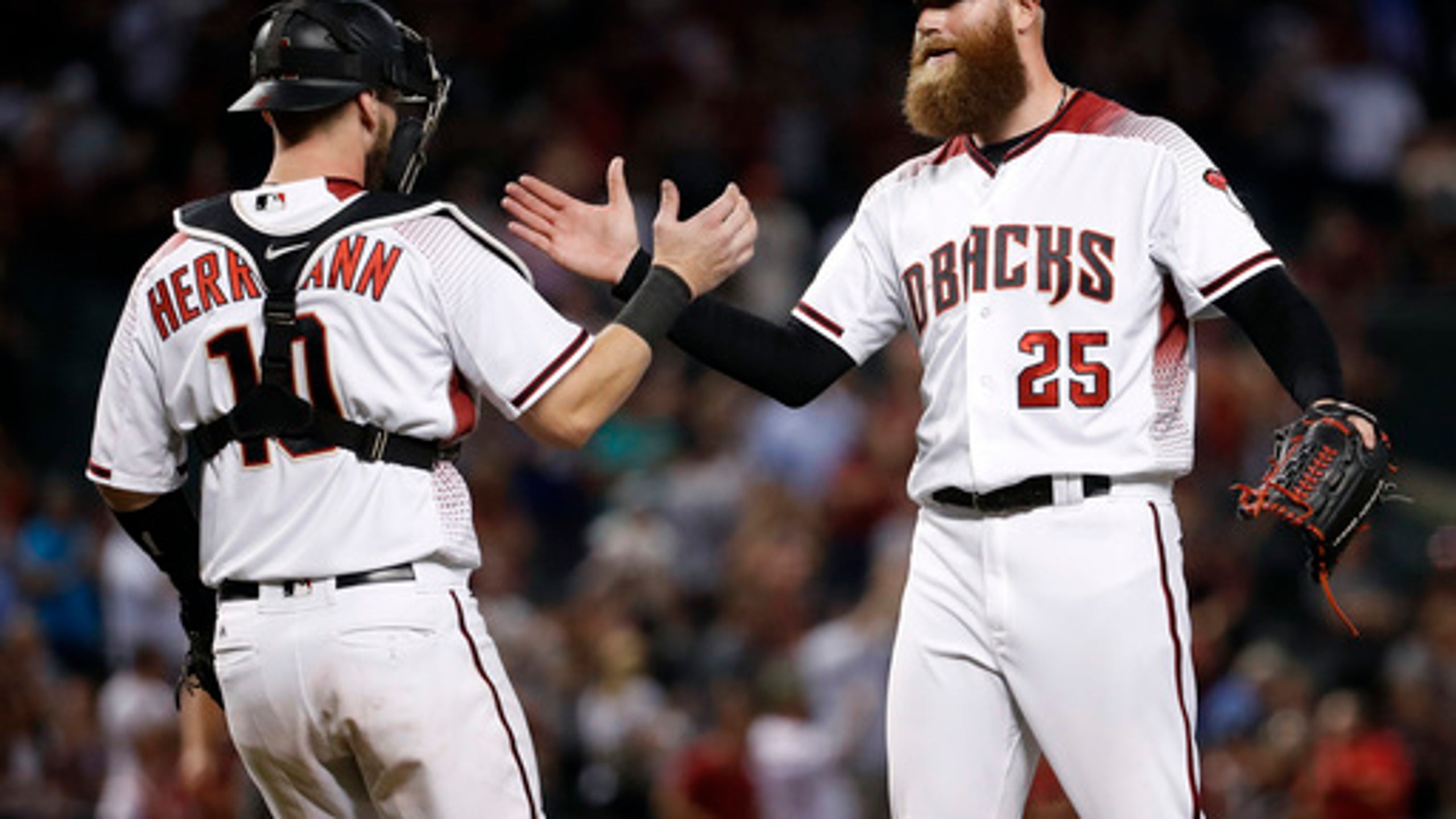 Pollock has 4 RBIs, Corbin pitches D-backs past Rockies 8-2 (Sep 13, 2017)
BY AP • September 14, 2017
PHOENIX (AP) Paul Goldschmidt is a leading MVP contender who would rather not talk about his own accomplishments. But 1,000 career hits wasn't something that could be ignored.
The star slugger from the Arizona Diamondbacks downplayed his milestone that came in an 8-2 win over the Colorado Rockies on Wednesday night. He said his mind is on the team's success, and he might reflect on personal achievements after this season or at the end of his career.
''I don't care. It's better than 999, but it is what it is. It was a hit,'' Goldschmidt said of No. 1,000. ''The only thing I care about is us trying to win that game, so I'm glad we won.''
Later on, A.J. Pollock homered and drove in four runs to back another strong outing by Patrick Corbin as the Diamondbacks expanded their lead in the wild-card race.
Pollock launched a three-run homer in the seventh inning and finished with three hits.
The win gave the Diamondbacks a four-game edge over the Rockies for the top National League wild card. Arizona lost four of its previous five, including the first two games of this series.
Colorado's six-game winning streak and eight-game road winning streak both came to an end.
''Big win for us. The first two games were real tough,'' Pollock said. ''I just felt good out there. I feel like I can get in the zone and I feel like I can do some damage.''
Pollock was dropped from the second spot in the batting order to seventh, where he hit for the first time this season.
''Doesn't matter. I'm going to get my at-bats and try to help the team win, and that's what I did,'' he said.
Corbin (14-12) held the Rockies to one run and four hits over 6 2/3 innings, striking out seven with two walks. The left-hander is 6-1 in his last seven starts since Aug. 12.
''Just felt good. I thought I had a really good sinker and just stayed on the corners,'' Corbin said. ''I was able to throw my breaking ball for a strike, too.''
Arizona got 11 hits off starter German Marquez (10-7), who lasted only 3 2/3 innings. He gave up four runs.
The Diamondbacks scored once in each of the first five innings, taking a 5-0 lead in the fifth on Pollock's double after J.D. Martinez walked.
Arizona grabbed a 1-0 lead early. Jake Lamb, who was 0 for 12 with one RBI over the previous four games, singled in David Peralta, who led off the first with a double.
Lamb also hit a run-scoring double in the fourth and reached 100 RBIs for the first time in his career.
''They jumped on (Marquez) extremely fast,'' Rockies manager Bud Black said. ''First-pitch swings right off the get-go. Some ground balls found holes. A couple of those balls could have been turned into double plays.''
Peralta lined a two-out double to drive in Corbin in the second, giving the Diamondbacks a 2-0 advantage. Corbin had two hits and scored twice, and Martinez had an RBI double.
DJ LeMahieu's eighth homer was the Rockies' first run of the game. It came in the sixth off Corbin. Carlos Gonzalez scored on Jonathan Lucroy's groundout in the ninth.
Pollock's home run curled into the Arizona bullpen in the left-field corner, caught by reliever Archie Bradley on the fly.
GOOD AS `GOLDY'
Goldschmidt received a partial standing ovation after his third-inning double that gave him 1,000 hits. He's the second player in club history to accomplish the feat, along with Luis Gonzalez, who had 1,337. ''It was nice of them to definitely cheer right there,'' Goldschmidt said.
TRAINER'S ROOM
Diamondbacks: INF Chris Owings (broken right middle finger) has been cleared to take grounders and work on his grip strength. He's been on the 60-day disabled list since July 31, but could return to the active roster before the end of the regular season. ... C Jeff Mathis also has a chance to return, manager Torey Lovullo said. Mathis has been on the 10-day DL with a broken right hand since Aug. 22.
UP NEXT
Rockies: RHP Chad Bettis (1-2) is scheduled to start the finale of the four-game series Thursday. He is coming off his first win of the season.
Diamondbacks: RHP Zack Godley (7-7) has won both his starts against the Rockies.
---
More AP baseball: https://apnews.com/tag/MLBbaseball
---
---