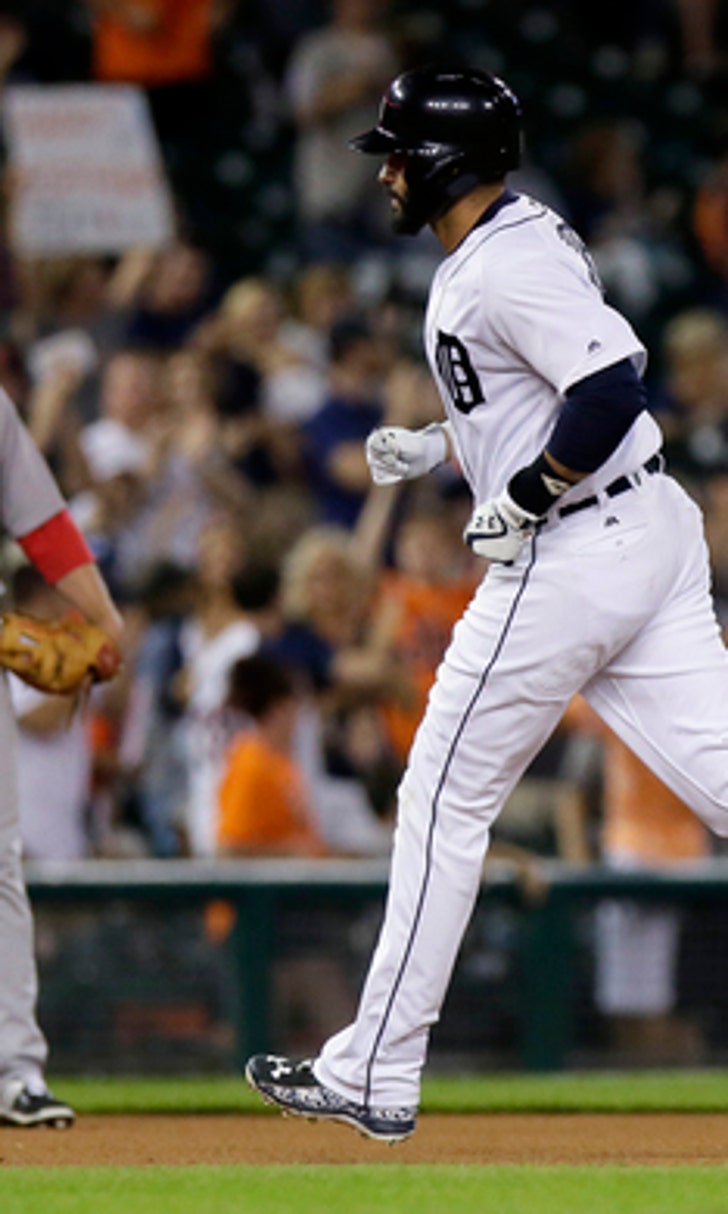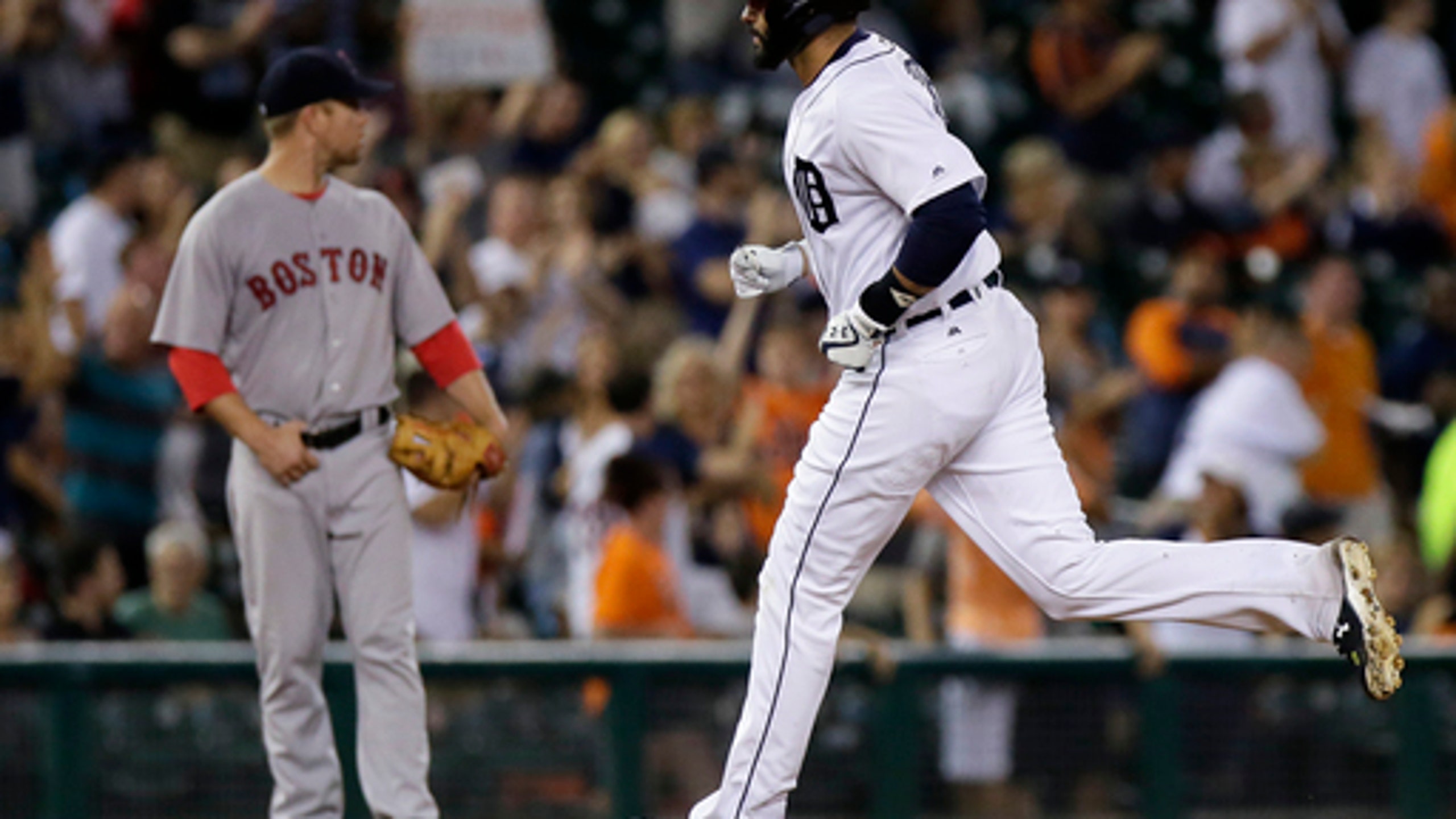 Ortiz homers after being honored, Red Sox beat Tigers 3-2
BY foxsports • August 21, 2016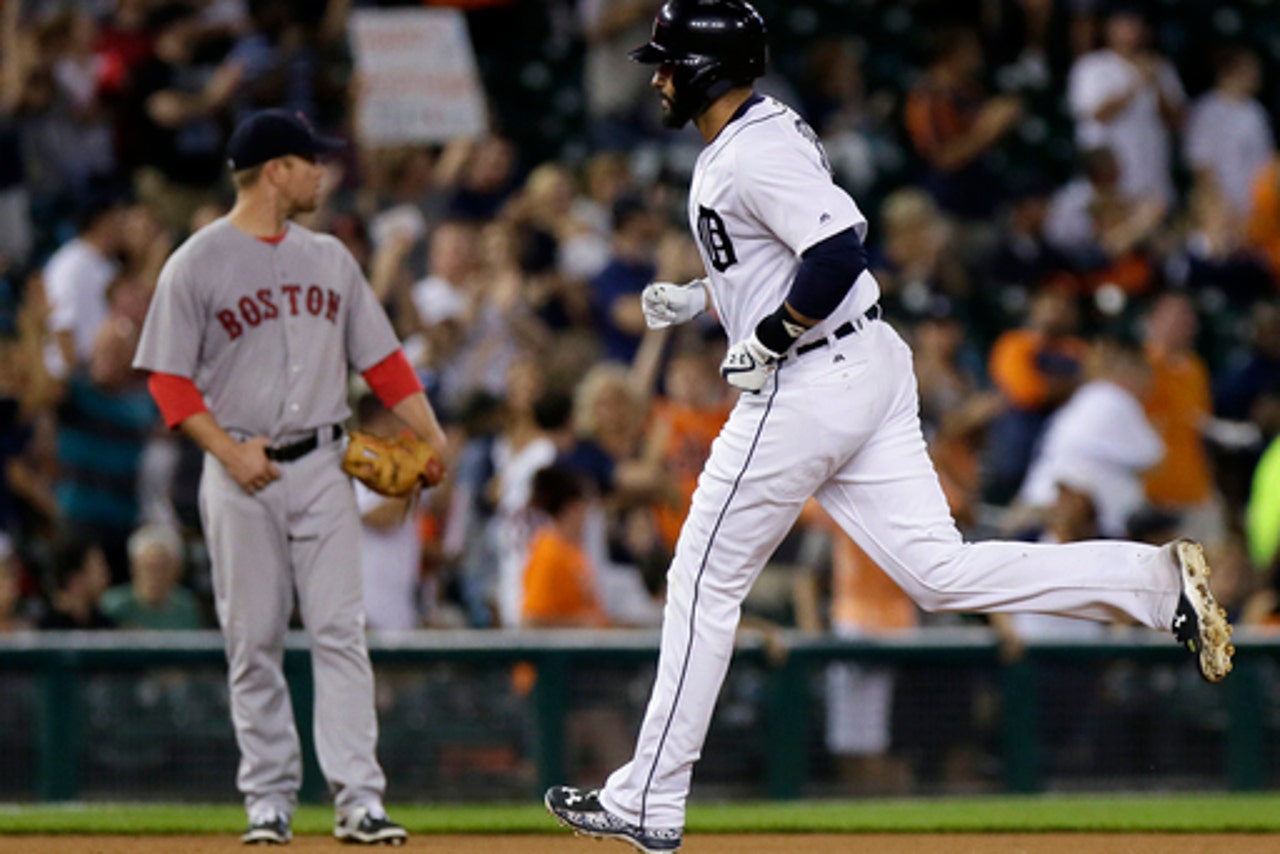 DETROIT (AP) The Detroit Tigers honored David Ortiz with a pregame ceremony that included two of his closest friends in baseball.
It didn't help.
Ortiz's two-run homer in the fifth inning turned out to be the difference in Boston's 3-2 victory over the slumping Tigers on a rainy Saturday night.
''It was a hanging breaking ball, and I got it,'' Ortiz said.
When asked if he knew the ball was gone off the bat, he laughed.
''Of course I knew. Next question.''
Hours earlier, Tigers general manager Al Avila had joined with Miguel Cabrera and Victor Martinez for a tribute to Ortiz's career . After all three talked about Ortiz's impact in pre-recorded videos, they presented him with a large framed photograph from his appearance in the 2005 All-Star Game in Detroit.
''That meant a lot to me, because those two guys are brothers to me - they are family,'' Ortiz said. ''To hear what they said about me was great. They will stay with me forever.''
The start of the game was delayed 80 minutes by storms that moved into the area during the afternoon, and another heavy downpour interrupted the game for about 71 minutes after the fifth inning.
''That was a long night, but we never lost our focus,'' Red Sox manager John Farrell said. ''Luckily, David got a high fastball and put it out. We needed that.''
Drew Pomeranz (2-2) gave up one run and four hits in five innings. He struck out three, but did not walk a batter. Craig Kimbrel got the last four outs for his 22nd save.
''When we knew we were going to need to get Miggy, Victor and J.D. Martinez, the four-out save seemed like the right decision,'' Farrell said.
Kimbrel retired those three, but still almost blew the save.
Justin Upton drove a ball to deep center field and started celebrating the game-tying homer, but it hit inches from the top of the fence, 420 feet away.
''I hit that ball about as good as I can hit it,'' Upton said. ''I was obviously shocked, but at the same time you know what park you are playing in. It's a big yard out there.''
Upton ended up on second, and Casey McGehee struck out to end the game at 12:17 am.
James McCann and J.D. Martinez homered for the Tigers, who have lost 10 of 13.
''We can't worry about that - we have another game tomorrow,'' Tigers manager Brad Ausmus said before looking at the clock. ''Well, we actually have another game later today.''
Daniel Norris (1-2) took the loss, giving up three runs and eight hits in his five innings. He walked two and struck out four while escaping multiple jams.
''I thought he looked good,'' McCann said. ''We attacked with his fastball and had success, but unfortunately the rain cut his outing short.''
Boston took the lead in the third, but could have had a much bigger inning. Dustin Pedroia, Xander Bogaerts and Ortiz started it with singles to load the bases, but Mookie Betts hit into a double play.
Pedroia scored and Norris walked Hanley Ramirez before retiring Jackie Bradley Jr. to end the inning.
McCann then tied the game with a solo homer in the bottom of the inning.
Ortiz, though, broke the tie in the fifth with his second homer in two nights. The two-run shot gave him 1,500 RBIs with the Red Sox.
The Tigers put their first two runners on in the bottom of the fifth, but McCann hit into a double play and Andrew Romine grounded out. Moments later, the second storm hit, resulting in a 71-minute delay.
Martinez pulled the Tigers to 3-2 with a long homer to left in the seventh. Matt Barnes walked two batters in the eighth, but Erick Aybar popped out on the first pitch he saw for the second out.
That brought Kimbrel in to face Cabrera for the first time in their careers. Cabrera lined out to left field on an 0-1 pitch.
''I thought that Craig getting out of that on two pitches was huge,'' Farrell said. ''That set him up to get able to get through the ninth.''
TRAINER'S ROOM
Red Sox: OF Chris Young (hamstring) has played in six rehab games with Triple-A Pawtucket, and is hitting .211 (4-for-19) with two doubles. He has also played three games in left field.
Tigers: OF Cameron Maybin (wrist) took batting practice with the team in the indoor cages under the stands. The Tigers hope to have him back in about a week.
THANKING BIG PAPI
During his speech, Avila joked about Detroit also always remembering the damage Ortiz has done - a reference to his series-changing grand slam in the 2013 ALCS - while Cabrera, speaking in Spanish, pleaded with him to play one more season.
UP NEXT
The teams finish the four-game series Sunday afternoon with Detroit ace Justin Verlander (12-7, 3.44) facing Boston's Henry Owens, who is replacing scheduled starter Eduardo Rodriguez (hamstring). The Red Sox are one of the few teams with a positive record against Verlander, who is 4-5 with a 3.05 ERA in 14 starts against them.
---
---