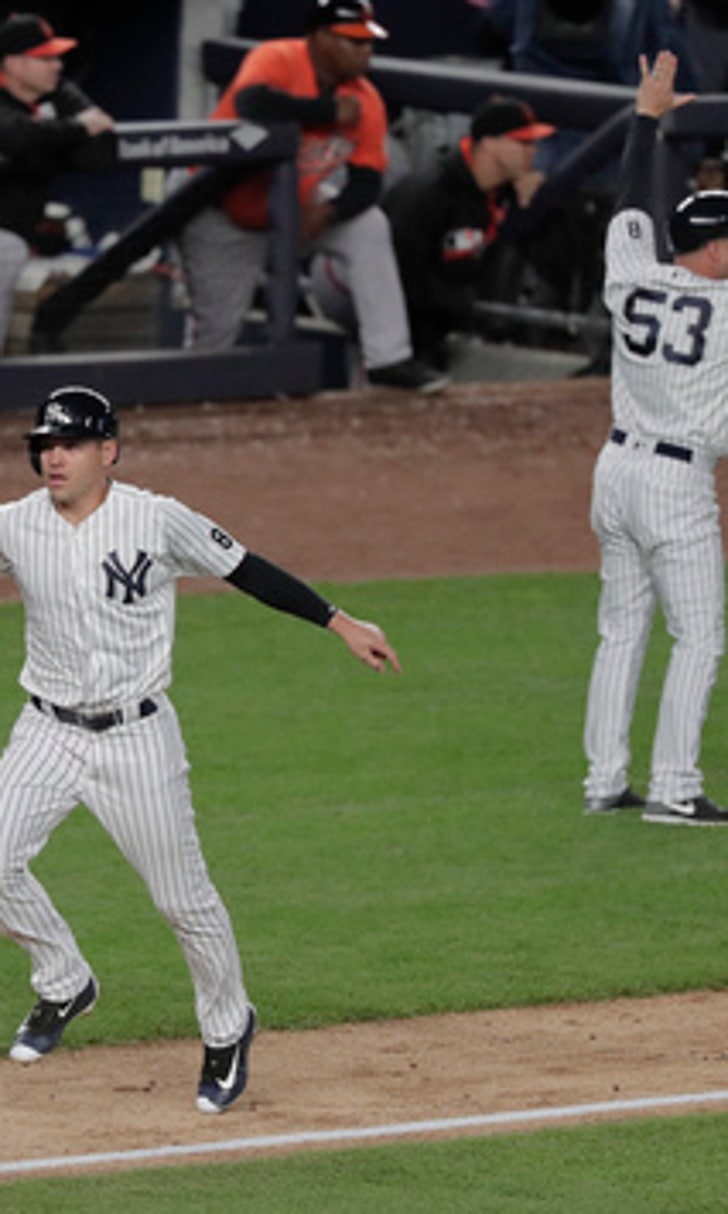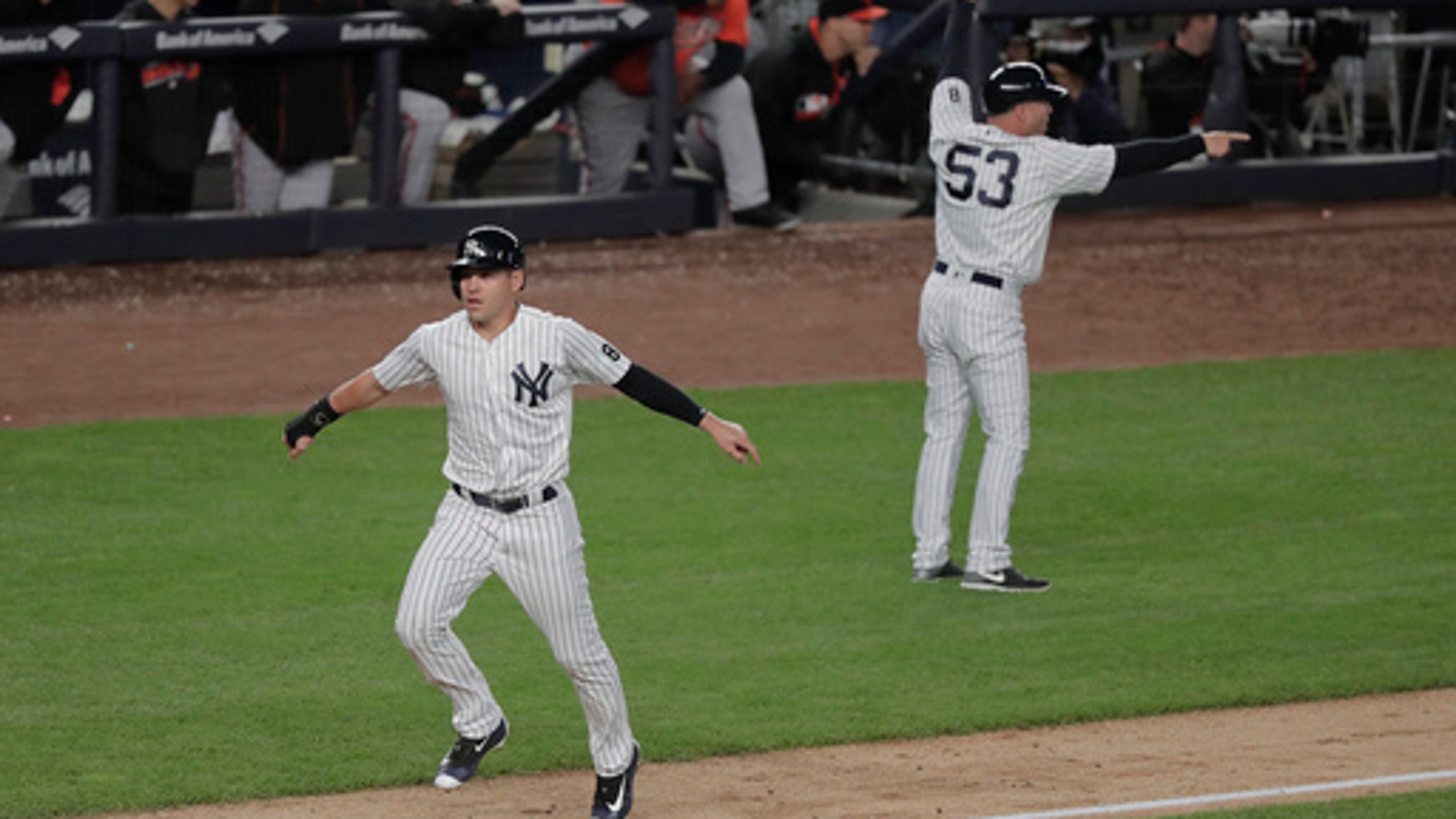 Orioles stumble late as Yankees rally for 7-3 win
BY foxsports • October 2, 2016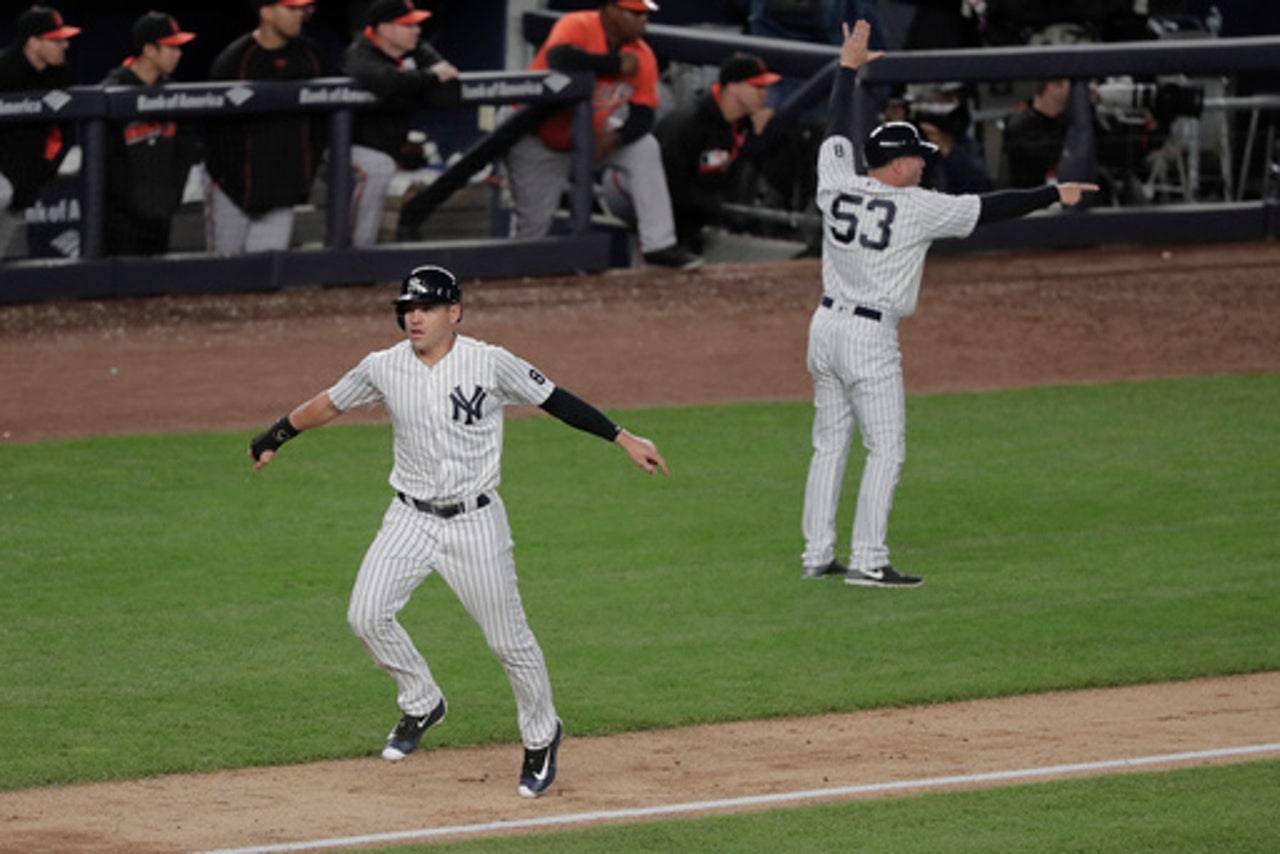 NEW YORK (AP) Brad Brach picked up Austin Romine's bat behind home plate and slammed it to the turf. On the verge of moving into position to clinch no worse than a tiebreaker game for a playoff berth, the Baltimore Orioles let the opportunity slip away.
''Tomorrow is what we've been playing the whole season for anyway,'' Matt Wieters said after Baltimore wasted a three-run lead Saturday in a deflating 7-3 loss to the New York Yankees. ''It shouldn't be hard to get ready for a game tomorrow.''
Fittingly in this season of alternating promise and frustration, game No. 162 will be needed to determine the Orioles' fate.
They had a 3-0, fifth-inning lead against an already eliminated opponent and an 81.5 percent probability of winning the game, according to Fangraphs. A victory plus a loss by Toronto or Detroit later Saturday would have clinched a wild-card berth.
New York closed with a run each in the fifth and sixth, and Tyler Austin tied the score in the seventh when he drove Wade Miley's slider into the Yankees bullpen in right center. Romine then dumped Brach's slider over a drawn-in infield and into short left for a tiebreaking, two-run single in the eighth, and Brett Gardner followed with a two-run double against Oliver Drake.
''It seemed like we were in control there for six innings, and all of a sudden you look at the scoreboard and it's tied,'' Brach said.
Baltimore dropped into a tie with Toronto for the AL's two wild cards at 88-73, with Detroit 1 1/2 games behind at 86-74. Seattle was eliminated Saturday night with a 9-8, 10-inning loss to Oakland.
Brach planned to watch the other games on television.
Not Orioles manager Buck Showalter.
''I'll find something else to do. Maybe even sleep,'' he said. ''There's an interesting thought.''
Despite Saturday's disappointment, Baltimore could clinch with a victory over the Yankees on Sunday.
Mark Trumbo tied his season high with four hits, and the Orioles built a 3-0 lead against Luis Severino on Michael Bourn's two-run single in the second and Manny Machado's 37th home run. Machado's third-inning, opposite-field drive to right ended an 0-for-17 slide.
Austin sparked the comeback with an RBI single in the fifth and a home run in the seventh around Chase Headley's run-scoring double in the sixth.
With the score 3-all, Brach (10-4) relieved with one out in the eighth and walked pinch-hitter Jacoby Ellsbury. Headley doubled again, just past the glove of diving first baseman Chris Davis and down the right-field line.
''When things are going bad, it's what's going to happen,'' Brach said. ''Chase just placed it right. Sometimes it's better to place it right than hit it hard.''
Brach walked Ronald Torreyes with two outs, Drake relieved and Gardner doubled to left. Brach was charged with a season-high four runs, and the All-Star setup man has allowed 13 hits and five walks over 12 1/3 innings since the start of September,
''It's almost impossible to continue at the level he was pitching for about three-fourths of the season,'' Showalter said.
Tyler Clippard (2-3) pitched a perfect eighth, and Dellin Betances struck out the side after an infield hit in the ninth. The Yankees stopped the Orioles' three-game winning streak and sent them to their second loss in eight games.
Wieters planned to focus on the other contenders before getting ready for Sunday.
''I'll watch `em,'' he said. ''It would have been nice watching them with the win today.''
THE EXTRA MILEY
Coming off an 11-strikeout win over Arizona, Miley fanned nine, walked one and allowed nine hits in six-plus innings.
''Just a couple of mistakes I made later in the game,'' he said.
Austin fell behind 1-2 in the seventh and worked the count full before the fateful slider.
''Kind of spun over the middle of the plate,'' Miley said. ''He hammered it.''
EXPANDED ROSTERS
Showalter is not a fan of the expansion of active rosters from 25 to 40 from Sept. 1 on, which allows streams of pinch hitters and relief pitchers.
''This convoluted thing called September, you're just picking your poison,'' he said, pointing out the Yankees had Gary Sanchez, Brian McCann, Didi Gregorius and Ellsbury on their bench. ''It's why guys on the field shake their head about the way it is now.''
STUBBORN MULE?
Showalter talked about how his wife had bought a pair of miniature donkeys.
''She says now she has three jackasses,'' he cracked.
UP NEXT
RHP Kevin Gausman (8-12) is scheduled to start Sunday for Baltimore. RHP Luis Cessa (4-3) is slated to pitch for New York.
---
---