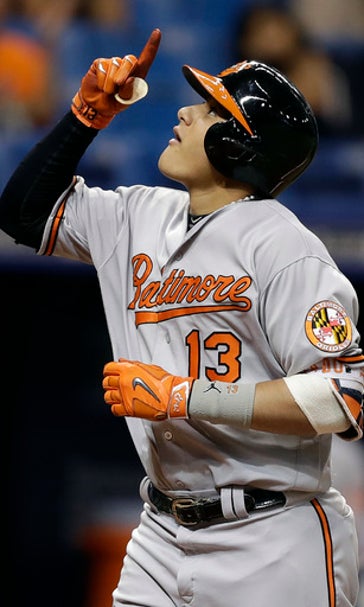 Orioles' Machado practices at shortstop for world classic
February 19, 2017

SARASOTA, Fla. (AP) Before he leaves for the World Baseball Classic, Manny Machado is making the most of his short time at Baltimore Orioles camp.
Machado, who was born in Miami, will play shortstop for the Dominican Republic in next month's WBC, and with the Orioles' everyday shortstop J.J. Hardy injured, he's getting to play as much short as he wants before his March 5 departure. He estimates he'll play six or seven spring training games before the WBC.
''I'm probably going to be playing 162 this year,'' Machado said. ''Just monitoring it, don't exaggerate it, don't over-do it. Just a matter of quality over quantity.''
In 2015, Machado played all 162 games, and he played 157 last season - missing four games because of a suspension for brawling with Kansas City Royals pitcher Yordano Ventura - and one because of the flu.
Baltimore will lose five major league players during the WBC. Machado and catcher Welington Castillo will play for the Dominican Republic. Center fielder Adam Jones and right-handed pitcher Mychal Givens are on Team USA, and second baseman Jonathan Schoop will play for the Netherlands.
Manager Buck Showalter has given his regulars the choice of when and where to play.
''Buck came up to us and set up a nice little program of what games we want to play in and what games we want to play before,'' Machado said. ''You also don't want to go in and play too many games early on and get tired. I know we're going to play quite a few games in the Classic.''
Machado, a three-time All-Star and two-time Gold Glove winner at third base, could play other positions in the world classic, especially because teammate and Texas Rangers third baseman Adrian Beltre will miss at least the opening round with a left calf strain.
''I told them I'll play whatever,'' Machado said. ''I really didn't say one position. I'll play short. I'll play third. I told them I'll play first, it don't matter. I just want to go out there and represent the country and represent my family in the right way.''
Last June, Machado charged the mound when Ventura threw at him. He had harsh words that night for the right-hander, but after Ventura was killed in a car crash in the Dominican Republic on Jan. 22, Machado reached out to Ventura's family.
''I know we had our altercations on the field, but you know what, you leave stuff on the field,'' Machado said. ''I was just trying to reach out to the family and see if they needed anything. It's just sad to see a great guy like that and a great baseball player who had a bright future ahead go down like that.''
Two seasons removed from free agency, the 24-year-old Machado could be one of the most highly sought players. That's not currently on his mind.
''It's something that I'm not worried about it,'' Machado said. ''I'm trying to play baseball. I'm not going to sit here and answer these questions because there have been no talks.''
---
---