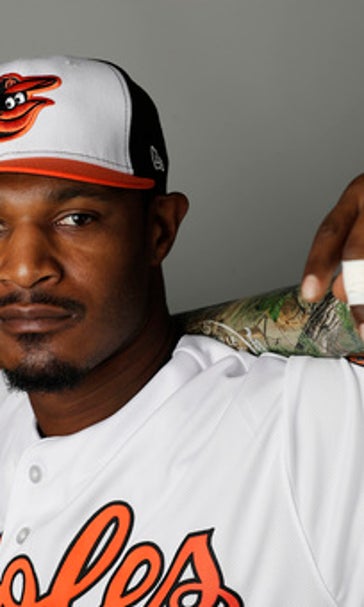 Orioles' Jones wants to do more than just get to playoffs
February 23, 2017

SARASOTA, Fla. (AP) Adam Jones and the Baltimore Orioles have been to the postseason three times in the past five years. That's not enough anymore for the talented center fielder.
Only once, in 2014 have the Orioles reached the American League Championship Series, and they were swept in four games by the Kansas City Royals.
''For us to be a very contending team and to get out of that first round and past that wild card, we need to improve,'' said Jones, a five-time All-Star and a four-time Gold Glove winner.
Last month, Jones said Baltimore needed to improve its outfield defense. While he admires left fielder Hyun Soo Kim and thought the acquisition of Seth Smith and re-signing of major league home run king Mark Trumbo were wise moves, Jones wanted more.
The Orioles signed two veteran free agent outfielders - Craig Gentry and Michael Bourn - to minor league contracts. Both are known as plus-defenders and have speed, and Bourn played well in the final month of the 2016 season after he was acquired from Arizona.
''Those are two guys who have great track records of catching the ball. I'm thrilled to have them in camp, but what you have to understand is that the everyday players are probably going to be Trumbo and Kim or Seth and Kim,'' Jones said.
''You see that they're here so that means that the team is - not necessarily listening to me - but they've been watching the game. It's reality,'' Jones said. ''You watch the game and you see what we're lacking. And it's not any jabs against any other person . Some people just excel at different things.''
When spring training began on Feb. 13, Baltimore executive vice president of baseball operations Dan Duquette suggested one way the team could better its outfield defense would be for Jones to play a deeper center field.
Four days later, Jones answered Duquette in the team's first workout by jokingly playing in the deepest part of center field.
Jones denied that he was sending a message, saying: ''We're all entitled to an opinion, correct?''
He'll be leaving the team on March 6 to play for Team USA in the World Baseball Classic, and wants to play in as many games as possible before then. Jones is scheduled to make his spring debut on Saturday against Pittsburgh in Bradenton, Florida.
''The WBC's important, very important, but the most important thing is playing for the Orioles and playing from April to hopefully October. I understand that's most important, but I'm going to go out there and give my all for Team USA because it is very, very important for me to go out there and represent my family,'' Jones said.
Even though Jones has often made his suggestions public, he remains confident in his team.
''I'm not concerned about who we have in here right now. I just know that at the All-Star break when we're at the trade deadline and we're in extreme competition, I know that the front office will get us the help that we need,'' Jones said.
NOTES: RHP Chris Tillman (shoulder) said he's been progressing, and is on schedule to make his Grapefruit League debut on March 17. . LHP Zach Britton (oblique) feels improved, but won't pitch in a game until his soreness is completely gone. . Manager Buck Showalter said that SS J.J. Hardy (back) received a cortisone shot.
---
---