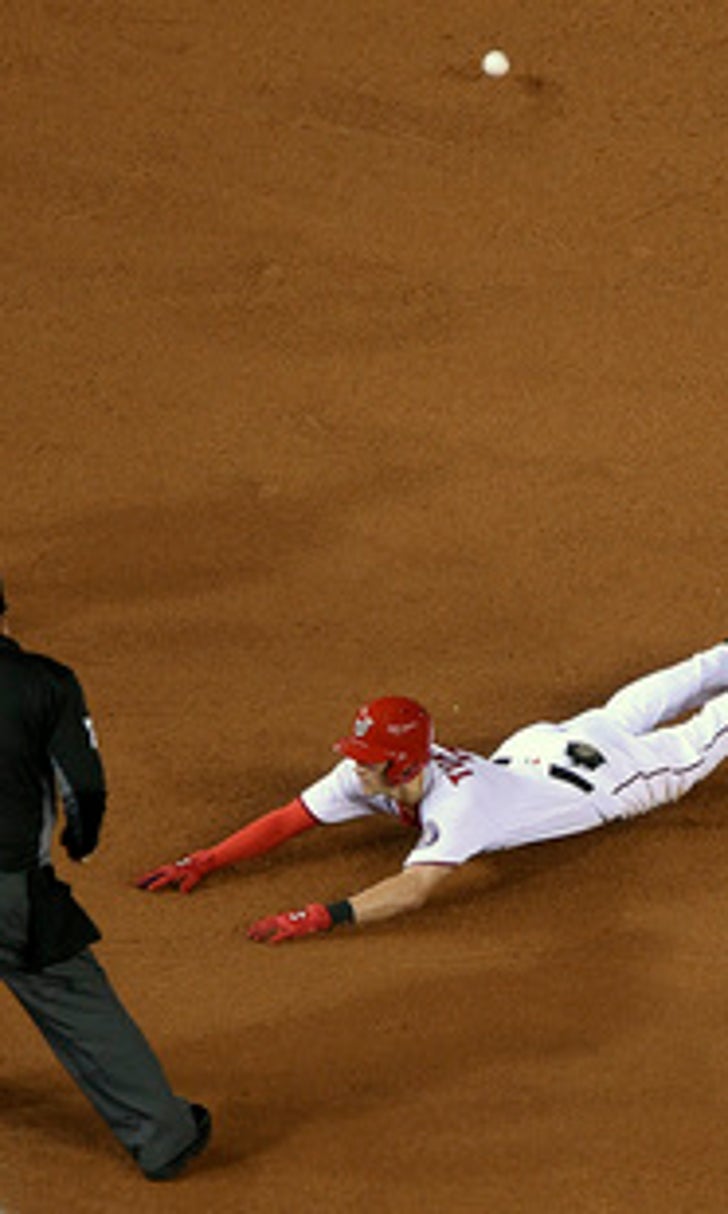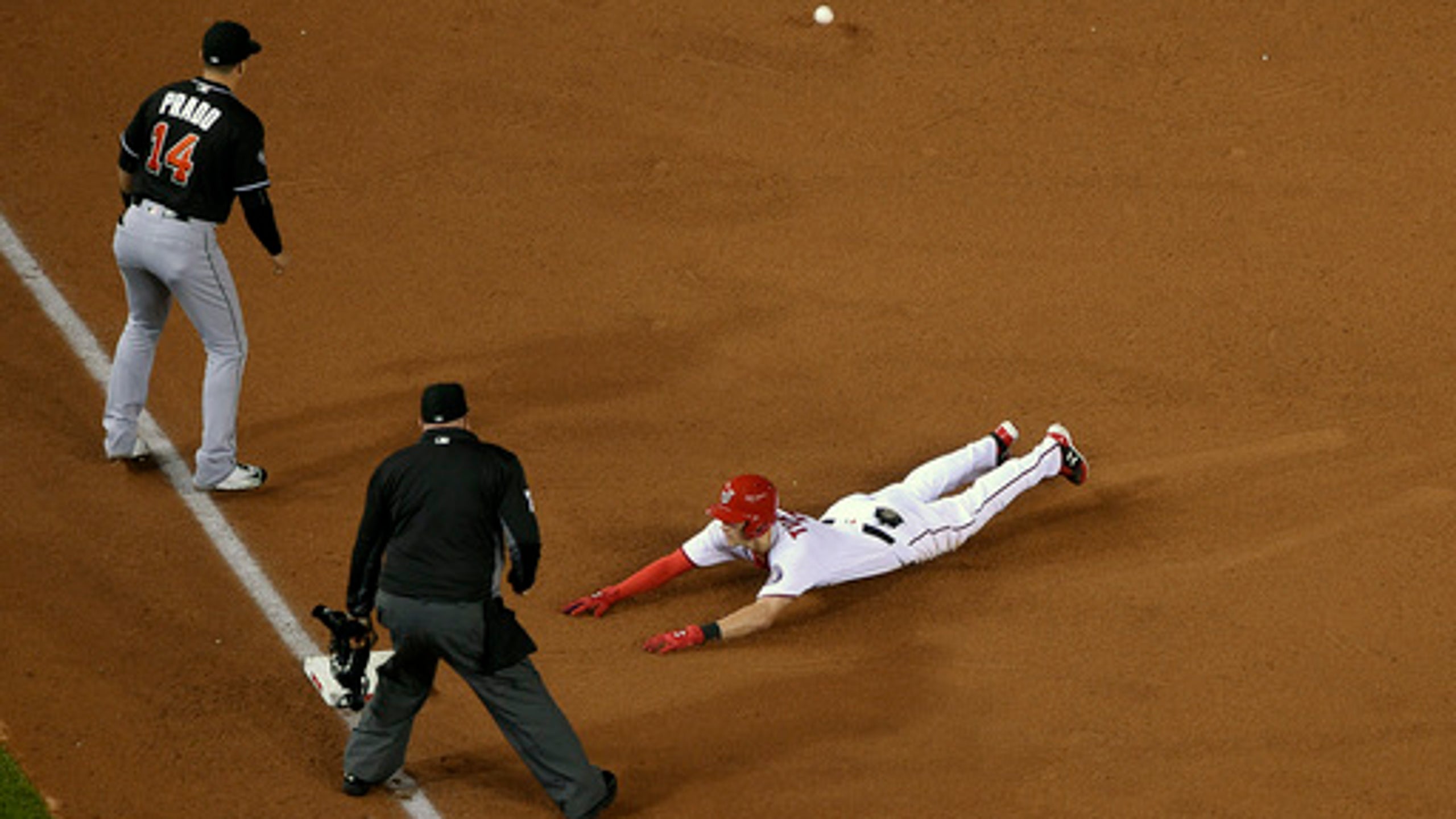 Nationals' Turner brings blast of speed into October
BY foxsports • October 4, 2016
WASHINGTON (AP) Trea Turner knows things will speed up during the postseason. He has the wheels to match.
Since bursting into the majors in June, the Washington Nationals rookie has hit .342 with 14 doubles, eight triples, 13 home runs and 33 stolen bases in 73 games. That's the highest batting average by a rookie with 300 at-bats since Ichiro Suzuki in 2001, and Turner has the ability to turn his level up as the situation dictates.
''This guy is phenomenal,'' Nationals closer Mark Melancon said. ''And he's just so even-keel, it's not like he's on a hot streak or something. That's his game. He's got five tools and he uses them, he's level-headed, he's a smart player. He's way beyond his years, and it's impressive to watch him.''
Baseball lifer Dusty Baker likes the combination of speed and power Turner brings, as the 23-year-old can flash those tools at the plate and in center field. Turner often doesn't stop at first, but his speed on the base paths is something that Baker said ''changes the equation.''
''When he's on the bases, he creates tension,'' said Los Angeles Dodgers manager Dave Roberts, who was with San Diego when the Padres had him in spring training. ''He turns doubles into triples, singles into doubles.''
Roberts' Dodgers will be tasked with stopping Turner in the NL Division Series, which begins with Game 1 on Friday at Nationals Park.
Already, major league pitching has something of a book on Turner, and he knows it's on him to make the most of his key at-bats.
Pitchers ''adjust and it's whether or not you have the approach or fundamentals, whatever you want to call it, to either continue to do what you're doing or to adjust back to them,'' Turner said. ''Postseason will be no different. There's just more eyes watching.''
There are always eyes watching Turner, who's so fast it sometimes seems like he's gliding above the ground. He has told reigning NL MVP Bryce Harper that he enjoys hitting triples so that teammates can drive him in, and that enthusiasm is a spark in the Nationals' clubhouse.
''Aw, man, it's a lot of fun,'' Harper said. ''He brings that energy, brings that fire that you want. A kid that can really come up here and enjoy the game, have his fun and it really just shows his speed.''
Turner converted on 84.6 percent of his stolen-base attempts and in the process reminded former Colorado Rockies manager Walt Weiss of Bo Jackson with the kind of impact speed can have on a game. Weiss said Turner is in the same class as Jackson, Billy Hamilton, Willie Wilson, Willie McGee and Vince Coleman.
''Those were the fastest of the fast,'' Weiss said. ''Those guys change the dynamics of the game when they get on. The pitcher has to think differently, the catcher thinks differently, the infielders are thinking differently, so it puts you on the defensive when a guy like that gets on base. It's a major weapon.''
Turner is just one rookie to keep an eye on in the playoffs. Here are a few more:
COREY SEAGER, DODGERS: The All-Star shortstop is a big reason Los Angeles won the NL West, hitting 26 home runs and putting up 72 RBIs as a 22-year-old. Seager has long been a top prospect since going in the first round in 2012, and he's primed to improve on his .235 average from the 2015 playoffs when he was a major league newcomer.
T.J. RIVERA, METS: A season-ending injury to Wilmer Flores could have been another dent in New York's wild-card hopes, but Rivera stepped into the lineup and looked like a veteran. Rivera hit .359 with three homers since becoming the Mets' full-time second baseman during an impressive September.
TYLER NAQUIN, INDIANS: Naquin made Cleveland's roster out of spring training and hit .296 with 14 home runs and 43 RBIs. Like Turner, Naquin has power and speed, as he became the first Indians player to hit a walk-off inside-the-park home run in 100 years. Red Sox pitching will be a major test for him.
KENTA MAEDA, DODGERS: The Japanese right-hander is set to be Los Angeles' starter for Game 3 of the NLDS, which will be his first career game against Washington. The 28-year-old went 16-11 with a 3.48 ERA and 179 strikeouts in his first 32 major league starts. Opponents are hitting .171 off his slider, which he mixes with a four-seam fastball.
---
AP Sports Writer Howard Fendrich contributed to this story.
---
---