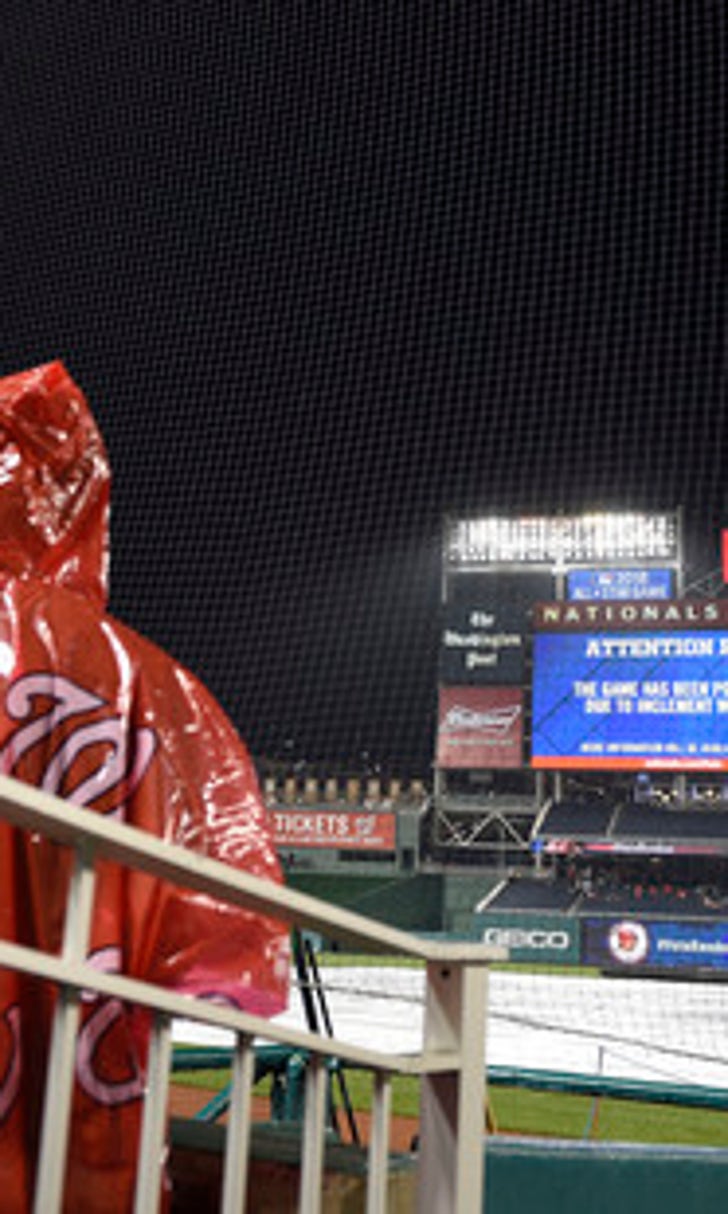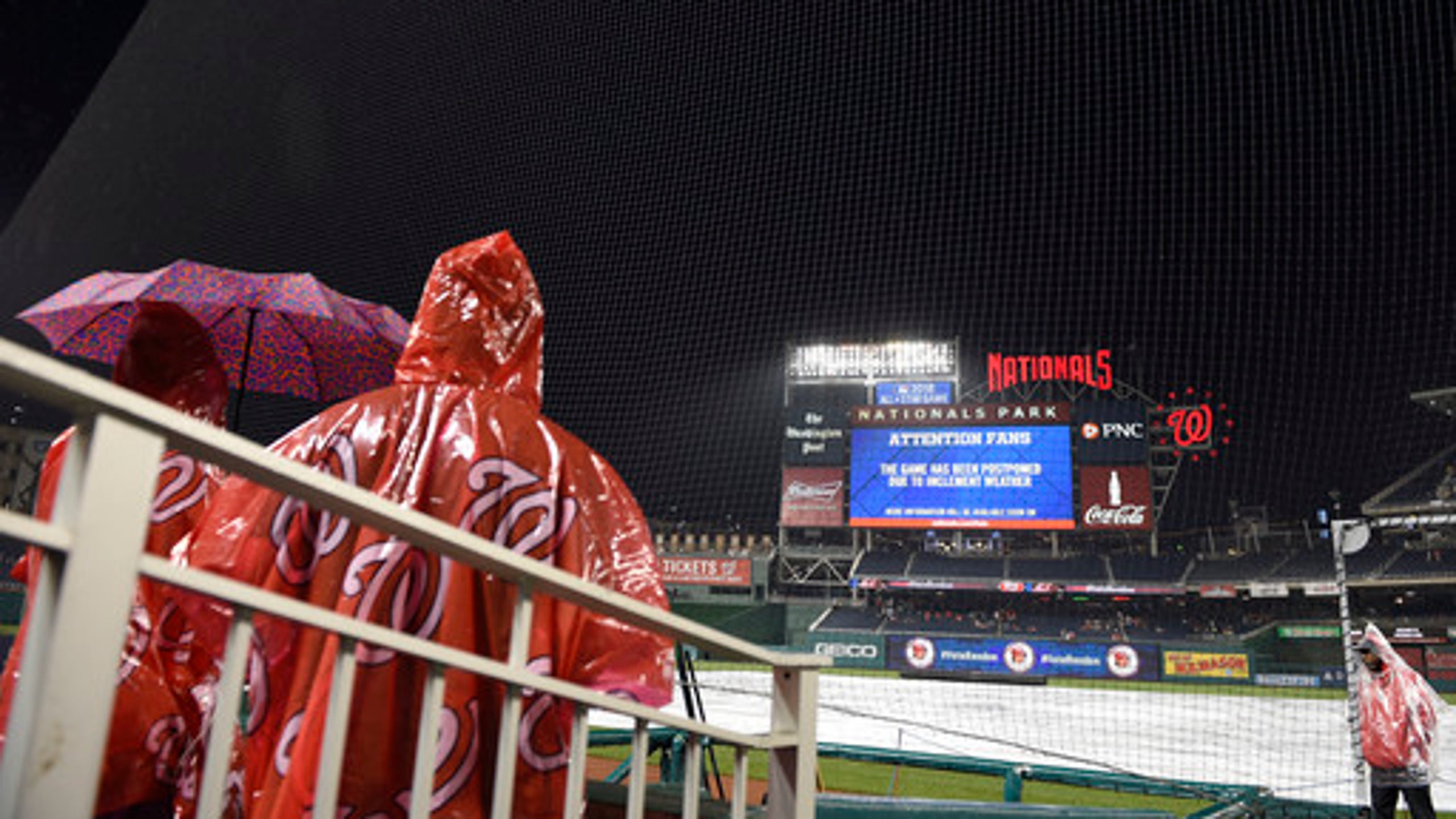 Nationals, Mets postponed in Washington due to rain (Jul 05, 2017)
BY AP • July 5, 2017
WASHINGTON (AP) Washington Nationals manager Dusty Baker got a hand in his attempt to give his top players at least one day off per week during a grueling stretch of 41 games in 43 days.
Baker rested everybody Wednesday night, when rain postponed the series finale between the Nationals and New York Mets. No makeup date was announced. New York's last scheduled visit to Washington this season is Aug. 25-27.
Baker sat second baseman Daniel Murphy in Monday's win over the Mets and gave first baseman Ryan Zimmerman and third baseman Anthony Rendon the day off in a victory Tuesday. Baker said he expects to play those three, plus outfielder Bryce Harper - who was not in Wednesday's lineup - in all four games against Atlanta this weekend prior to the All-Star break.
''I've learned that most of the time, if you don't give them a day off, or you don't trust the guys on the bench, then you end up playing your regulars too much and you end up hurting them,'' Baker said.
Baker has stayed true to that philosophy even as injuries have struck Washington, which is without outfielders Adam Eaton (torn ACL in left knee) and Jayson Werth (bruised left foot) and shortstop Trea Turner (broken right wrist). All three opening day starters are on the disabled list, and Eaton is out for the season.
The Nationals had played 12 consecutive days before this rainout. Harper was supposed to sit with Zimmerman and Rendon on July 4, but he told Baker he likes to play on the holiday and opted for Wednesday's day off instead.
The start of Wednesday's 7:05 p.m. game was delayed 1 hour, 55 minutes before officials called it. Washington is 9-3 against the Mets this season and has outscored New York 81-44 with seven games remaining between the NL East rivals. The two teams also have one more series left in New York from Sept. 22-24.
ROARK SKIPPED
The Nationals will skip struggling right-hander Tanner Roark (6-6, 5.27), who was supposed to pitch Wednesday. Gio Gonzalez will start against Atlanta on Thursday, Max Scherzer will make his scheduled start Friday and Stephen Strasburg gets the ball Saturday. Washington has not listed a starter for Sunday, so it's unclear if that will be Roark or Joe Ross.
CONFORTO TO MAKE REHAB START
Mets All-Star outfielder Michael Conforto, hit by a pitch on his left hand June 25 at San Francisco, will report to Class A St. Lucie on Thursday for an expected rehab assignment. Conforto was New York's lone player selected to the National League roster for next Tuesday's All-Star Game in Miami.
TRAINERS ROOM
Mets: OF Yoenis Cespedes (leg cramps) was scheduled to play Wednesday after sitting out the day before. ... OF Curtis Granderson (hip) was a late addition to the starting lineup before the postponement. He has not started a game since Sunday, but did hit a tying pinch-hit home run in Monday's 3-2 loss.
Nationals: Turner doesn't need a cast for his injury. He does have soft and hard braces that he wears while he sleeps to protect the wrist.
UP NEXT
Mets RHP Jacob deGrom (8-3, 3.55 ERA), the scheduled starter Wednesday, will pitch in Friday's series opener at St. Louis. Starting pitchers for Saturday and Sunday against the Cardinals have not been announced. New York is off on Thursday.
Nationals LHP Gio Gonzalez (7-3, 2.77) has gone at least six innings in seven consecutive starts with 50 strikeouts to 15 walks during that stretch. He enters Thursday's game with the fourth-best ERA among left-handed pitchers as Washington begins a four-game series against Atlanta.
---
More AP baseball: https://apnews.com/tag/MLBbaseball
---
---