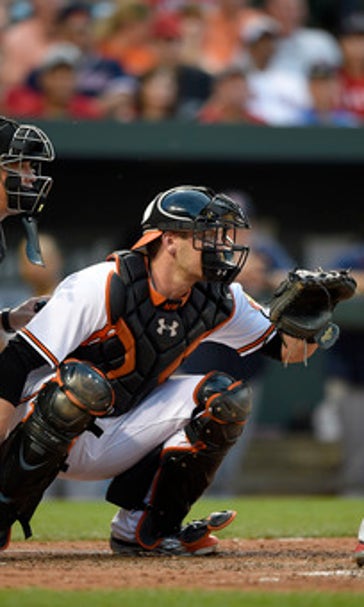 Nationals announce deal with free-agent catcher Matt Wieters
February 24, 2017

WEST PALM BEACH, Fla. (AP) Matt Wieters said he managed to cut his left wrist severely by breaking a five-gallon glass water container in his garage on Nov. 1, delaying his offseason preparation - and, he thinks, his chance to find a deal in free agency.
''It's tough finding a team when you can't do anything baseball-related,'' Wieters said Friday, when the catcher took batting practice and ran conditioning sprints at spring training with the Washington Nationals after his signing was announced. ''They told me I was very lucky that it wasn't worse than it was.''
The 6-foot-5, 230-pound Wieters agreed to a $21 million, two-year deal worth $10.5 million annually, one that gives him the right to terminate the agreement after this season and become a free agent again. It includes $2.5 million each year in deferred salary.
Now the obstacle for Wieters is getting up to speed with the reigning NL East champions' pitching staff. The Nationals' first exhibition game is Saturday against the division rival New York Mets.
''There's definitely enough time,'' Wieters said. ''As a catcher, I'd love to have as much as possible. Being able to listen (to the pitchers) and how they pitch will help me out a lot.''
He joins a crowded clubhouse of catchers. Jose Lobaton and Pedro Severino played in Washington last season, and the club traded for San Diego's Derek Norris. In all, there are six catchers on the 40-man roster.
General manager Mike Rizzo described Wieters as ''a leader in the clubhouse and on the field'' for the Baltimore Orioles, the only major league club the four-time All-Star has played for until now.
Wieters, 30, has a .256 career batting average with 117 homers and 437 RBIs over eight seasons. Last year, he hit .244 with 17 homers and 66 RBIs in 124 games
''It's a unique thing to find someone who can be a switch-hitter at such a premium position and be so consistent on both sides,'' second baseman Daniel Murphy said. ''Lengthens out our lineup. That's a really tough matchup problem.''
Wieters played with Max Scherzer on the 2005 U.S. national baseball team when both were in college.
''It'll be interesting to see how he sees the game and what he's looking for and where that matches up with my strengths and weaknesses,'' Scherzer said. ''It's always good to have a different mind critiquing how you go about your business.
''He's done it for a long time and had success managing a pitching staff. It'll be fun working with him.''
Wieters' deal calls for deferred payments of $1.25 million each Jan. 15 in 2018 and 2019 for this year's salary, and for each Jan. 15 in 2019 and 2020 if the contract is kept for a second season.
He would get $500,000 if he wins an MVP award, $250,000 for finishing second, $150,000 for third, $100,000 for fourth and $75,000 for fifth, He also would get $250,000 for World Series MVP, $150,000 for League Championship Series MVP and $100,000 for making the All-Star Game, winning a Gold Silver Slugger or winning a Silver Slugger.
NOTES: 1B Jose Marmolejos went on the 60-day DL with a strained left forearm, making room on the 40-man roster for Wieters. ... Rizzo said he expects Scherzer to be ready for opening day. The pitcher is working his way back from a broken knuckle on his pitching hand.
---
---