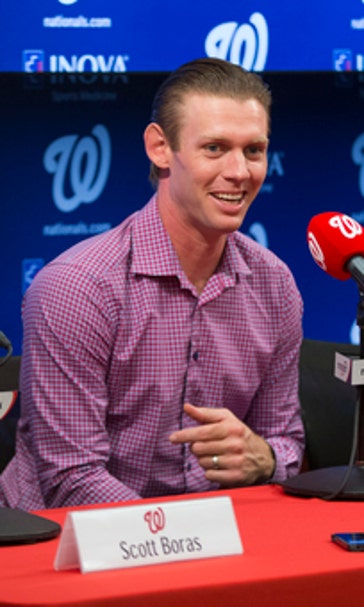 Nationals announce $175M, 7-year deal with Strasburg
May 10, 2016

WASHINGTON (AP) A day after Stephen Strasburg deflected questions about a new contract, the Washington Nationals announced that they had, indeed, agreed to a seven-year deal with the right-hander that starts next season.
The team scheduled a news conference at Nationals Park on Tuesday with Strasburg. He is surprisingly skipping his first chance at free agency to stay with the club that drafted him No. 1 overall in 2009 and - in a move debated around baseball - shut him down before the playoffs in 2012 to protect the pitcher's surgically repaired right elbow.
According to a person familiar with the negotiations, the agreement calls for total payments of $175 million starting in 2017, but it includes $70 million in deferred money. The person spoke to The Associated Press on condition of anonymity because the Nationals did not reveal the financial terms of the deal.
Strasburg gets a $10 million signing bonus payable on July 1, 2019, and salaries of $15 million each in 2017 and 2018, $35 million in 2019, $25 million in 2020, $15 million apiece in 2021 and '22 and $45 million in 2023.
His deal contains salary deferrals of $30 million in 2019, $10 million in 2020 and $30 million in 2023.
If he stays for the full seven seasons, Strasburg would get $15 million each year from 2017-23, followed by seven $10 million payments each July 1 from 2024-30. The use of a deferral structure is similar to the $210 million, seven-year deal that the Nationals gave another Scott Boras client, right-hander Max Scherzer, before last season.
Strasburg would earn a $1 million performance bonus each year for pitching 180 innings. The new contract has an escape clause: Strasburg can opt out and become a free agent after the 2019 or 2020 seasons.
If he opts out after three seasons, $30 million deferred from his 2019 salary would be paid out in three $10 million installments each July 1 from 2020-22. If he opts out after four, $40 million deferred from 2019 and 2020 would be paid out in four $10 million installments every July 1 from 2021-24.
Word of the agreement emerged Monday while Strasburg was pitching in Washington's 5-4 victory over the visiting Detroit Tigers. After the game, Strasburg was asked about his contract and replied: ''I don't really have a comment about that right now.''
Asked about his comfort level in Washington, Strasburg answered: ''Growing up in Southern California, San Diego, all my life and stuff, the East Coast is a little bit of a change. But the city of D.C. has been great to me and my family. It's really grown on us. We're very comfortable here.''
By agreeing to a deal now, Strasburg leaves a weaker free-agent class in his wake, because he would have been the No. 1 pitcher available.
The 27-year-old Strasburg has a 59-37 career record and a 3.07 ERA across 139 appearances, all starts. He led the National League in strikeouts with 242 in 2014.
''From the moment he was drafted, Stephen has been far more than just a pitcher for our organization, and his talent is transcendent,'' Nationals general manager Mike Rizzo said. ''The numbers speak for themselves.''
---
AP Baseball Writer Ronald Blum contributed to this report.
---
---