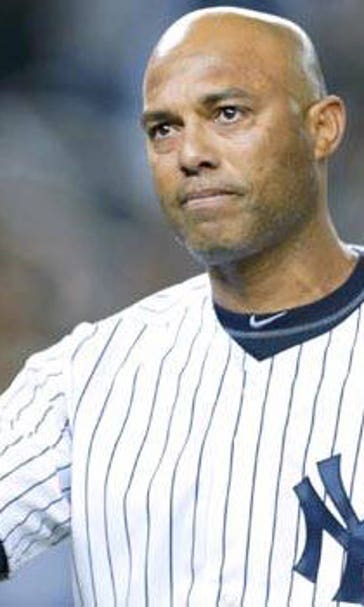 Mo picks Pedroia over Cano, but do numbers back him up?
BY Dave Cameron • May 7, 2014
No one in baseball history has ever been better at closing out games than Mariano Rivera. Armed with an unhittable cut fastball and incredible command, Rivera cemented himself as a legend in New York, spending his entire career as a Yankee and becoming the first active player ever enshrined in Monument Park. His farewell ceremony last September was one of the most memorable moments in recent baseball history, but retirement hasn't taken Rivera out of the spotlight just yet.
In an excerpt from his new book, appropriately entitled "The Closer," Rivera comments on the active crop of second basemen; most notably, his long-time teammate Robinson Cano and his counterpoint Dustin Pedroia, star of the hated rivals up in Boston. While one might expect Rivera to side with his teammate, or simply to side with any player wearing the vaunted pinstripes, Rivera instead espouses affection for his rival.
Rivera is certainly familiar with the strengths and weaknesses of both players, but on-field greatness doesn't always equate to a tremendous ability to build a roster; just ask anyone who has ever cheered for a basketball team built by Michael Jordan. So, with all due respect for Rivera's experience, let's see what the numbers have to say about Cano and Pedroia.
One of my favorite features of the FanGraphs leaderboards is that you can filter by calendar years, so we can look at what Cano and Pedroia have done over the past three full seasons, including their start to the 2014 season. Because we don't want to overweight recent performance, going back three years should give us a good sense of each player's present abilities. Let's just start with their primary offensive numbers over the last 1,095 days.
In terms of batting average and on-base percentage, it's essentially a dead heat, though Cano has hit for significantly more power. While Pedroia is an excellent hitter in his own right, Cano has simply been better, perfecting the same high-contact approach that Pedroia has mastered while also adding in even more extra base hits.
And while rate stats like these can be misleading when comparing an injury-prone player to a workhorse who takes the field every day that is not the case here. Over those last three calendar years, Cano has played in 482 games and hit 2,071 times, while Pedroia has played in 461 games and hit 2,085 times. In terms of playing time, they're near equals, so one cannot argue that Pedroia would be more likely to be healthy for Rivera's "one game" scenario.
Of course, there's more to baseball than just hitting. What about base running? After all, Pedroia thumps Cano in base stealing 62 to 18 over those last three years, so perhaps he makes up for the difference at the plate by scoring more often when he does get on base? Well, no, that's not true either. To get those extra 44 stolen bases, Pedroia has had to sacrifice 14 outs due to getting thrown out on stolen base attempts, nullifying most of the additional value added from those successful stolen bases. And when it comes to the kinds of baserunning that aren't measured by stolen base attempts, Cano has actually been slightly better according to our calculations, so there's no real advantage on the basepaths for either player.
However, there is one area where Pedroia does have a decided edge, and that's in the field. Despite Cano being a two time Gold Glove winner, advanced defensive metrics greatly prefer Pedroia, with Ultimate Zone Rating judging Pedroia to have made enough plays in the field to equal 30 extra runs saved relative to Cano's fielding over the last three years. That's a big gap, but there is more uncertainty surrounding estimates of fielding value than there is of batting value, so it is possible that metrics like UZR are overstating the difference to some degree. Still, Pedroia likely makes up a good chunk of the offensive difference in the field.
But he doesn't make up the entire difference. While Pedroia's defensive edge is estimated at 30 runs, the value of Cano's additional power has created an extra 41 offensive runs over the last three seasons, so even if you give Pedroia full credit for the defensive gap, Cano still comes out as a slightly better player. To be sure, 11 runs over three seasons is hardly any difference at all, and both are excellent players, but the numbers do not suggest any real advantage for Pedroia. One could argue that they've performed similarly in recent years, but there isn't much of a case to be made that Pedroia has clearly performed better.
And there's an extra wrinkle to this argument, because Rivera made the case for Pedroia on the basis of trying to win a single game, which forces us to consider the environment in which that game may be played. While Yankee Stadium is certainly a nice place for left-handed hitters, Cano has shown no real variation in performance based on ballpark, posting an .856 OPS at home and an .858 OPS on the road. Regardless of where that one game was played, you could essentially expect Robinson Cano to hit like Robison Cano.
Pedroia, on the other hand, has taken full advantage of the Green Monster in Fenway Park, posting a .876 OPS at home and a .764 OPS on the road throughout his career. At home, Pedroia has averaged one double every 12.7 trips to the plate; on the road, that falls to one every 20.7 plate appearances. As a right-handed pull power guy, Pedroia's skillset is a perfect match for Boston's home park, and he simply isn't the same offensive force when the team is made to travel.
So, if you're trying to win one game in Fenway Park, you really could build an argument for Pedroia; his swing is tailor-made for the giant wall in Boston. In any of the other 29 Major League ballparks, though, you're probably better off with Cano. Rivera might not see the same kind of "passion" in his attitude, but personality really only matters to the extent that it improves your results on the field. Maybe Rivera is right and Cano could be better if he tried a little more, but even at his current effort level, Cano has been as good or better than Pedroia.
He might not yell and scream, but he takes the field every day and hits the crap out of the baseball. There's no shame in loving Dustin Pedroia and everything he brings to the table, but let's not diminish Robinson Cano in the process; the numbers suggest he, and not Pedroia, is the guy you'd probably want at second base if you were trying to win just one game - as long as that game wasn't held in Boston, anyways.
---
---