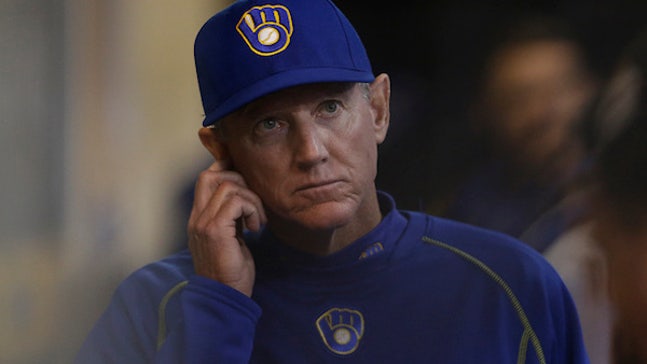 Milwaukee Brewers: Can a season be lost in April?
Published
May. 1, 2015 4:00 p.m. ET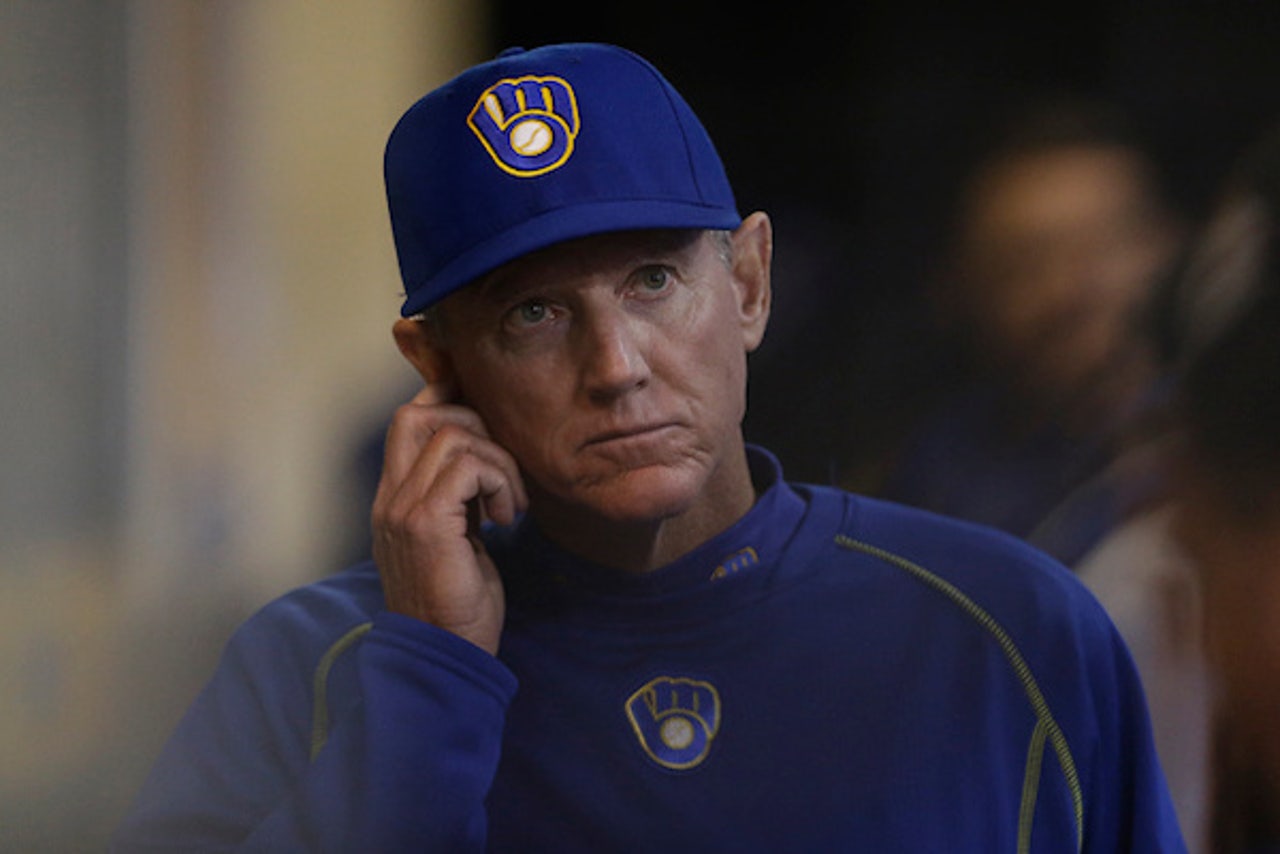 By Shaun Ranft
Rough starts in MLB aren't usually a big deal. Even if you lose eight of your first 10 games, there are still over 150 left to play. But what if the entire month turns out like that? For the Milwaukee Brewers, such was their April. It mercifully came to an end on Thursday, with their record an abysmal 5-17, the worst mark in all of baseball.
And while they won't be this bad forever, it already doesn't matter. We're only one month into the season, but for all intents and purposes, Milwaukee's might as well be over. At the very least, the Brewers face a significant uphill battle. They ended the month on a high note by belting four home runs over the Cincinnati Reds on Wednesday, but that was Great American Ball Park (in the NL last season, only two ballparks saw more home runs). They are 22nd in baseball with just 15 long balls.
When it comes to attempting to describe what's gone wrong, the list is never-ending. Their team ERA is 28th with a mark of 4.78, while their FIP of 4.87 ranks 29th. Offensively they're 27th, 27th, and 30th, in runs scored, batting average, and on-base percentage, respectively. Put that all together and it's not surprising they are dead last in run differential at -47. They've been bad in such an unsustainable way, that we're past the eye-opening stage and now wondering if we've seen the worst.
There are two ways to look at this. Brewers fans still remember last season's collapse, and until the team reaches the postseason again—which they haven't since 2011 after going all-out to get there—they will not forget it. After leading the NL Central for five months, the Brewers finished in horrific fashion, going 9–22 and missing out on the crown by eight games altogether. Everything that could've gone wrong did, but with a new season underway they were eager to put that behind them. It looks to have carried over.
Almost as soon as the offseason got underway, general manager Doug Melvin looked to upgrade the team at first base—a position they've struggled mightily at since the loss of Prince Fielder to free agency. In doing so, he traded starting pitcher/long reliever Marco Estrada to the Toronto Blue Jays straight up for Adam Lind. When healthy, Lind has been quite productive as he enters his 10th season in the big leagues, slashing .275/.329/.469 for his career. In 88 plate appearances this season, he's hitting .333/.398/.577 with four home runs.
They also shipped out starter Yovani Gallardo to the Texas Rangers for pitchers Marcos Diplan (18) and Corey Knebel (23) and infielder Luis Sardinas (21), who is best at shortstop and known more for his defensive ability. Let's be clear on one thing: trading Estrada and Gallardo, the latter primarily being a salary dump, weren't bad moves. Those moves opened up spots in the rotation for guys like Mike Fiers and Jimmy Nelson. Yet Melvin and company never thought to address the depth, or lack thereof, within their starting rotation. That is a major weakness right now.
They also couldn't possibly have imagined that collectively, they'd be this bad to start the season. Here's a quick look at their number of innings pitched, ERA, and FIP thus far.
Nelson gets a bronze star for at least having a one of his numbers under 4.00. He more or less cruised through his first three starts before walking five batters and allowing seven earned runs in less than three innings of work against the Reds on Monday. Fiers has already allowed four home runs and walked seven in just 18.2 innings of work; he surrendered seven and 17 respectively in 71.2 innings last season. Lohse, who hit a wall along with everyone else as last season came to a close, seems to have regressed aggressively.
Believe it or not there have been a few bright spots, but when you're staring a 5–17 record in the face they're more difficult to see. Jean Segura, after a miserable and personally tragic 2014 that saw him slash .246/.289/.326, is off to a bit brighter of a start with a line of .279/.303/.360. Still revered as more of a fielder, Segura is only 25 and possesses plenty of potential, which is why the Brewers are reportedly receiving constant calls regarding his availability. While fans should probably start fully supporting a rebuild, I don't believe Segura is a foundational piece. I also understand the term "rebuild" can be an ugly one, but this start is going to finally force the Brewers make a decision between having a consistent win-now mentality and starting over.
With this roster the rebuild maybe should have been off the table for at least another season, but it hasn't worked out that way. Outfielder Carlos Gomez, catcher Jonathan Lucroy, and second baseman Scooter Gennett—all starters—have already landed on the disabled list. Two of them, when healthy, have proven capable of putting up big numbers consistently. Lucroy is 28, possesses a significant amount of power, which can be rare for a catcher, and is locked up through 2016 for just $7 million total, with a very affordable option of $5.25 million for 2017.
Gomez, 29 as well, is also quite affordable considering the value he brings. They're paying him $8 million this year and another $9 million next year. If his production remains similar to the previous two seasons, they'll have little chance to retain him. If the team is going to starting rebuilding though, and if this season has already been lost, Milwaukee will have to weigh its options with Lucroy and Gomez if and when the time comes.
I'd say the Brewers should try moving players like Lohse or Aramis Ramirez, but you've seen Lohse's atrocious start, and Ramierez's is no picnic either: .214/.236/.357 with two home runs. In the case of Ramirez, I suppose I would have played one more season too had their been an option for $14 million on the table. This particular option was a mutual one, and in hindsight it looks as though that money could have been better utilized elsewhere. At the moment it'd be hard to scrape together any value for either of them.
The Brewers have a lot of money tied up in very unproductive players, and we haven't even gotten to Ryan Braun, who has a five-year extension of up to $105 million ready to kick in at the start of next season. After being kept out of the lineup for consecutive games, and not because of injury, he appeared to be getting his bat going against the Reds with three home runs in two games—including a grand slam on Wednesday to give his club its only win of the series. That said, he's hitting just .254/.293/.423.
Eventually the question is no longer about being this bad forever, but rather how good they'll have to be going forward to stand a chance at a playoff spot. I understand it hurts, but fans are going to have to get all of that playoff talk out of their heads. Only 22 games into the year, Milwaukee is already 10.5 games out of first place behind the 15–6 St. Louis Cardinals.
The Brewers have yet to win consecutive games, and for what it's worth Fangraphs has them going 66–74 the rest of the way to finish 71–91. That might be a best-case scenario, but let's think about the highly unlikely for a moment. If they were to finish even .500 on the year, they'd have to go 76–64 the rest of the way, a winning percentage of .543. So, how about winning the division? Well the Cardinals are projected to take the NL Central crown at this point with a mark of 90–72, meaning the Brewers would have to go 86–54 the rest of the way (.614) to finish with 91 victories. That just isn't going to happen.
Of course, they're not going to give up after just one month, but realistically there isn't much to be excited about in terms of success when it comes to the remaining months of the Brewers 2015 season. After last year's collapse, this was the worst way they could have started out. They know that, but can't seem to do much about it. The injury bug has already bitten down hard, the hitting and pitching both continue to suffer, and the errors (both in the field and on the bases) persist.
On paper this club possesses a significant amount of value, but it has been nowhere near materializing on the field. While no organization wants to admit it's just about over after only one month of a 162-game season, Melvins, owner Mark Attanasio, and company need to realize where they stand. There's always the slightest of chances in regards to an unbelievable turnaround, but more than likely it's decision time for the Milwaukee Brewers. There is one clear choice; they just need to be willing to make it.
Statistics and information courtesy of Baseball Reference.
More from The Sports Post:
---
---