Miggy, V-Mart play long ball, Tigers roll to 8th consecutive win
BY foxsports • May 7, 2014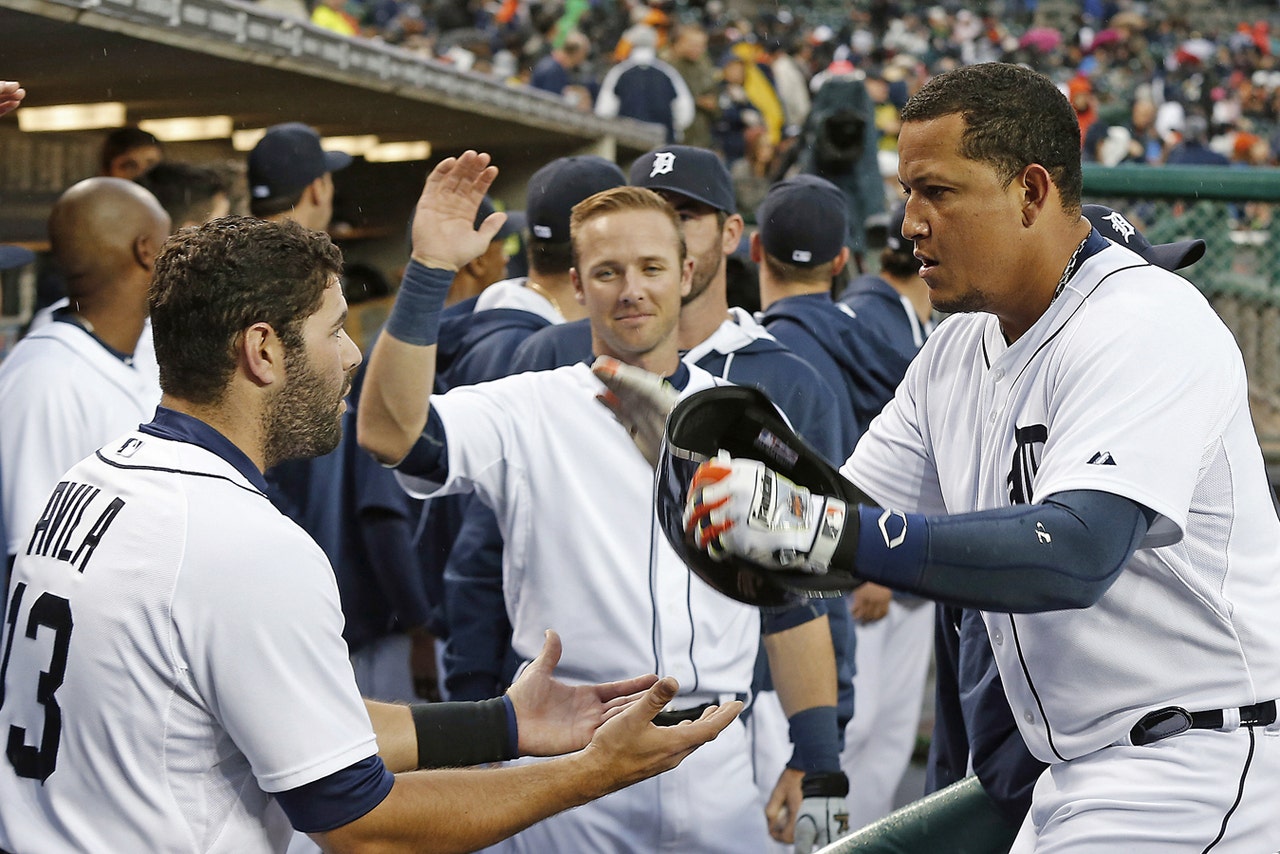 DETROIT — Even when he's behind in the count, Victor Martinez is a tough hitter to face these days.
''You can't set Victor Martinez up — he's just too good at getting the barrel to the ball,'' Detroit manager Brad Ausmus said. ''I don't think it matters what pitch you throw, he's generally going to find a way to do it.''
Martinez hit a solo homer in sixth inning and Miguel Cabrera also went deep for the Tigers, who won their eighth consecutive game Wednesday night, 3-2 over the Houston Astros. Martinez's homer came on an 0-2 pitch, when Astros starter Brad Peacock tried to throw a high fastball past the designated hitter.
''I have no idea how Victor Martinez even hit that pitch,'' Houston manager Bo Porter said. ''That was up in his eyes and, he not only got a bat on it, he knocked it out of the park.''
Martinez extended his hitting streak to 10 games, and Rick Porcello (5-1) allowed two runs and seven hits in 6 2/3 innings for the surging Tigers, who remained five games ahead of the second-place Chicago White Sox in the AL Central. Porcello struck out five and walked two.
Even Detroit's maligned bullpen looked impressive Wednesday. Joba Chamberlain recorded four outs in relief, striking out the side in the eighth. Joe Nathan pitched the ninth for his seventh save in nine chances. He struck out two, getting Matt Dominguez swinging with a man on third to preserve the win.
Houston has lost five in a row and seven of eight. Peacock (0-3) allowed three runs and four hits in 6 2/3 innings. He struck out four and walked four.
After a slow start, Cabrera is again swinging the bat with authority for the Tigers. After homering in a four-hit, four-RBI performance Tuesday night, he stepped to the plate with a man on Wednesday and lifted a drive to deep right.
Houston's George Springer tried valiantly to make the catch at the wall, but the ball nicked off his glove and went over, and the outfielder fell to the ground. It was Cabrera's fourth homer of the year.
Porcello allowed a run in the third when Marwin Gonzalez doubled and eventually scored on Dexter Fowler's groundout, but the Detroit infield turned double plays in the fifth and sixth to help the 25-year-old right-hander. In the fifth, Gonzalez was on first and took off toward second when Jose Altuve hit a grounder up the middle. Detroit second baseman Ian Kinsler, in the area because of the steal attempt, simply picked up the ball, stepped on the bag and threw to first for the double play.
Martinez homered to right to make it 3-1. It was his sixth home run of the season, and he's now hitting .318 with only five strikeouts all year. With two strikes on him, Martinez was ready for a fastball.
''I was looking high fastball,'' Martinez said. ''As soon as I saw it, I was making sure that I get on top.''
Houston answered with a run in the seventh, chasing Porcello. Marc Krauss hit a two-out double, Dominguez followed with a single, and Gonzalez singled to drive in Krauss.
Chamberlain came on and retired Altuve with men on first and second to end that threat. The big reliever then struck out three in the eighth.
''Brad was the first one on the stairs and said, `You got the eighth,''' Chamberlain said. ''I figured after we got out of the (seventh) that was going to be the case. Just prepare, look up and see who's going to be coming up for their lineup, and kind of a mental plan of what you want to do. It worked out.''
Nathan entered in the ninth and allowed a two-out walk to Krauss. Pinch-runner Jonathan Villar stole second and third, but Dominguez went down swinging to end it.
Notes
The game started after a nine-minute rain delay, and the wet weather persisted during the early innings. ... Detroit's Torii Hunter had his hitting streak snapped at 13 games. ... Peacock has gone eight straight starts - dating to last season - without allowing more than three earned runs. ... Springer struck out three times. ... Detroit's Drew Smyly (2-1) faces Houston's Dallas Keuchel (2-2) on Thursday in a matchup of former college teammates at Arkansas.
---
---