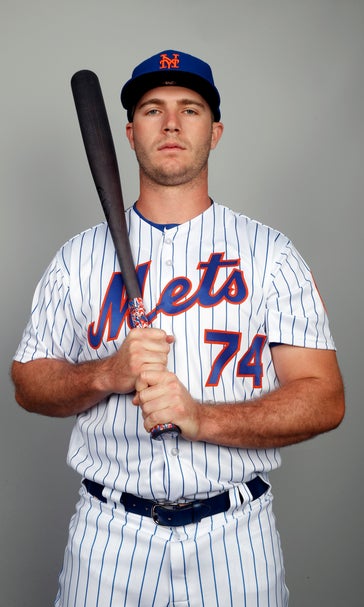 Mets prospect Alonso arrives at Citi Field, but not to play
September 12, 2018
NEW YORK (AP) — Top Mets prospect Peter Alonso was finally in uniform at Citi Field on Wednesday, just not as part of New York's active roster.
Alonso was honored on the field as the Mets' minor league player of the year about two weeks after New York frustrated its fans by declining to promote him to the major leagues.
Alonso's agents Adam Karon and Tripper Johnson said at the time it was "disheartening" that Alonso wasn't among the club's September call-ups, and Alonso said Wednesday he was "disappointed." Alonso and the rest of the Mets minor league honorees spoke to reporters during a 5-hour, 35-minute rain delay of a game against Miami that began at 9:45 p.m.
The Mets said they were concerned about finding Alonso playing time at first base. The team also would have had to add him to the 40-man roster and start his service-time clock.
"I have to just trust the process," Alonso said. "I'm just going to use that as motivation to get better for next year."
The former University of Florida slugger hit 36 homers and led the minors with 119 RBIs across Double-A and Triple-A. He discussed the Mets' decision this week with team executive Omar Minaya — part of a three-man group leading New York after general manager Sandy Alderson stepped away earlier this season.
"He said it was just, it's nothing, pretty much it was just a business decision, an organizational decision," Alonso said. "I respect that. I'm just going to keep continuing to get better."
The 23-year-old Alonso will begin play in the Arizona Fall League in early October. He'll face some of baseball's top prospects there, then go into spring training hoping to crack the major league roster.
Among Alonso's objectives in the meantime will be improving his defense at first base. He thinks he's made drastic improvements there, and the Mets have heaped praise on his efforts to sharpen his glove work.
He spoke Wednesday about the big league dreams he developed playing ball in the backyard with his dad. He got a taste of that this week, taking batting practice and grounders at Citi Field.
For now, though, he'll have to settle for just a sneak peek at life in Flushing.
"You get to a point where, I'm lucky to be playing," he said. "I know it's going to happen. It's just, I need to continue to get better and just keep proving what I can do.
"There's always a, 'What if?'," he added. "I think the organization is, I have to go along with what they're saying."
---
---