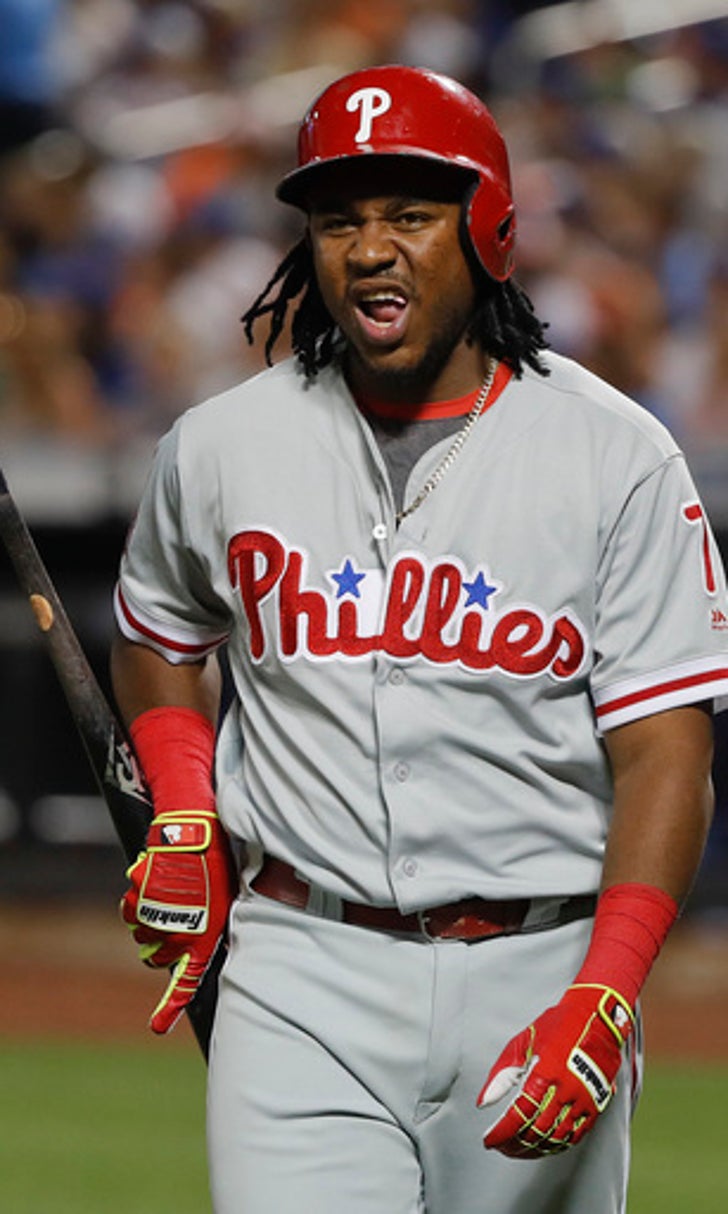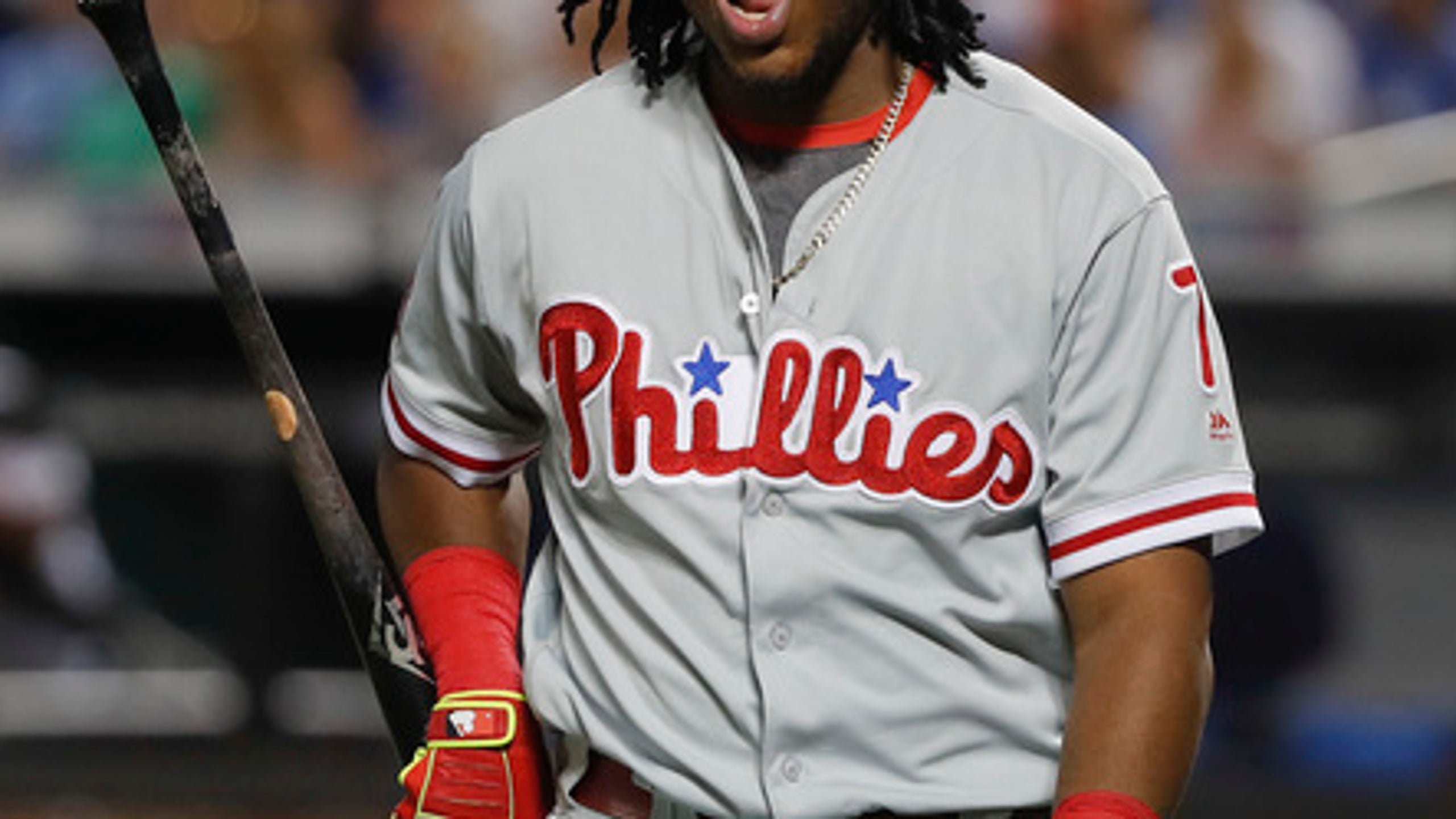 Mets edge Phillies 2-1 behind 12 Ks from dominant deGrom (Jun 30, 2017)
BY AP • July 1, 2017
NEW YORK (AP) Perhaps his rising pitch count would have prevented Jacob deGrom from chasing a no-hitter Friday night. Then again, if center fielder Curtis Granderson hadn't lost that ball in the twilight, who knows?
''I might've thought about it,'' deGrom acknowledged.
In his latest dominant performance, deGrom struck out 12 over seven innings to win his fourth consecutive start and send the New York Mets to a 2-1 victory against the Philadelphia Phillies.
The first of only three hits deGrom allowed came on his 80th pitch, when a helpless Granderson let a routine fly fall behind him with two outs in the fifth.
''Didn't see it,'' Granderson said. ''Nothing else to say. Can't catch what you can't see.''
Granderson and Travis d'Arnaud each had an RBI single for the Mets (37-42), who have won six of seven since getting swept in four games at Dodger Stadium. They returned home from a 5-5 trip and managed just enough offense against the worst team in the majors to earn their third straight win.
''I think going into L.A. and getting our teeth kicked in was kind of a wakeup call - let's go,'' deGrom said. ''If we're going to do it, we're running out of time. I think everybody kind of was on the same page. We know we've got a good team, and it's just a matter of going out there and playing.''
No doubt, deGrom (8-3) is leading the way.
Making a push for his second All-Star selection when rosters are announced Sunday night, the right-hander has permitted only three earned runs over 32 innings for a 0.84 ERA in his last four outings, a surge that's come on the heels of two terrible starts in a row.
''He's in a groove, for sure,'' Mets manager Terry Collins said . ''I didn't think tonight was his best command, but yet he is such a competitor.''
The 2014 NL Rookie of the Year walked just one and held the Phillies hitless until Granderson was befuddled by the darkening sky at dusk, giving rookie catcher Andrew Knapp his first career triple.
Philadelphia immediately took advantage of the gift when New York chose to pitch to No. 8 batter Ty Kelly with first base open and the pitcher on deck. Kelly lined a clean RBI single to left on a 1-2 delivery, prompting deGrom to drop his head as his shoulders slumped.
''I've got to get him out there,'' he said.
But the only other blemish for deGrom was a two-out single in the seventh by Nick Williams, the first major league hit for the touted Phillies outfield prospect.
Williams was called up from Triple-A Lehigh Valley earlier in the day to make his debut.
''It was good to get it out of the way,'' he said. ''I thought I'd be a lot more nervous. I felt comfortable right away.''
Jerry Blevins and Paul Sewald combined on a scoreless eighth before Addison Reed got three quick outs for his 13th save.
Philadelphia rookie Ben Lively (1-3) walked four of his first nine batters - including deGrom - and received two visits to the mound from pitching coach Bob McClure before there was an out in the bottom of the second. But the right-hander induced two early double plays and settled down nicely to work 6 1/3 effective innings .
''It just kind of clicked,'' Lively said. ''It could have been way worse.''
Lively retired his final nine hitters after d'Arnaud grounded an RBI single through a drawn-in infield in the fourth. That scored Jose Reyes, who tripled just beyond the reach of center fielder Odubel Herrera as he tried to make a running catch at the right-center fence.
GOT YOUR NUMBER
In nine career starts against Philadelphia, deGrom is 5-0 with a 2.34 ERA. New York has won all nine of those games, and is 31-14 overall vs. the Phillies since the start of the 2015 season.
K CORNER
It was deGrom's sixth double-digit strikeout game this year, his most in one season, and the 16th of his career.
SEEKING A SECOND WIN
Lively is 0-3 in five starts since winning his major league debut June 3 against San Francisco.
TRAINER'S ROOM
Phillies: LF-2B Howie Kendrick was placed on the 10-day DL, retroactive to Wednesday, with a strained left hamstring.
Mets: 1B Lucas Duda was a late scratch with flu-like symptoms that kept him out of the starting lineup for the third day in a row. He was replaced by T.J. Rivera, who doubled and scored in the second on Granderson's two-out infield single. ... With RHP Zack Wheeler set to come off the DL on Saturday, the Mets are expected to make roster room by putting OF Michael Conforto (bruised left wrist) on the DL. Conforto has missed four straight games since getting hit by a pitch. Multiple tests have not revealed a fracture.
UP NEXT
Wheeler (3-5, 5.29 ERA) starts Saturday against Phillies RHP Jeremy Hellickson (5-5, 4.40). After missing the past two seasons while recovering from Tommy John surgery, Wheeler was pitching well, with a 3.45 ERA, before getting hit hard in two consecutive short starts and going on the DL retroactive to June 20 with biceps tendinitis. ''There had to be a blip someplace,'' Collins said. ''I think the rest has helped out. He's had two very good bullpen sessions and that's why we think he's ready.'' Hellickson is 2-4 with an 8.21 ERA in seven career starts vs. the Mets.
---
More AP baseball: https://apnews.com/tag/MLBbaseball
---
---