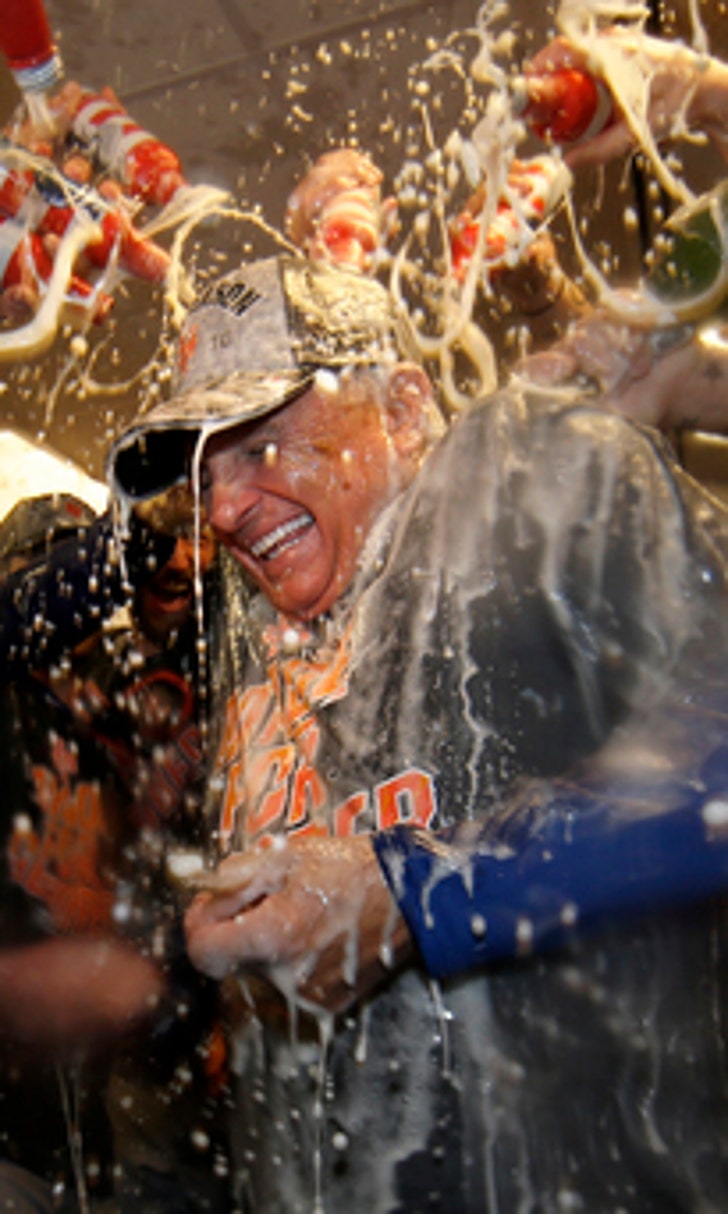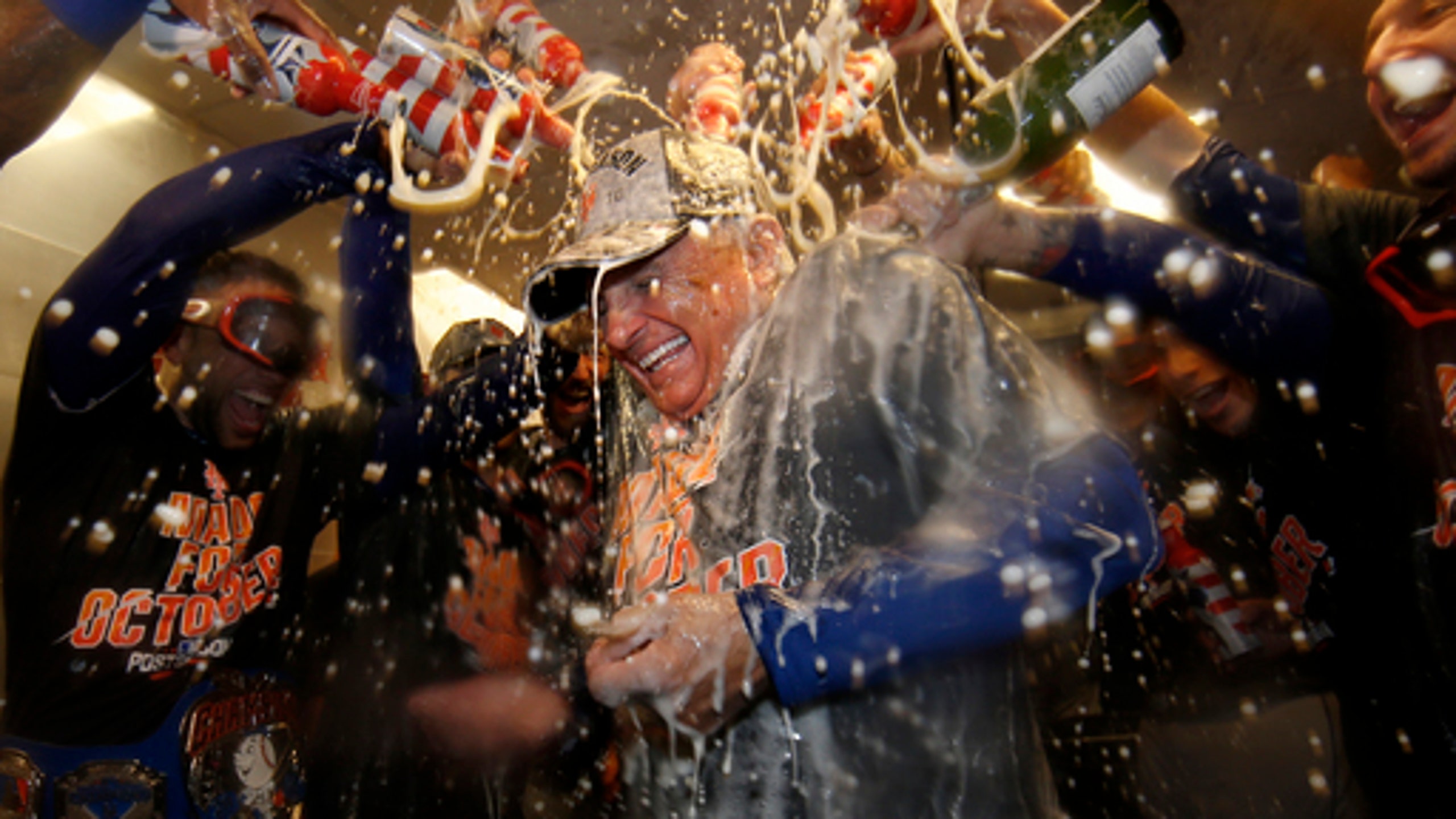 Mets beat Phillies 5-3 to clinch top NL wild card
BY foxsports • October 2, 2016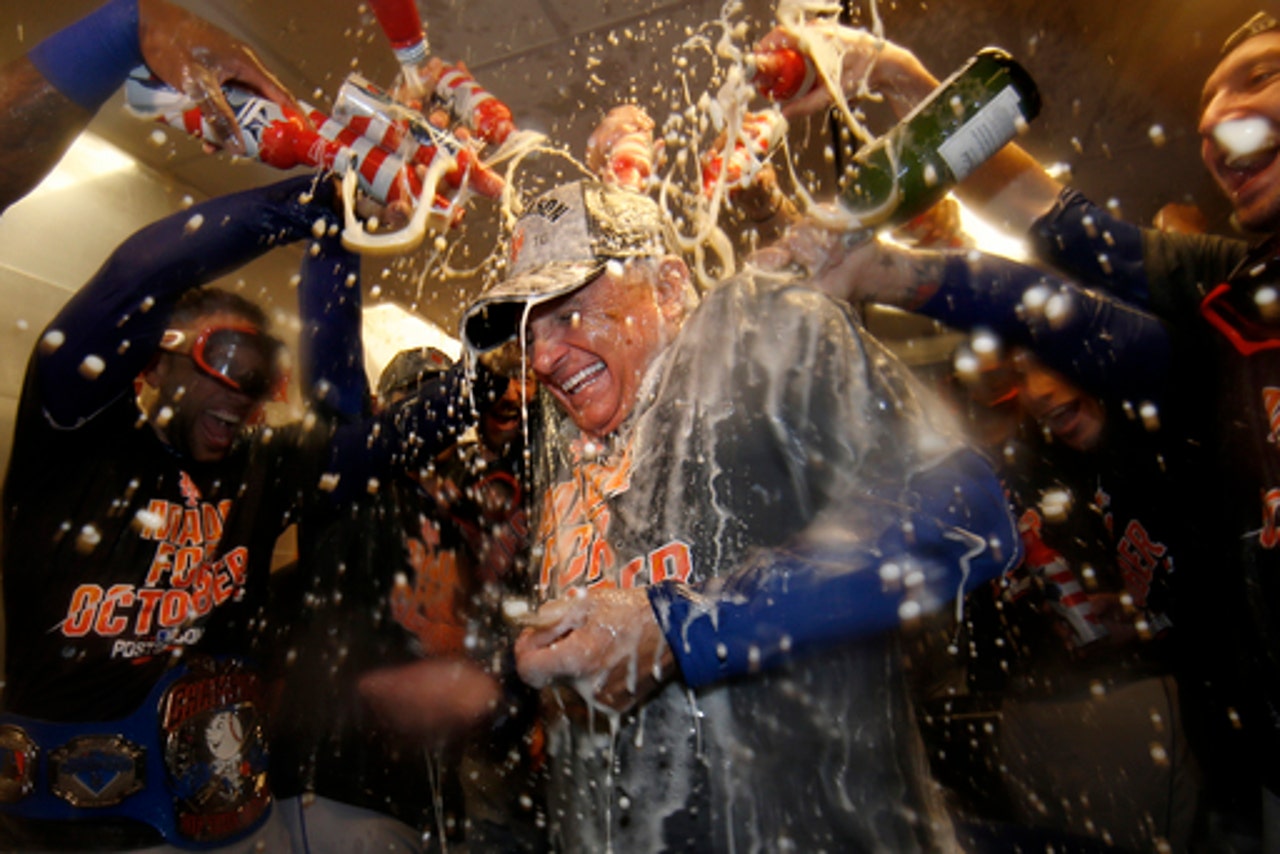 PHILADELPHIA (AP) After all the disheartening injuries and trying skids this summer, the New York Mets are right back in the playoffs.
With their ace on the mound at Citi Field.
New York clinched a postseason spot Saturday, beating the Phillies 5-3 to secure the top National League wild card and set off a bubbly celebration that spilled from the visitors' clubhouse onto the field in Philadelphia.
The defending NL champions will host San Francisco or St. Louis on Wednesday night, with the winner advancing to face the Chicago Cubs.
''We never gave up,'' said third baseman Jose Reyes, back in the playoffs for the first time in 10 years. ''We never doubted the talent we had in here.''
The only other time the Mets made the postseason in consecutive years was 1999-2000. New York won the NL East last season and went all the way to the World Series before losing to Kansas City.
This season has presented all sorts of new challenges. The banged-up Mets (87-74) overcame a bevy of injuries that depleted their lineup and decimated a terrific young rotation - with Matt Harvey, Jacob deGrom and Steven Matz all sidelined by season-ending ailments.
Two games under .500 on Aug. 19, the Mets have gone a major league-best 27-12 during the last six weeks to vault over four teams in the NL wild-card race.
''This year was much tougher,'' winning pitcher Bartolo Colon said through a translator. ''We had a lot of people injured and it was hard to get here to play just this one game we're going to play.''
James Loney hit a two-run homer to back the 43-year-old Colon (15-8), and Jeurys Familia closed for his major league-high 51st save. T.J. Rivera, Jose Reyes and Asdrubal Cabrera each had an RBI single.
By clinching with one day to spare in the regular season, manager Terry Collins and the Mets can save All-Star Noah Syndergaard for the wild-card game.
''When you're in, you're capable of anything,'' Collins said after getting doused by his players with beer and champagne. ''Anything can happen. We've got our ace going on Wednesday. If he can spin one up and you get a couple breaks, you never know.''
When left fielder Michael Conforto made a sliding catch of Aaron Altherr's soft liner for the final out, the excited Mets streamed out of their dugout and gathered near the mound, bouncing in unison.
Back in the clubhouse, they wore goggles while spraying beer and champagne, then went onto the Citizens Bank Park field to celebrate with thousands of Mets fans behind the visitors' dugout. Several players sprayed champagne and sparkling cider into the crowd while a few others lit victory cigars.
''We have a great fan base,'' Loney said. ''You can see their excitement and their passion, and we play off that.''
Collins thinks playing at home Wednesday could be a huge advantage.
''Say what you want about (Mets fans),'' he said. ''They're energetic and enthusiastic and they want to win. There's no second place in New York City.''
Ryan Howard hit a two-run homer in what was likely his penultimate game with the Phillies.
Philadelphia's defeat was its sixth straight overall and 91st of the season. It is the club's second straight season with more than 90 losses.
Howard, expected to receive a $10 million buyout from the Phillies after the season, brought fans out of their seats with a tying shot in the fifth inning. He turned on a 1-0 fastball from Colon, driving his 25th homer of the year into the right-field seats.
At the urging of fans, Howard stepped to the top of the dugout steps and raised his right hand in appreciation.
''The curtain call was awesome,'' he said. ''It was good to be able to do it and tie the game.''
The Mets regained the lead in the next inning when Loney drove a 3-1 pitch from reliever David Hernandez into the right-field seats.
Loney immediately turned to the Mets' dugout and raised both arms in triumph before flipping his bat and rounding the bases. He was mobbed by teammates when he returned to the bench.
''My emotions just took over,'' Loney said. ''I was in the moment. You know how big the game is. This is what you play for.''
The Phillies drew within one when Darin Ruf hit a pinch-hit homer in the seventh, but Addison Reed and Familia closed it out with scoreless relief.
Colon allowed two runs and five hits in five innings.
Patrick Schuster (0-1) took the loss.
Curtis Granderson had three hits and scored twice for New York. He is 12 for 23 in his last six games.
LOOKING AHEAD
The Mets went 3-3 against the Cardinals this season, and 4-3 against the Giants.
HOME (RUN) ON THE ROAD
Loney's homer was the Mets' 106th on the road this season, eclipsing their previous record of 105 set in 2000.
TALE OF TWO BULLPENS
New York's bullpen had its scoreless streak snapped at 23 2/3 innings when Fernando Salas allowed Ruf's homer. Conversely, the Phillies' relievers have given up 62 earned runs in their last 14 games (58 1/3 innings).
HOWARD'S LEGACY
Howard's home run was his 382nd for the Phillies and tied him with Jim Rice and Frank Howard for 67th place on baseball's career list.
TRAINER'S ROOM
Phillies shortstop Freddy Galvis, who left Friday night's game in the seventh inning with tightness in his left hamstring, did not play. He was replaced in the lineup by Andres Blanco.
UP NEXT
The regular season ends Sunday, with RHP Gabriel Ynoa scheduled to face Phillies RHP Jerad Eickhoff (11-14, 3.72).
---
---