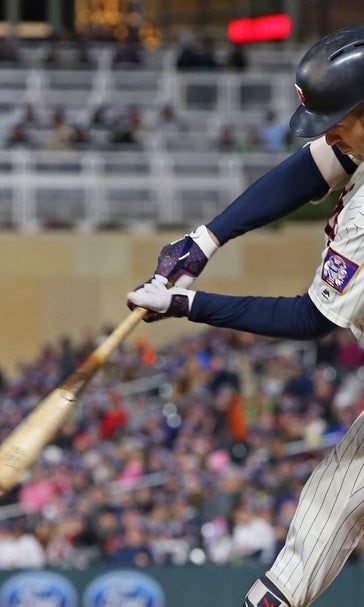 Mauer, Gibson lead Twins to 8-3 win over White Sox
September 29, 2018
MINNEAPOLIS (AP) — If Joe Mauer is ready to retire, he's going out on a high note.
Mauer reached base three times and Kyle Gibson capped a season of improvement with six quality innings in the Minnesota Twins' 8-3 victory over the Chicago White Sox on Saturday night.
A free agent after the season, Mauer has said he'll contemplate retirement after 15 years in Minnesota. But the former MVP and seven-time All-Star is showing he can still swing the bat with a strong September.
He had two hits and scored twice Saturday. Mauer, who entered the day with a major league-leading .410 average with runners in scoring position, drove in a run with a single as part of a six-run second inning. He is hitting .365 with eight RBIs in his last 16 games.
"It doesn't surprise me," Twins manager Paul Molitor said. "We're all pulling for him to have a good finish to this year. He's putting together a nice homestand. I think he's really relishing just the response and the fans. You soak it in, even if you're contemplating what lies ahead, just to kind of pause and take pictures of each day you're playing the game."
Jorge Polanco added three hits and Jake Cave drove in three runs for Minnesota, which tied a season high with its fifth straight win.
Gibson (10-13) allowed one run on three hits and three walks to lower his ERA to 3.62. He had a 5.07 ERA each of the past two seasons, but continued the growth he showed at the end of last season after returning from the minors.
"Overall, it was just the mentality I was able to keep," Gibson said. "Kind of the beauty of having your priorities straight and having a good, confident mentality is one start, whether it's good or bad, isn't going to take you too high or too low."
Chicago starter Carlos Rodon (6-8) was knocked out six batters into the second inning without retiring an out. He surrendered eight runs on six hits and four walks in his 21st start of the season after returning from shoulder surgery.
"You know, I had some clarity coming back this year and pitching," Rodon said. "Ate some innings and had some fun even though this last month hasn't gone the way I'd like, but it was good. It was good to be back."
Rodon gave up 14 runs in 3 1/3 innings in his final two starts.
"It wasn't the way I'm sure he wanted it to finish and we didn't either, but he's given us a nice recovered season," White Sox manager Rick Renteria said. "He's made progress. He's going to go into the end here healthy and being able to concentrate on getting himself ready for the coming season."
Chicago lost for the 10th time in 13 games and is 62-99. A loss Sunday would be the White Sox's first 100-loss season since losing 106 games in 1970.
AN UNWANTED RECORD
Chicago struck out nine times to set a major league record for a team in a season. White Sox batters have struck out 1,579 times, breaking the mark of 1,571 set by the Milwaukee Brewers last season.
Second baseman Yoan Moncado struck out for the 216th time, the highest total in the majors this season and the fourth-most in a single season in history.
Moncado is three strikeouts behind Chris Davis, who had 219 in 2016. The record is held by Mark Reynolds, who struck out 223 times in 2009.
TRAINER'S ROOM
White Sox: C Omar Narvaez left the game in the third inning with low back stiffness. He was replaced by Kevan Smith. . SS Tim Anderson left the game in the fourth inning. Renteria said he's been dealing with knee soreness and the cold weather caused the knee to stiffen. Renteria said he'll see how Anderson feels before Sunday's game to know whether he'll play in the finale. Jose Rondon took Anderson's place and twisted his ankle on a play at first base in the ninth but stayed in the game.
Twins: Mitch Garver was out of the lineup a day after getting four hits and six RBIs because Molitor wanted to go with Tyler Austin and Mauer at first base and designated hitter, respectively. Garver recently returned from a concussion and won't be used as a catcher again this season.
UP NEXT
Minnesota will end the season with rookie right-hander Zack Littell (0-2, 6.61 ERA) starting Sunday, with Chicago going with right-hander Dylan Covey (5-13, 5.06). It will be Littell's eighth major league appearance and second start. His previous start was against the White Sox in his debut on June 5 when he gave up six runs in three innings. Covey is 0-6 with a 6.08 ERA over his last eight starts but has 12 scoreless innings over his past two starts.
---
---