Miami Marlins
Miami Marlins
Mattingly, Molina set to lead MLB All-Star tour of Japan
Updated
Mar. 4, 2020 7:39 p.m. ET
TOKYO (AP) — All-Star catcher Yadier Molina hopes to throw out some speedy runners. Don Mattingly looks forward to seeing Japan's national team.
Mattingly and Molina are in Japan as part of a Major League Baseball All-Star tour that features six games against Japan.
The series begins on Friday with three games on consecutive nights at Tokyo Dome followed by one game in Hiroshima on Nov. 13 and two games in Nagoya on Nov. 14 and 15.
Mattingly was a coach with the New York Yankees when Hideki Matsui played there, and got to know Ichiro Suzuki with the Miami Marlins.
But this will be his first experience managing against a Japanese team.
"I've been able to work with Hideki in New York and had Ichiro in Miami," Mattingly said Wednesday. "The culture and the love for baseball is something that is fun to watch, the work ethic of the Japanese players and the fundamentals seem so solid."
In addition to St. Louis Cardinals' catcher Molina, the MLB squad includes three other 2018 All-Stars; Seattle Mariners outfielder Mitch Haniger, Marlins catcher J.T. Realmuto, and infielder Eugenio Suarez of the Cincinnati Reds.
Molina, who won a ninth Gold Glove award this season, is one of three catchers on the tour along with Realmuto and Robinson Chirinos of the Texas Rangers.
The two leading contenders for 2018 National League Rookie of the Year are also part of the tour— Juan Soto of the Washington Nationals and Ronald Acuna Jr., of the Atlanta Braves.
MLB will return to Japan next spring with a two-game opening series between the Oakland Athletics and Seattle Mariners at Tokyo Dome, marking the fifth time MLB has opened a season in Tokyo and first since 2012, when the A's and Mariners also played.
Mattingly was previously in Japan in 2004 when the Yankees opened the season against Tampa Bay in Tokyo.
Matsui, who started his professional career at Tokyo Dome with the Yomiuri Giants, will serve as a first base coach for the MLB All-Stars.
"It's great to be back in Japan with this Yankees uniform on," Matsui said. "I've never been a first base coach before so I'm a bit anxious. I'll try not to hurt the team."
Pitchers will not be allowed to throw more than 80 pitches per game. If a pitcher throws more than 50 pitches, he must have four days of rest before being able to throw in another game.
---
---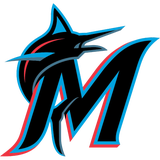 Get more from Miami Marlins
Follow your favorites to get information about games, news and more
---