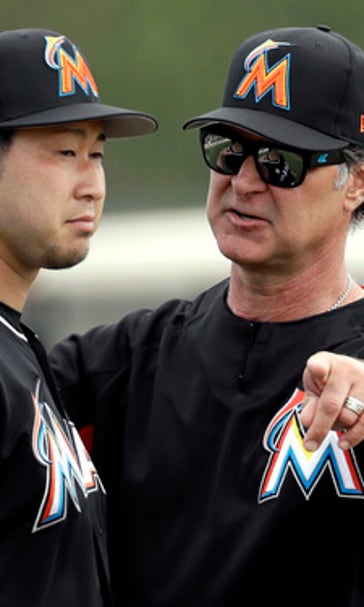 Marlins catcher Ellis is a backup with several major roles
February 20, 2017

JUPITER, Fla. (AP) Tom Koehler already understands why A.J. Ellis is considered a pitcher's catcher even though they've only been Marlins teammates for a week.
''He seems like he's a guy who's really going to push us,'' said Koehler, who went 9-13 with a 4.33 ERA last season. ''During my live (bullpen) session yesterday he wanted me to elevate the mental thought process. We were working on first pitch strikes. Instead of just throwing first-pitch strikes, he wanted to simulate throwing first-pitch strikes to aggressive hitters or in big situations where we are trying to get a ground ball.''
In need of a backup catcher, Miami signed the 35-year-old Ellis during the offseason to a one-year, $2.5 million contract. One of the main reasons they made the move was because manager Don Mattingly witnessed the catcher's ability to elevate a pitching staff during the five seasons Mattingly managed Ellis with the Dodgers.
''His main thing is the pitchers,'' Mattingly said. ''It's never been about himself or his offense. It's always about the pitcher trying to get outs - just as simple of that.''
Offense, in fact, may be a tertiary responsibility for Ellis, who has hit .239 across nine seasons.
A shortstop growing up, incumbent Marlins catcher J.T. Realmuto didn't squat behind the plate until after the Marlins drafted him. Realmuto, 25, only has two full years of major league experience.
''We wanted someone who was going to be here for J.T., that was going to advance us game-plan wise,'' Mattingly said.
Ellis is also in the clubhouse to mentor the Marlins catchers of the future, particularly Tomas Telis, who hit .310 with six homers at Class AAA New Orleans last season.
So far this spring, Ellis has dedicated most of his time to working with catchers. He expects to make a transition to a more pitcher-centric approach once Grapefruit League games begin later this week.
For now, though, he's enjoying his fellow backstops.
''Early in camp there's a ton of energy working with all the catchers,'' Ellis said. ''You've got a lot of the young guys up, guys who have a lot of talent, a lot of ability. It's fun to kind of have that camaraderie of catchers working together. Only catchers know what other catchers go through.''
The wear and tear that comes with being an everyday catcher is something the Marlins are looking to mitigate for Realmuto, who caught 129 games last season.
In an effort to keep Realmuto's bat and speed - his .303 average was third best among catchers in baseball and he led all catchers with 12 steals - in the lineup, the Marlins intend to play Realmuto at first base sometimes this season.
Starting first baseman Justin Bour is a left-handed power bat who hit .233 against lefties last season. The Marlins don't have a true right-handed hitting, major-league ready first baseman in camp.
With Miami considering carrying only 12 position players on its opening day roster, adding that versatility to Realmuto's tools would give Mattingly more options when filling out his lineup card.
The Marlins and Realmuto had discussed some first base play in previous years, but this spring both the catcher's and first baseman's mitts are in Realmuto's bag.
He even jokes that the move could bring with it a power bat.
''I'll probably be the finesse guy - try to get on base a little more,'' Realmuto said. ''I don't know if I'll have the first baseman power. Maybe I'll tap into that.''
---
This story has been corrected to show that the pitcher's last name is spelled Koehler, not Kohler.
---
---