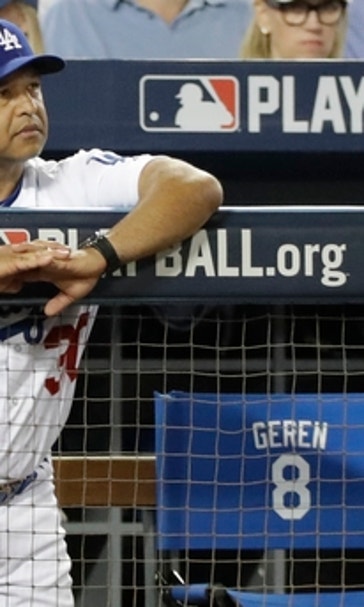 Managing friends Roberts, Hinch head to head in World Series
October 28, 2017

HOUSTON (AP) Dave Roberts, A.J. Hinch and their families were having breakfast together during the All-Star break this summer when the old friends started talking about their jobs.
They were managing the two best teams in the major leagues.
And they still are, a pair of 100-win teams going head-to-head in the World Series.
''We both, we kind of rooted each other on that we would meet each other in October and fight it out for the World Series,'' Hinch said.
''To see this kind of play itself out like this, it's really - I can't even think of an adjective. It's crazy, yeah,'' Roberts explained.
From that summer conversation in San Diego, where the two had worked together in the past and spent their short midseason break, they have gotten to the Fall Classic.
This is a matchup of still-young managers who played against each other as standouts in the Pac-10 - Roberts the UCLA outfielder and Hinch the Stanford catcher who was a two-time Pac-10 player of the year. Now Roberts is in his second season managing the Los Angeles Dodgers and Hinch in his third leading the Houston Astros.
Like in college, their major league playing careers overlapped some, though it appears that Roberts and Hinch played in only one game against each other at the highest level.
Roberts, who left UCLA as the school's career leader in stolen bases, was with the Cleveland Indians when he stole a base against Hinch, then with Oakland.
But the two really became friends when working together later with the Padres.
Hinch was in San Diego's front office from September 2010 through August 2014, in a role that he described as an assistant general manager and sort of a liaison for the coaching staff. Roberts was then an assistant coach for the Padres.
''Yeah, we crossed paths. Really didn't really know each other very well. In the similar circles. Became really close in San Diego,'' Roberts said. ''And really talked, planned, front office, managing, coaching. So we really had a lot of spirited, open-hearted conversations.''
They are friends whose relationship is a bit different at the pinnacle of the season.
There are no shared meals, and really little personal interaction during the World Series when in opposite dugouts.
''To be managing against him now in this situation, it's really surreal. I think after we advanced, he reached out to me. And then after they advanced, I reached out to him,'' Roberts said. ''And from that point on it's been radio silence.''
As Hinch said, with a grin though with some slight twinge of truth, ''Well, we're not friends this week. We're mortal enemies.''
During the All-Star break when they spoke, Roberts and the Dodgers already had 61 wins and a huge lead in the NL West. That was only one more win than the AL West-leading Astros.
While Roberts is 45, two years older than Hinch, some of their standout on-field memories are still of the college matchups before they were close friends. Anything, of course, to stoke that UCLA-Stanford rivalry.
''I'm sure A.J. might have brought this up, I was a part of one no-hitter, on the wrong side of a no-hitter, and he was the catcher,'' Roberts said. ''We got no-hit up at Sunken Diamond and outside of that probably stole a couple of bases off of him, I can't recall. I'm going to stick to that. So we're sort of even. So this is our rubber match, the World Series.''
With Friday night's 5-3 victory, the first World Series home win in Astros history, Houston took a 2-1 lead in the best-of-seven series. Los Angeles won the opener 3-1 before Houston's late comeback in a 7-6, 11-inning win at Dodger Stadium in Game 2.
''Over the years I've gotten to know him a lot better, our families are friends,'' Hinch said. ''I love the man. He's an excellent example of what leadership should be about. I have a lot of respect for how he connects well with players and how he's leading his team. And I'm really happy and proud that we're in this together.''
---
More AP baseball: https://apnews.com/tag/MLBbaseball
---
---