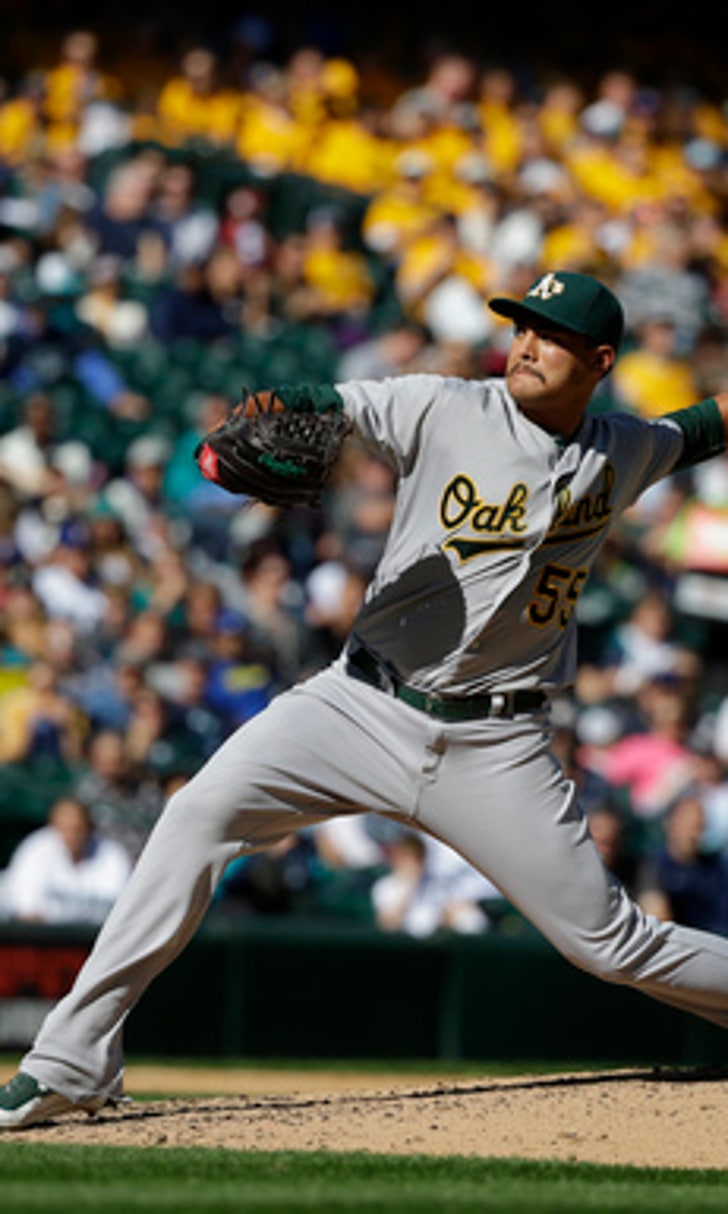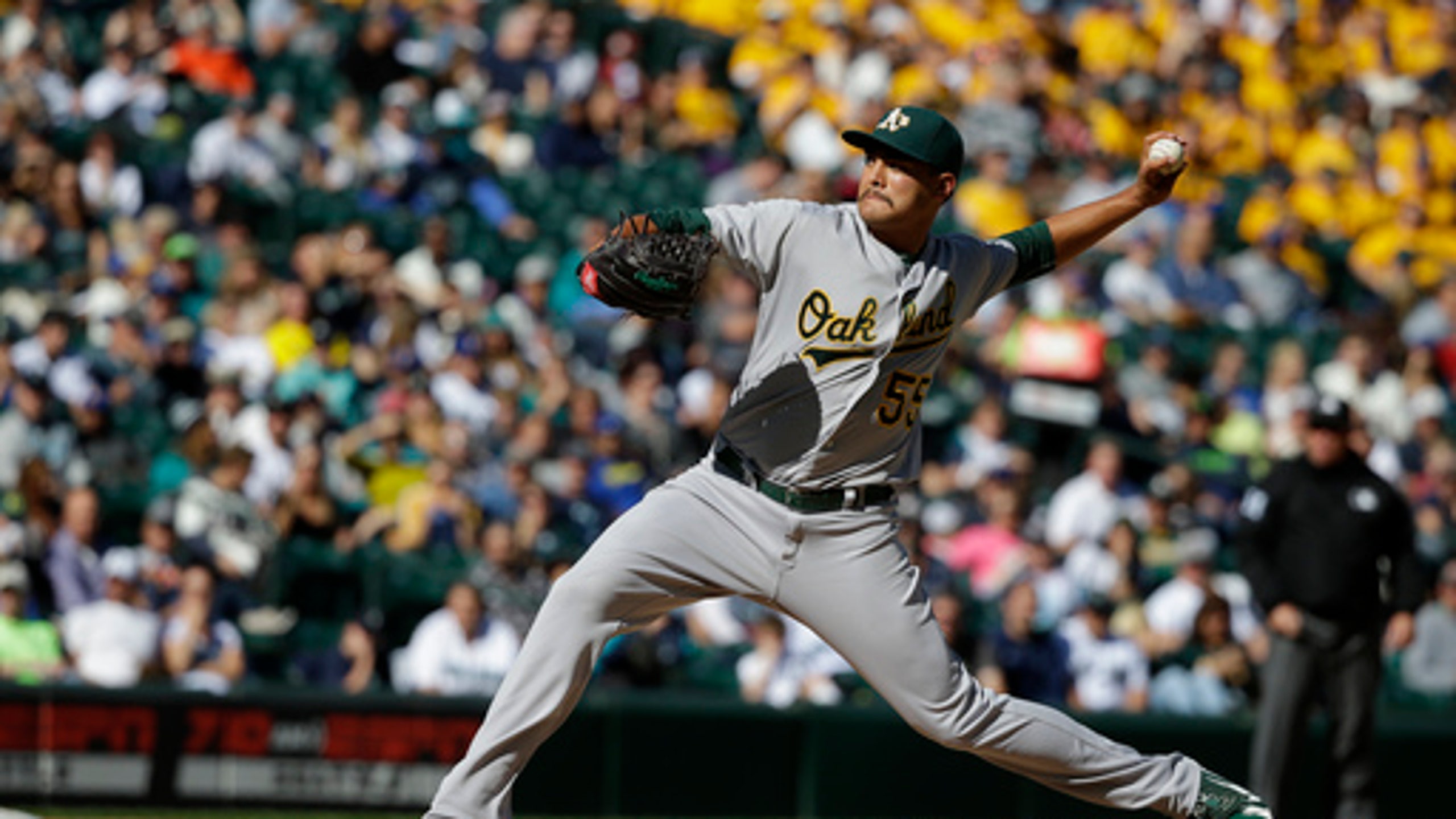 Manaea, Vogt lead Oakland to 3-2 win over Seattle
BY foxsports • October 2, 2016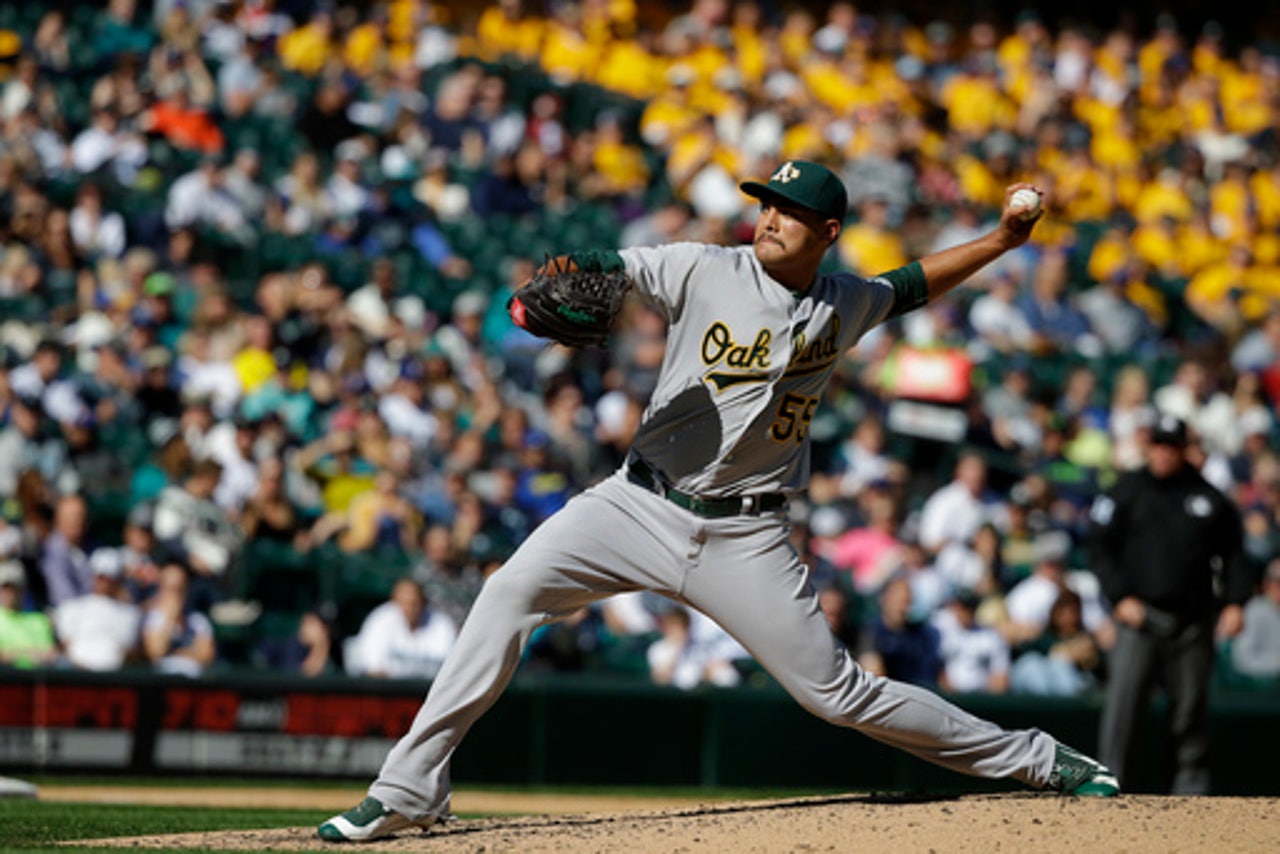 SEATTLE (AP) During the final few weeks of the season, Sean Manaea provided the Oakland Athletics a glimpse of what they hope to see over a longer haul starting next season.
Manaea continued his solid close to 2016 by throwing six innings and allowing two runs as Oakland finished the year with a 3-2 win over the Seattle Mariners on Sunday.
Since coming off the disabled list in mid-September, Manaea allowed three runs in 24 innings, striking out 20 and allowing 15 hits.
''It's been a lot of fun,'' Manaea said. ''I kind of sometimes take things too seriously and am really hard on myself. It's really hard to get out of those ruts when things aren't going well. When I sit back and have fun and just try to be loose and just go out there and do my thing, that's when I feel like I'm at my best. That's what these last three or four starts I've had have all felt like. I'm just happy how things turned out, happy how I ended the season.''
Manaea gave up five hits to the Mariners and capped a second-half of the season the A's hope becomes the norm in 2017. He had a 2.67 ERA in 13 games after the All-Star break and allowed more than four earned runs only once during that stretch.
''The sky is the limit. There are certain guys you just say that about, but then there are certain guys that really, it is,'' Oakland manager Bob Melvin said. ''Whether it's swings and misses, whether it's the velocity on the fastball when he needs it, anytime change-up, slider is so much better. He's got real weapons to get you out.''
Stephen Vogt hit his 14th home run in the first inning on the only pitch that he saw on the final day of the season. Vogt drove the first pitch he saw from Felix Hernandez just beyond the left-field wall to give the A's an early lead. Vogt was lifted for a pinch-hitter in his next at-bat. Marcus Semien and Eric Pinder added RBI singles as Oakland made the three early runs stand up.
''I haven't had many of those and that's something I really worked on this year - going the other way and driving the ball that way a little bit more,'' Vogt said. ''To get an opposite-field home run in the last game, the last at-bat of the year, that was pretty cool.''
Seattle appeared drained after seeing its postseason hopes dashed in Saturday's extra-innings loss to the A's. Hernandez (11-8) was lifted after the third inning and Guillermo Heredia's two-run double in the fifth amounted to all of Seattle's offense and the only real threat against Manaea.
''Last night and the run that we've been on took a lot out of everybody physically and emotionally,'' Seattle manager Scott Servais said.
Oakland finished at 69-93, a one-game improvement over a year ago but tied for the fifth-worst mark by winning percentage in franchise history. Matt Olson made a leaping catch at the wall in right field to grab Kyle Seager's line drive for the second out of the ninth and preserve the victory.
John Axford pitched the ninth for his third save.
The Mariners were in contention for the second wild card in the American League thanks to a 16-6 stretch. But hopes of playoff baseball returning to the Pacific Northwest for the first time in 15 years ended when Seattle lost 9-8 in 10 innings on Saturday.
It was the second time in three years the Mariners went into the final weekend with a shot at the postseason only to fall just short.
Seattle made a 10-game improvement from 2015 in Servais' first year as a manager at any level of baseball.
STREAK SNAPPED
Oakland outfielder Jake Smolinski went into the offseason on a positive note after snapping a 0-for-20 skid with a single in the fifth inning. It was the longest hitless streak of his career. Smolinski finished with two hits on the day.
(UN)FIT FOR A KING
Hernandez closed out of the most inconsistent seasons of his career with a brief appearance. He was solid early in the season, but a strained calf muscle that landed him on the disabled list for nearly two months derailed his season. Hernandez finished with a 3.82 ERA, his highest since 2007 when he was 21 and in his second full season.
Hernandez lost his final three decisions of the season.
UP NEXT
Athletics: Oakland opens the 2017 season on April 3 at home against the Los Angeles Angels.
Mariners: Seattle opens the 2017 season on April 3 at Houston.
---
---