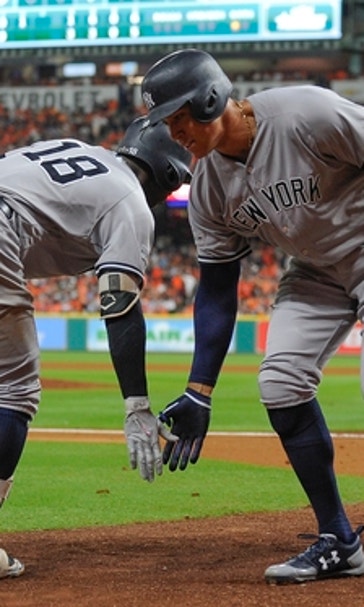 LEADING OFF: Yankees, Astros go to Game 7 in ALCS
October 21, 2017

A look at what's happening all around the majors today:
---
GAME 7
A night after Justin Verlander extended Houston's season, the Astros and Yankees will play Game 7 of their AL Championship Series. It's the first Game 7 for either team since 2004, when New York lost to Boston in the ALCS and Houston beat St. Louis in the NLCS - the Astros switched leagues before the 2013 season.
Houston took Game 6 to improve to 5-0 at home this postseason after dropping three straight in New York as the Astros chase their second trip to the World Series. The Yankees are hoping their elimination-game magic continues when they look to improve to 5-0 this postseason in such games and advance to the World Series for the first time since 2009.
CC AND CHARLIE, PART 2
CC Sabathia will pitch for New York against Charlie Morton, a rematch of the Yankees' 8-1 victory in Game 3. Sabathia is 10-0 in starts following a New York loss this season, including in that Game 3, and he has a 2.30 ERA over three starts in this postseason. The 37-year-old is in the final year of his contract, and this will be his 17th postseason start for the Yankees.
Morton got the loss in Game 3. He was chased after 3 2/3 innings and allowed seven runs and six hits: three infield singles, a bloop single to center, a double that Cameron Maybin allowed to fall in left and Todd Frazier's homer. Morton may not be asked for many innings in Game 7 - Houston should have starter Lance McCullers Jr. available in relief, plus its entire bullpen. Who knows, ace Dallas Keuchel could even get some innings?
SEARCH BEGINS
Dusty Baker is out of a job in Washington, and the Nationals are searching for a new manager. General manager Mike Rizzo said he told Baker the news via telephone Friday morning. Baker's two-year deal with the club is expiring, and Rizzo said the team was looking for a manager to get them over the hump in the postseason - Washington's four playoff appearances in the last six years all ended in the Division Series, including the past two under Baker.
The GM wouldn't offer any specifics about what sort of manager he will be looking for as a replacement. The Nationals will be hiring their sixth manager in a 10-season span. The pressure is on for Washington in 2018 because it's the last before star outfielder Bryce Harper can become a free agent.
---
More AP baseball: https://apnews.com/tag/MLBbaseball
---
---