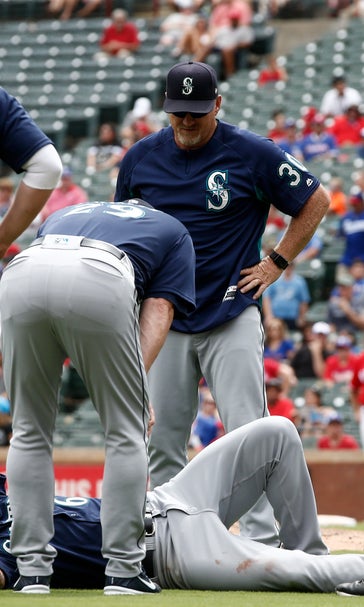 LEADING OFF: Struggling Seattle faces Houston, Porcello up
August 9, 2018
A look at what's happening around the majors today:
LOSING GROUND
Struggling Seattle turns to ace James Paxton as it opens a series against AL West-leading Houston. The Mariners have lost seven of nine overall and three of Paxton's past four starts dating to July 7. Paxton (9-5, 3.51) will oppose Justin Verlander (11-6, 2.19), who struck out 14 last time out in a 2-1 win over the Dodgers. Seattle is eight games back of the Astros and also chasing Oakland in the AL wild-card race.
RICK ROLLING
Rick Porcello starts for Boston against Toronto coming off an astounding game against the Yankees. Porcello (14-4, 3.84) carved up New York, completing nine innings of one-hit ball on just 86 pitches in a 4-1 victory. The only blemish on his stat line was a homer allowed to Miguel Andujar. Porcello, the 2016 AL Cy Young Award winner, has 20 strikeouts and two walks over his past three starts combined.
GOING, GOING, GALLO
Joey Gallo is on a tear for the Texas Rangers. Gallo slugged two homers in an 11-7 win over Seattle on Wednesday, and he enters a series at Yankee Stadium having hit 10 of his 31 homers in his past 19 games. He also had three hits Wednesday to lift his batting average over .200 for the first time since June 16. The 24-year-old is closing in on his career high of 41 homers, reached last season. New York starter J.A. Happ is set to be activated following a bout with hand, foot and mouth disease.
BIG FOUR
The Rockies are trying to keep pace with the Diamondbacks and Dodgers in the NL West race, and they have a chance to make progress during a four-game series against Los Angeles. Tyler Anderson (6-4, 4.05) takes the Coors Field mound for Colorado in the opener against Ross Stripling (8-3, 2.68), whose breakout season hit a bump with a pair of shaky outings late in July followed by a DL stint with an inflamed toe on his right foot.
---
---