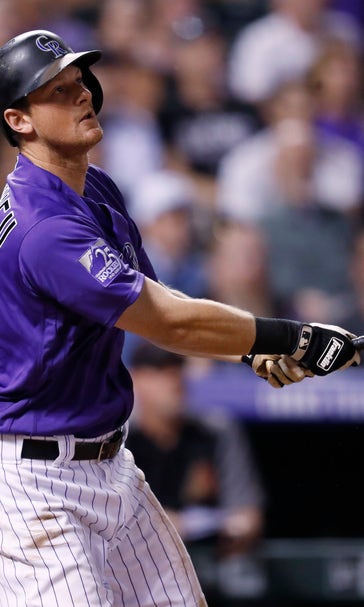 LEADING OFF: Diamondbacks-Rockies, Dodgers-Cards, Cubs in DC
September 13, 2018
A look at what's happening around the majors today:
GETAWAY DAY
With both teams chasing an NL West title, the Diamondbacks and Rockies wrap up their pivotal four-game series. Colorado leads the division by 1½ games over the Dodgers, while Arizona is 3½ back. Clay Buchholz (7-2, 2.01 ERA) makes his first career start at Coors Field against Rockies left-hander Kyle Freeland (14-7, 2.91), who is 8-2 at home this season. Colorado won 5-4 Wednesday night on DJ LeMahieu's two-run homer in the bottom of the ninth inning off Yoshihisa Hirano. It was LeMahieu's first career walk-off homer. "Just a great moment," he said. "That was awesome."
NO DAYS OFF
Clinging to a one-game lead in the NL Central, the Cubs have a one-day pit stop in Washington to make up Sunday's rainout. They're not happy about breaking up their homestand and losing a scheduled day off, because it means going 30 straight days without one. "Playing 30 consecutive days is the difficult part," manager Joe Maddon said. "For me, I don't think that's been discussed enough regarding whether to play or not." Mike Montgomery (4-5, 3.85 ERA) faces Joe Ross, who makes his season debut for a Nationals team that's won five straight and is closing in on the slumping Phillies for second place in the NL East.
NOT A FAIR FIGHT
The surging Athletics go for a three-game sweep of the Orioles, the worst team in the majors. Oakland embarrassed Baltimore 10-0 on Wednesday night to improve to an AL-best 34-15 since the All-Star break and close within a game of the New York Yankees for the first AL wild card. The A's have won six straight overall and are 5-0 against the Orioles this season. Baltimore has lost six in a row to fall to 41-104, the eighth time this season the Orioles have dropped at least six consecutive games.
PERMUTATIONS
The Dodgers are closer to the NL West lead than they are to a wild-card spot, but they could make progress on both fronts this weekend against the Cardinals. Los Angeles enters a four-game series at St. Louis trailing the Cardinals by two games for the second NL wild card, and the Dodgers have ace Clayton Kershaw pitching the opener. Rookie left-hander Austin Gomber (5-0, 2.93 ERA) goes for the Cardinals. "That's a big series for us," Dodgers catcher Yasmani Grandal said. "There's a chance to make some moves in this series."
RUNAWAY
The NL East race between the Braves and Phillies has been close for much of the season — but no more. Five straight wins by Atlanta and five consecutive losses by Philadelphia have given the Braves a 7½-game lead with 16 remaining. Both teams are off Thursday before Atlanta hosts Washington this weekend and Philadelphia welcomes the last-place Marlins to town. One glimmer of hope for the Phillies: They have seven games left against Atlanta, including a three-game set to end the season.
---
---