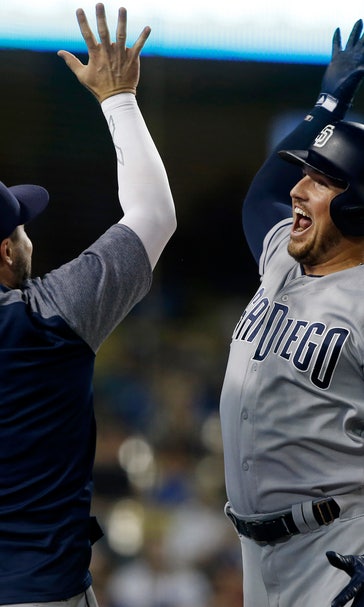 Last-place Padres beat NL West-leading Dodgers 5-3
September 22, 2018
LOS ANGELES (AP) — With nothing left to play for, the San Diego Padres are in spoiler mode.
And it feels good.
Hunter Renfroe hit a two-run homer, Freddy Galvis added a solo shot and the last-place Padres beat the Los Angeles Dodgers 5-3 on Friday night in front of a sellout crowd of 52,458.
"This is a crowd you don't play in front of every single night," third baseman Wil Myers said. "It was pretty cool to watch guys go out there and really compete."
Coming off a big three-game sweep of Colorado, the Dodgers' NL West lead was trimmed to 1 1/2 games over the Rockies, who won 6-2 at Arizona.
"Can't take anyone for granted," losing pitcher Ross Stripling said.
San Diego had dropped five in a row against Los Angeles. It was the Padres' first win over the Dodgers since July 10 at Petco Park.
Rookie Eric Lauer (6-7) pitched five innings of one-run ball in his first win since that July day.
"We want to be the spoilers for them just to do it," Lauer said. "Just because it's them. It's definitely cool getting a win in that environment."
Lauer struck out Manny Machado with runners on first and second to end the fifth.
"Yeah, I was just feeling good and it was kind of like the amped up part of the moment," Lauer said.
Kirby Yates allowed Machado's two-out RBI single in the ninth before striking out Joc Pederson for his 10th save.
"We just couldn't take advantage when we had runners in scoring position," Machado said.
Renfroe slugged his 24th homer on a 3-2 pitch with one out in the fourth, putting the Padres ahead 2-1 after Franmil Reyes' leadoff single against Ross Stripling (8-5).
Galvis homered into the lower right-field seats leading off the seventh, making it 3-1.
The Dodgers threatened in the seventh and eighth only to come up short.
They cut their deficit to 3-2 in the eighth. Pederson doubled to deep right-center and Matt Kemp struck out before Yasiel Puig singled to left, scoring Pederson.
Yasmani Grandal walked before Yates came in to face pinch-hitter Cody Bellinger. He got Bellinger on a swinging strike to end the inning.
Trailing 3-1, the Dodgers had the potential tying runs on in the seventh. Brian Dozier walked and took second on Enrique Hernandez's two-out single. Dozier moved to third and Hernandez went to second on a wild pitch by Robert Stock. Justin Turner flied to left to end the threat.
The Padres extended their lead to 5-2 in the ninth against John Axford. Myers hit a two-run double.
"Any time you can add runs on late is big and to be able to do it against a good team right there is nice," Myers said.
The Dodgers struck first, taking a 1-0 lead on Hernandez's 21st homer in the third.
Making his return to the rotation, Stripling allowed two runs and three hits in 3 1/3 innings. He struck out four and walked two.
TRIPPIN'
Yates grounded out to the shortstop in the ninth and while in an all-out dash to first he tripped and fell, sliding on his belly. The move cracked up his teammates. Yates then went out and pitched the ninth.
"I'm more impressed he didn't lose composure after that. Most people are not able to laugh that off," Green said. "He's great at laughing at himself. He said, 'There's only one way to play the game and that's hard,' and that's what he did."
MISTAKE PRONE
Dodgers third baseman Justin Turner committed a career-tying two errors.
VINNY RETURNS
Vin Scully has made a rare public appearance at Dodger Stadium to help honor fellow Hall of Famer Jaime Jarrin. The Spanish-language broadcaster was inducted into the team's Ring of Honor, with his name joining Scully and such Dodgers greats as Sandy Koufax, Jackie Robinson and Roy Campanella.
Scully greeted the crowd with his trademark phrase: "Hi, everybody, and a very pleasant good evening to you." A roar went up.
"I haven't said it in two years, so I just thought I'd like to hear it one last time," Scully said, smiling.
He retired two years ago after 67 years in the booth.
UP NEXT
RHP Jacob Nix (2-3, 5.75 ERA) goes for the Padres in his first career start against Los Angeles. He made his big league debut on Aug. 10. LHP Rich Hill (9-5, 4.02 ERA) starts for the Dodgers on Saturday night. He last faced the Padres a month ago, tossing six scoreless innings and striking out eight.
---
---