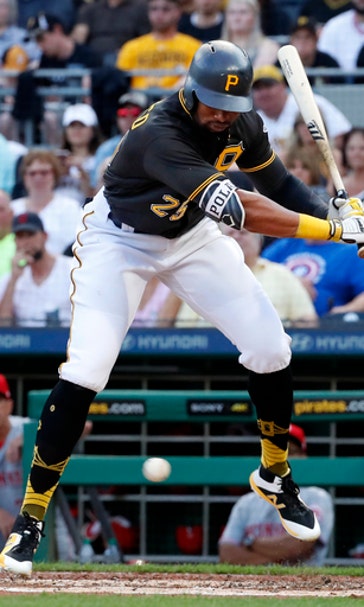 Kuhl goes 6, snaps winless streak as Pirates beat Reds 3-2
June 15, 2018
PITTSBURGH (AP) Chad Kuhl was just happy his team got the win. His manager was thrilled that his right-hander got the credit for it.
Kuhl pitched six solid innings to win for the first time since May 6, a span of seven starts, and the Pittsburgh Pirates edged the Cincinnati Reds and Matt Harvey 3-2 on Friday night.
The Pirates' last back-to-back wins came on May 16-17 against San Diego, which pushed them a season-high nine games over .500 at 26-17. They have gone 8-18 since and lost eight straight series.
''It was good for the team to open up the series with a win and hopefully we can win this series (Saturday),'' Kuhl said.
Kuhl (5-4) gave up two runs, one earned, and six hits while striking out six and walking three. He allowed no more than three runs in any of his previous four outings.
''People who say wins are not important for pitchers are people who don't pitch,'' Pirates manager Clint Hurdle said. ''There is value to it. Everybody likes a pat on the back. Everybody likes a reward. I don't think that's ever going to change in sport. If it does, then it will be time for me to get out.''
The Pirates pulled ahead 3-2 in the sixth on consecutive sacrifice flies by Starling Marte and Colin Moran off reliever Michael Lorenzen. The runs were charged to Harvey (1-5), who was lifted after giving up back-to-back singles to pinch-hitter Elias Diaz and Josh Harrison to start the inning.
Harvey allowed three runs on four hits with two strikeouts and two walks. The former New York Mets ace is 1-3 with a 5.09 ERA in seven starts since being traded to Cincinnati on May 8 after being designated for assignment.
Wandy Peralta relieved Harvey and hit Corey Dickerson, the only batter he faced, with a pitch. That left the bases loaded with none out for Lorenzen.
''I'm just frustrated about the whole outing,'' Harvey said. ''It was kind of a struggle the whole time. To have the lead going into the sixth inning and letting two guys get home is unacceptable and something I'm (upset) about.''
Felipe Vazquez held on in the ninth for his 13th save in 17 opportunities. Tucker Barnhart singled with two outs and pinch-runner Billy Hamilton stole second base before Joey Votto struck out swinging.
A sacrifice fly by Scooter Gennett in the third inning drew the Reds into a 1-1 tie and they went ahead in the fourth, scoring a run on a throwing error by Kuhl.
''I couldn't believe it. I was in shock when I threw the ball away,'' Kuhl of the first error of his three-year career. ''I kind of went behind the mound and reset.''
Pittsburgh scored the game's first run when Gregory Polanco grounded into a double play in the second inning.
The Reds lost despite outhitting the Pirates 7-5. They were 0 for 11 with runners in scoring position and stranded 10 baserunners.
Cincinnati's Jose Peraza had two hits.
KANG OFF RESTRICTED LIST
Pirates infielder Jung Ho Kang has been reinstated from the restricted list and optioned to Triple-A Indianapolis after missing last season and the first part of this year because of visa issues.
The 31-year-old Kang was unable to secure a work visa to travel from his native South Korea to the United States after he was arrested for DUI for a third time in December 2016 in Seoul. He received an eight-month suspended prison sentence.
The move is procedural, so Kang can begin drawing the prorated portion of his $3 million salary. He has already played in 11 minor league games. He was cleared to travel to the U.S. on April 27.
PIRATES SIGN TOP PICK
The Pirates signed South Alabama outfielder Travis Swaggerty, the 10th overall pick in last week's amateur draft, to a contract with a $4.4 million bonus and assigned him to short season Class A West Virginia. He hit .296 with 13 home runs and a .455 on-base percentage in 57 games this year.
TRAINER'S ROOM
Reds: RHP Homer Bailey (right knee inflammation) stopped his rehab assignment at Triple-A Louisville. On the disabled list since May 30, Bailey made one start for Louisville and was tagged for five runs in three innings Monday.
Pirates: RHP Richard Rodriguez (right shoulder inflammation) is scheduled to pitch a simulated game Saturday.
UP NEXT
Reds: Luis Castillo (4-7, 5.79 ERA) has lost his last three starts with a 7.47 ERA.
Pirates: RHP Ivan Nova (3-5, 4.68) beat the Cubs at Chicago last Sunday in his return from the DL, allowing one run in 5 2/3 innings after being out with a sprained right ring finger. He is 3-7 lifetime against Cincinnati.
---
---