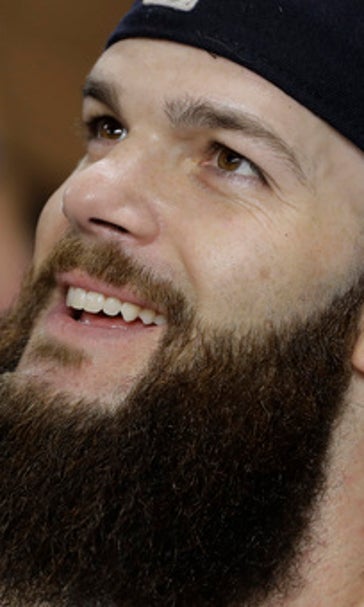 Keuchel warming up for Series rematch with Kershaw in Game 5
October 28, 2017

HOUSTON (AP) Dallas Keuchel figures he already has one advantage for his next start in the World Series - warming up, he'll be able to spot his catcher.
The Astros left-hander is set to start Game 5 against Los Angeles Dodgers ace Clayton Kershaw on Sunday night. It will be a rematch of the opener, when Kershaw dominated in a 3-1 win.
''To be in a position to clinch would be awesome, just because that means we're taking care of business,'' Keuchel said.
Houston led the Series 2-1 going into Saturday night's game. Whether he's pitching for a championship or trying to give the Astros a lead, Keuchel said his focus won't change.
But his preparation will be slightly different.
It was 103 degrees at Dodger Stadium for the first pitch. Keuchel felt the heat while he threw to catcher Brian McCann before the game.
''Physically, I felt great. The only thing that bothered me was the sun, it was literally in my face in the bullpen,'' he said.
''I had never been at Dodger Stadium for a 5 (p.m.) game before. Couldn't even see McCann or the plate warming up,'' he said.
Part of the home-field advantage, probably. While Keuchel loosened up in the sun, Kershaw was in the shade.
With the retractable roof closed at Minute Maid Park, the elements won't be an issue for Game 5.
Kershaw was in total control in the opener. He threw seven shutout innings, giving up three hits while striking out 11 without a walk.
Keuchel kept it close in the matchup for Cy Young Award-winning lefties. He pitched 6 2-3 innings and allowed three runs, giving up home runs to Justin Turner and Chris Taylor.
In the open air, the crowd was loud at Dodger Stadium. At Minute Maid, the sound is amplified indoors.
''It's always more than I expect. And when I think about it in my head it's one way, but then it's actually better each and every time,'' Keuchel said.
''It was pretty impressive at Dodger Stadium to see all the white and blue. And I could only spot five or six orange Astros shirts or jerseys. So to replicate that here back in Houston is amazing,'' he said.
Kershaw is aiming to repeat his performance in the opener. He's won all three of his starts this postseason.
''Hopefully, tonight we can even it up, and at least guarantee our chance back in LA. And either way you can't really focus on tonight's game, from my perspective, you've just got to be ready to go pitch,'' he said.
''Elimination game, no elimination game, shouldn't change your mindset. Obviously added pressure if it's an elimination game. But it shouldn't change any mindset, for sure,'' he said.
---
More MLB baseball: https://apnews.com/tag/MLBbaseball
---
---