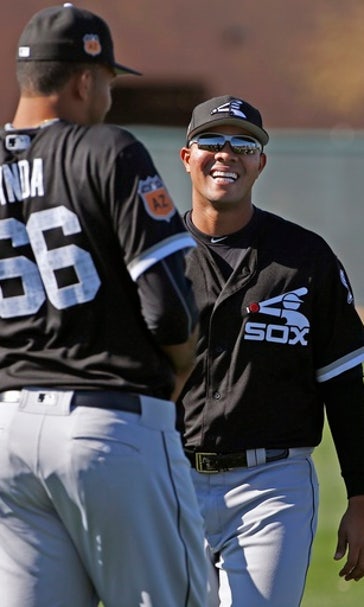 Jose Quintana is ace of the Chicago White Sox - for now
February 15, 2017

GLENDALE, Ariz. (AP) Jose Quintana is the ace of the Chicago White Sox - for now.
With Chicago rebuilding, the 28-year-old All-Star left-hander knows he could be traded.
''You never know what's going to happen, but I heard a lot of rumors,'' he said Wednesday. ''You don't have control over that. I just kept doing my preparation for the new season, and that's about it.''
Chicago dealt ace Chris Sale and outfielder Adam Eaton during the offseason for prospects. General manager Rick Hahn said that while trade talks may continue, his focus is on the season. He is encouraging Chicago players to concentrate on the present.
''When they're here, they can focus on doing their job regardless of whatever uniform they're wearing, and block out any distractions,'' Hahn said.
Santana is 46-46 with a 3.41 ERA since joining the White Sox in May 2012, a reflection of his lack of run support and bullpen help. Pitching without Sale as a teammate will take an adjustment.
''We'll miss this guy,'' Quintana said of Sale, now with Boston. ''He is truly the best pitcher in the American League. I was surprised but I know that's part of the business, that happens. But the team, they think winning for the future, and we have good players now and we have a lot of talent, younger guys. I think we have a lot of chance to compete this year.''
Quintana does know one team he'll be with, Colombia, which opens the World Baseball Classic against the United States on March 10.
''This year is my first time for my country,'' he said. ''I'm excited for WBC. I prepared my season a little bit early this year.''
Colombia, which qualified for the WBC for the first time in four tries, has a pitching staff that also includes Atlanta's Julio Teheran. White Sox pitchers Nate Jones and David Robertson are on the U.S.
''I said `Nate, hey, we'll have the last hug before the tournament starts,''' Quintana recalled.
---
---