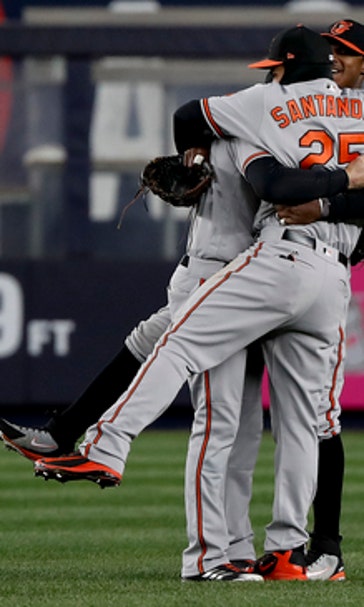 Jones, Orioles rally past Yanks 5-2, end 5-game skid
April 6, 2018
NEW YORK (AP) The Baltimore Orioles had been waiting a while for a big hit. Adam Jones was glad to step up and deliver.
Jones lined a go-ahead home run, Andrew Cashner pitched six strong innings and the Orioles snapped a five-game losing streak, beating the New York Yankees 5-2 on Thursday night.
Baltimore had been held to under three runs in four of their five losses. The Orioles then sent nine batters to the plate during a five-run seventh inning to put away a previously dominant Masahiro Tanaka.
''It's huge,'' said Jones, who has half of the Orioles' six homers this season. ''Then it started back over after I hit the home run. Bases got empty and then we put up three more runs.''
''I said it, when we're all swinging the bat good, we just pass the baton to the next guy. When you got a guy in front of you who hits the ball hard, it's an incentive to yourself that you want to do the same thing,'' he said.
Giancarlo Stanton, making just his fourth big league start in left field, made a nice leaping attempt in front of the fence but wasn't able to haul in Jones' homer.
Aaron Judge had given New York a 1-0 lead in the sixth with his second home run of the year.
Cashner (1-1), who was hit hard in his first start of the season, held the Yankees to just one hit before serving up Judge's home run.
The righty allowed two hits and struck out five as Baltimore bounced back from a three-game sweep at Houston.
Facing the power-hitting Big 3 - Stanton, Judge and Gary Sanchez - Cashner kept them at bay, holding them to just one hit in eight at-bats.
Judge's fence-clearing shot was the 58th of his career in 189 games, making him the quickest to get there in MLB history.
Cashner then left it up to his offense to take care of the rest.
''I think more than anything, it's guys sticking with the process and just trusting,'' he said. ''It's been a tough go for us to start, but with Adam hitting that big homer, you know he had the big homer on opening day, I think it kind of let some guys breathe a little bit.''
Brad Brach pitched the ninth for his first save of the season in two chances.
Tanaka (1-1) had won his last six home starts, including two in the 2017 postseason. He cruised during his first six innings before the Orioles chased him in the seventh.
After serving Jones' homer on a slider, the New York right-hander retired Chris Davis before giving up a single to Tim Beckham.
''I knew it was not an ideal pitch and as soon as it left, I knew he got the barrel of the bat but I thought maybe it was 50/50,'' Tanaka said through a translator.
Reliever Chad Green gave up consecutive singles and Anthony Santander hit an RBI double. Trey Mancini added a two-run single extended the lead 5-1.
Neil Walker hit an RBI double in the bottom half, but Darren O'Day then entered with two on and got Miguel Andujar to pop out to end the inning. The Yankees loaded the bases in the eighth before Walker grounded back to O'Day.
New York had the potential tying run on deck after Tyler Wade walked with one out in the ninth, but Brach struck out Brett Garner to end it.
''If we can get it to Judgie we've got a chance, right?'' Yankees manager Aaron Boone said. ''And that's kind of what you hope for in that ninth inning.''
NO SHORT STOPS
Orioles star SS Manny Machado, one of next offseason's top free agent targets, has no plans of switching positions any time soon after spending his first five seasons in the majors at the hot corner - that even means if the Yankees come calling. New York already is a considered a top contender to get him.
The 25-year-old, who was groomed to become Baltimore's franchise shortstop when he was picked third overall in the 2010 draft, made the full-time switch to short ahead of the 2018 season. Prior to his first game of the year in the Bronx, he said he doesn't foresee moving back to the position where he's previously won two Gold Gloves.
''I made the commitment to go to short, so I think I moving forward I would like to stay there. This is just not a move, like you guys like to say, for money purposes,'' said Machado, who had not played at short since the 2016 season when he appeared in 46 games.
''I'm going to get mine. It's where your heart is, where my heart always been. That's where I want to be. I moved over for a reason. I made a commitment to it, and I'm going to stick to it.''
WIPED OUT
Jones hit a double in the first inning that would have driven in a run. But a replay challenge by the Yankees overturned the call at the plate, showing that catcher Gary Sanchez tagged out Mancini.
TRAINER'S ROOM
Orioles: OF Mark Trumbo (right quad strain) played right field in an extended spring training game Thursday. Manager Buck Showalter expects him to start a minor league assignment before joining the team. ... LHP Ryan O'Rourke, who's coming back from Tommy John surgery, threw a 35-pitch bullpen session. ... LHP Chris Lee also threw a bullpen.
Yankees: OF Clint Frazier, who's been recuperating from a concussion he suffered Fed. 24, participated in a simulated game Thursday at the team's spring training complex in Tampa, Florida.
---
---