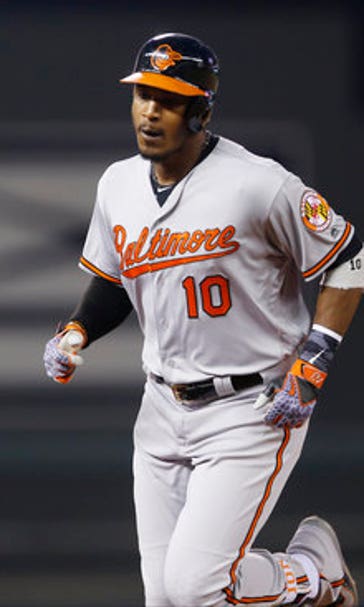 Jones breaks out of slump to lift Orioles over Twins, 5-3
May 11, 2016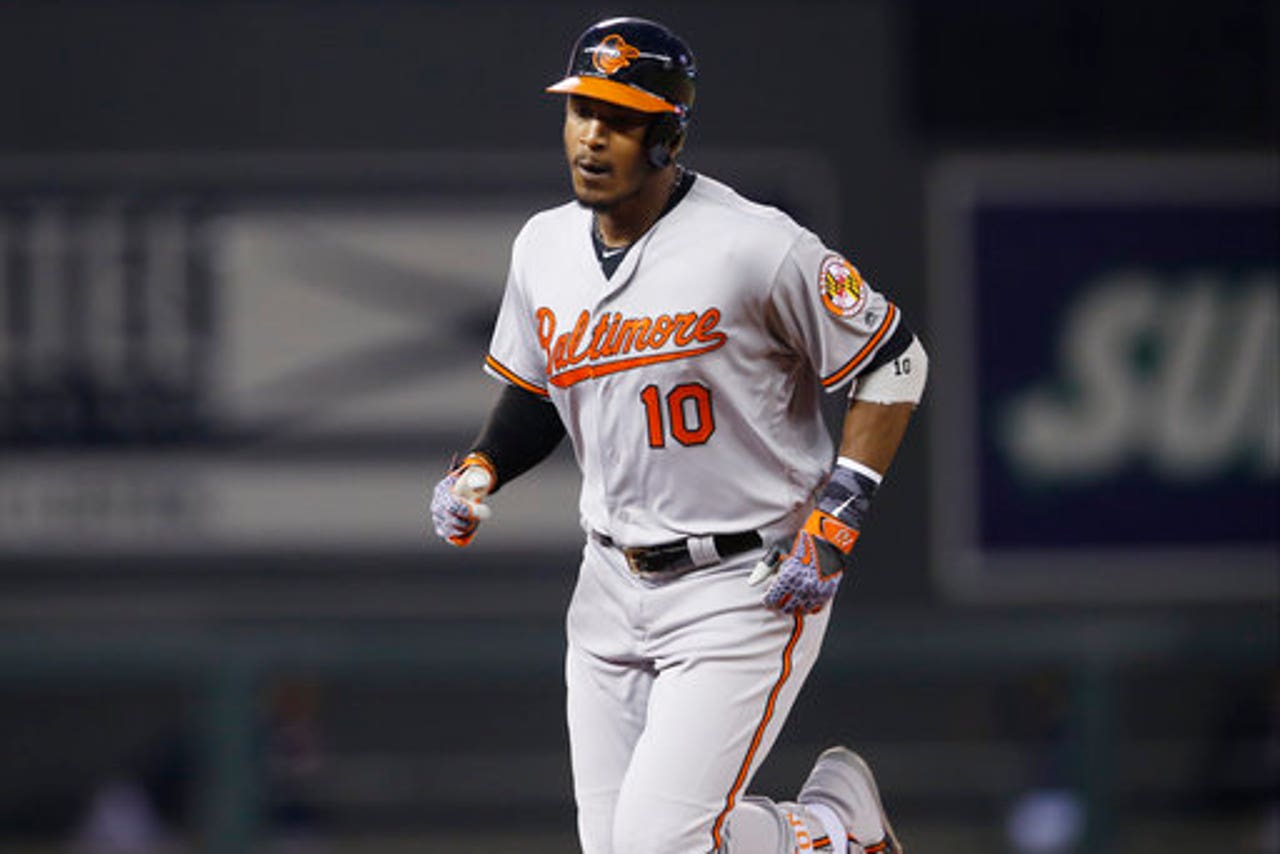 MINNEAPOLIS (AP) The Baltimore Orioles were packing up to leave the ballpark on Monday night after their game against Minnesota was postponed when manager Buck Showalter heard the familiar crack of the bat in the batting cage.
It was slumping slugger Adam Jones, staying late to try to get his swing going.
Jones broke out of a long slump in a big way, delivering the go-ahead, two-run single in the ninth inning after a towering homer in the fifth to lead the Orioles to a 5-3 victory over the skidding Twins on Tuesday night.
''He wants to be as good as he's capable of,'' Showalter said. ''That's a feel-good because you know how much it (bothers him). He's got a great way of not taking himself too seriously, but you know it's kind of been grinding on him. You know he cares.''
Manny Machado also went deep while going 3 for 3 with two walks to raise his batting average to .365, and Zach Britton earned his eighth save for the first-place Orioles. Kevin Jepsen (2-4) intentionally walked Machado in the ninth to get to Jones, who made him pay.
''As long as we keep winning, it doesn't really matter how it goes as long as the team wins,'' Jones said. ''That's the main objective, the main goal. I'm a team guy, I'm not an I, I, I person. I'm just for the team.''
Trevor Plouffe hit a home run, a double and drove in three runs for the Twins, who have lost six straight games. Jose Berrios gave up three runs on eight hits and struck out six in five innings.
Chris Davis had three hits, Matt Wieters added two hits and an RBI, and Kevin Gausman allowed three runs on five hits and struck out nine in six innings for Baltimore. Darren O'Day (2-0) got the win.
Joe Mauer went 0 for 3 with a walk in his first career game as a leadoff hitter for the Twins.
The series opener on Monday was postponed with bad weather looming in the area, a much-needed break for the Twins after an awful road trip dropped their record to an AL-worst 8-23.
They sent Berrios, their prized prospect who has been up and down in his first stint with the team, to the mound hoping for a long outing. But once again, his pitch count ran high in the early innings and the Orioles got to him in the fifth.
Jones was in a 3-for-26 skid over the last seven games when he followed Machado's homer with a 443-foot drive over the bullpen in center field to give the Orioles a 3-1 lead. It was just his second homer of the season and first since April 16.
''That's a lot of frustration out in one swing,'' Showalter said. ''That was a lot of pent up, I can tell you that.''
GAUSMAN'S START
The big right-hander feasted on a team that strikes out a lot, ringing up a season high in his fourth start.
''I felt really good with everything,'' Gausman said. ''Left some curveballs up early in the game but as the game went on, my stuff kind of got better and I think I got more comfortable.''
MAKEUP DATES
The Orioles have already had four games postponed this season. Monday's game against the Twins has been rescheduled for July 28, with the first pitch at 6:10 p.m. CDT.
Baltimore's postponed game against Tampa Bay from April 9 will now be played as part of a day-night doubleheader at home on June 25. The first game will start at 1:05 p.m. EDT.
TRAINER'S ROOM
Orioles: RHP Brad Bach took a hot shot from Danny Santana off his right thigh in the seventh inning, but was able to remain in the game.
Twins: RHP Kyle Gibson (right shoulder strain) threw a bullpen and is scheduled to throw another on Friday. He appears on track to return when his 15 days on the disabled list are up. ... Minnesota closer Glen Perkins (left shoulder strain) is starting to play catch, but he's still not close to returning. He has been on the disabled list since April 13.
UP NEXT
The Twins will send RHP Phil Hughes (1-5, 5.85 ERA) to the mound for the finale against RHP Tyler Wilson (1-1, 3.04). Hughes lasted just two innings in his last start, his shortest outing since 2013. Wilson has allowed 20 hits in 23 2/3 innings this season.
---
---