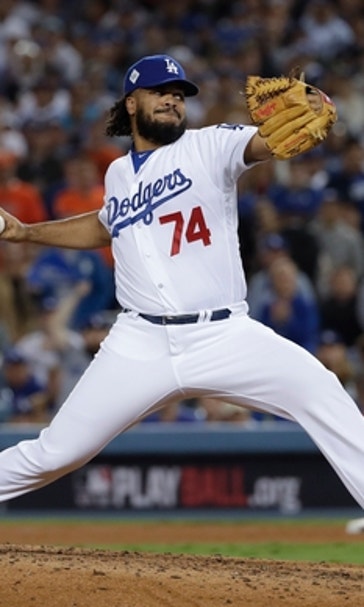 Jansen returns to form with 6-out save for Dodgers
November 1, 2017

LOS ANGELES (AP) Kenley Jansen looked like his All-Star self.
The Dodgers closer got redemption by earning a six-out save Tuesday night, helping Los Angeles beat the Astros 3-1 to force a Game 7 in the World Series.
''I'm not trying to be a hero or anything, but there's no tomorrow,'' he said. ''You've got to go out there and fight.''
Jansen had a blown save and a loss earlier in the Series when he hardly resembled the NL's top reliever. He tied for the league lead with 41 saves and led the majors with a 97.6 save percentage. His 109 strikeouts ranked second in the NL among relievers.
''He's the best closer in baseball,'' starter Rich Hill said. ''To see him coming out of the bullpen for the eighth, everybody was really excited.''
Manager Dave Roberts had said before Game 6 that Jansen would probably only be used for three outs. Of course, Roberts also said he wanted Hill ''to go as long as he can.'' Roberts yanked the left-hander after 4 2/3 innings.
Jansen stuck around.
He got three outs on seven pitches in the eighth, retiring Carlos Correa, Yuli Gurriel and Brian McCann, who struck out. Then he had a lengthy wait on the bench while the Dodgers sent five batters to the plate in the bottom of the eighth.
''When I called on him in the eighth, I wasn't certain,'' Roberts said. ''I just knew that part of the order, I just wanted him to attack those guys. And if he wasn't as efficient in the eighth, then I would have been put in a difficult situation.''
Dodgers ace Clayton Kershaw was stretching in the bullpen during the long half inning, but Roberts never called his number. Instead, the crowd of 54,128 stood and cheered as Jansen returned for the ninth. Marwin Gonzalez - who hit a tying homer off Jansen in Game 2 - popped up to first base before Jansen struck out former Dodger Josh Reddick and pinch-hitter Carlos Beltran to end it.
Three up, three down - again.
Six outs on just 19 pitches.
''Very efficient,'' Roberts said.
Jansen yelled and embraced catcher Austin Barnes as ''I Love L.A.'' blared. From his seats near the field, Dodgers great Sandy Koufax applauded. He won Los Angeles' previous Game 7 with a three-hit shutout to beat the Twins in 1965.
Game 7 is Wednesday night at Dodger Stadium, where the home team has a chance to win its first championship since 1988. It's exactly what Jansen and third baseman Justin Turner sought when they returned to the Dodgers as free agents last offseason.
''It's awesome,'' Jansen said. ''We're ready for it, confident, and we're going to try to do everything to stay focused.''
Jansen was automatic while the Dodgers piled up 104 victories in the regular season. It made his implosion in Game 5 on Sunday a real stunner.
He entered in the bottom of the ninth, after the Dodgers scored three times in the top of the inning to tie it 12-12. He got the game to extras, but hit McCann with a two-out pitch in the 10th before walking George Springer. Alex Bregman then delivered a game-ending single.
The Dodgers weren't likely to win the Series if Jansen failed to rebound. He's back, and so is LA's shot at a seventh title.
---
More AP baseball: https://apnews.com/tag/MLBbaseball
---
---