Major League Baseball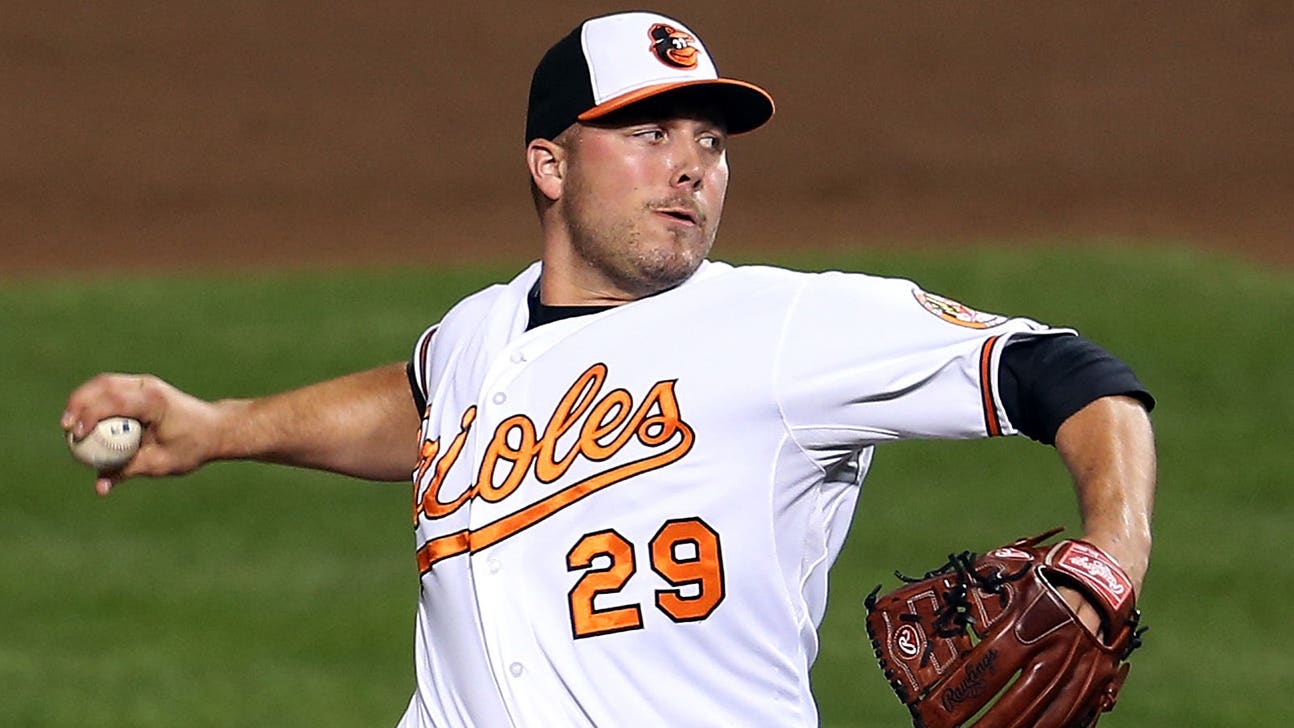 Major League Baseball
Hunter ready to learn 9th-inning lessons as Orioles' new closer
Published
Mar. 18, 2014 10:23 a.m. ET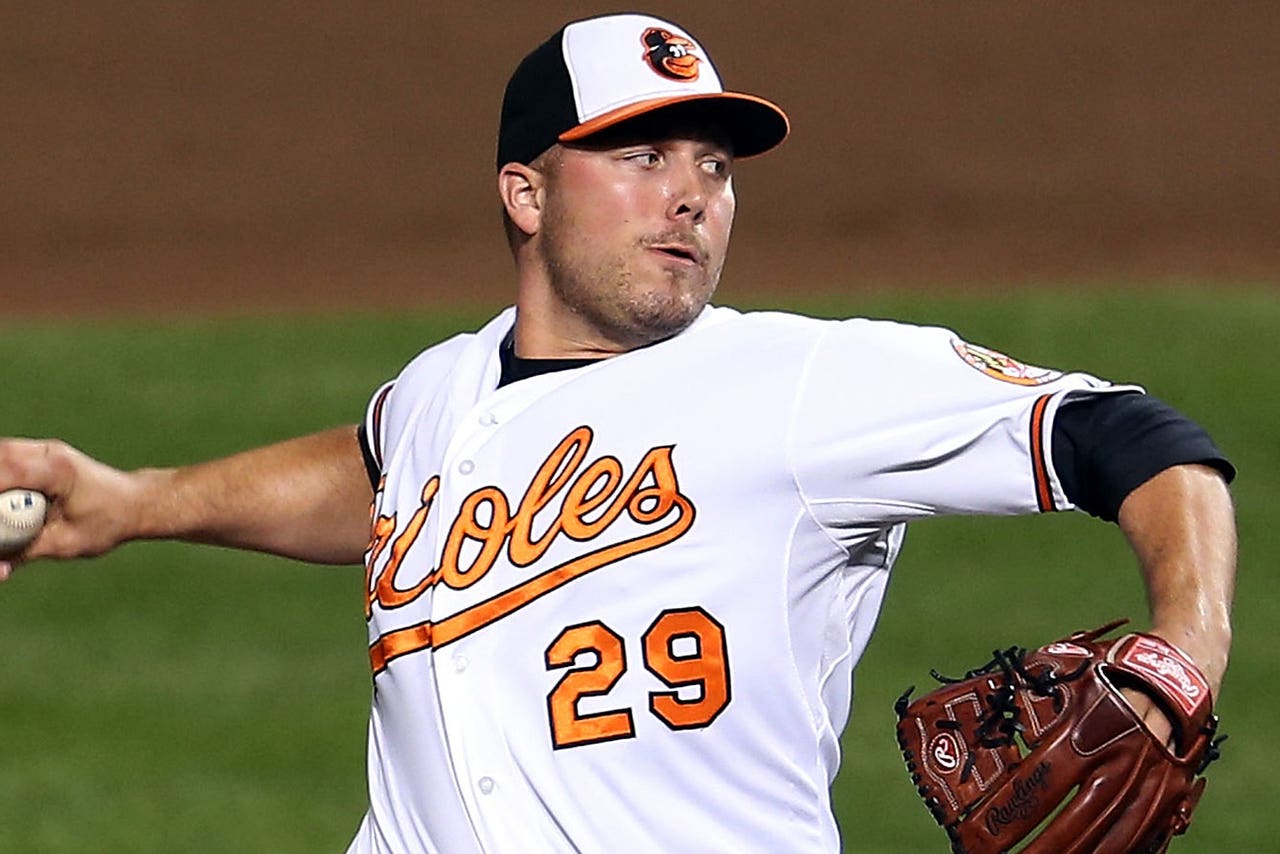 SARASOTA, Fla. -- Tommy Hunter knows there will come a time this season when he blows a ninth-inning lead to turn a potential victory into a frustrating defeat.
The manner in which the right-hander reacts to that disappointment could go a long way toward determining his success as the Baltimore Orioles' new closer.
"Baseball is failing man's sport and there's something to learn and take from every day," Hunter said. "You're going to have to forget what happened the day before, whether it was good or bad, because you're going to have to go out and perform the next day."
Hunter takes over for Jim Johnson, who had 50 saves last year before being traded to Oakland in a salary dump. Orioles executive vice president Dan Duquette reached agreement on a two-year contract with Athletics closer Grant Balfour in December, but the deal fell through after Balfour failed the physical.
That opened the door for the 29-year-old Hunter, who has a fastball that has been clocked at 100 mph. He had four saves in six tries last season, so he at least has some experience in the role.
That leaves one big question: Does Hunter have the proper mindset?
Orioles pitching coach Dave Wallace says the most important quality of a closer is "the ability to have controlled emotion."
"The two guys who come to mind are (Dennis) Eckersley, who used his emotion, and Mariano (Rivera), who internalized it and carried it into a game," Wallace said.
The playful, fun-loving Hunter couldn't be much more different than Johnson, a quiet, no-nonsense individual. That won't matter when it comes time to protect a one-run lead with three outs to go.
"I have had John Wetteland, Eric Gagne, Jason Isringhausen, all different personalities when they get to the mound," Wallace said. "I don't think that's a real big key what they're like away from the game. It's what happens when they bring it into the ballgame."
Hunter broke into the majors as a starter with Texas in 2008 and went 13-4 in 2010. A strained groin limited his playing time the following season before he was dealt to the Orioles in July 2011 for Koji Uehara as part of the trade that enabled Baltimore to land slugger Chris Davis.
Hunter remained a starter with the Orioles until manager Buck Showalter decided in the middle of the 2012 season that his pitching skills would be best utilized in relief. Hunter embraced the role, and last year he appeared in 68 games, recording 68 strikeouts in 86 1/3 innings while going 6-5 with a 2.81 ERA.
"You've got to love Tommy's energy and his stuff at the end of games," Orioles catcher Matt Wieters said. "It's definitely going to be a learning process, getting those last three outs. But he's got all the tools to be a very successful closer. It's going to be an adjustment, like when he went from starting to the bullpen. But he took well to that role."
As a starter or reliever, Hunter has been prone to giving up home runs. He yielded 32 in 2012, an average of 2.15 per nine innings, and although he lowered that figure to 1.15 last year, Hunter knows further improvement is needed for him to be effective as a closer.
"I think it's about locating the fastball," he said. "It doesn't matter how hard you throw in the big leagues. You can give up home runs on a 100 mph fastball, you can give them up on an 80 mph fastball. It's all about location. You've got to hit your spots, change speeds and mix it up. These guys can hit a fastball, so you're going to have to throw it where they can't hit it."
Wallace joined the Orioles after the 2013 season, so he can't say for sure if Hunter is ready to take the next step. But he's got a good feeling about it.
"Your tendency is to say he's got that personality, he's got what it takes, but I haven't seen Tommy in the regular season," Wallace said. "I've heard all the talk about him. He's great, he's intense, he's aggressive. Can he channel it in the right way? We'll find out. But he's got that package that you look for."
---
---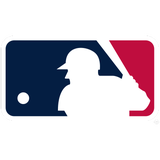 Get more from Major League Baseball
Follow your favorites to get information about games, news and more
---