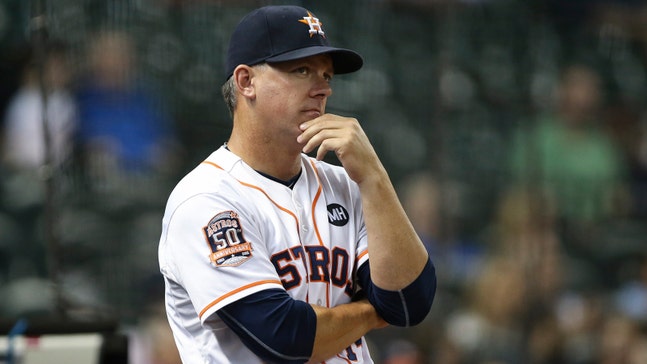 How A.J. Hinch went from bust to among the best as a manager
Published
Feb. 22, 2016 11:04 a.m. ET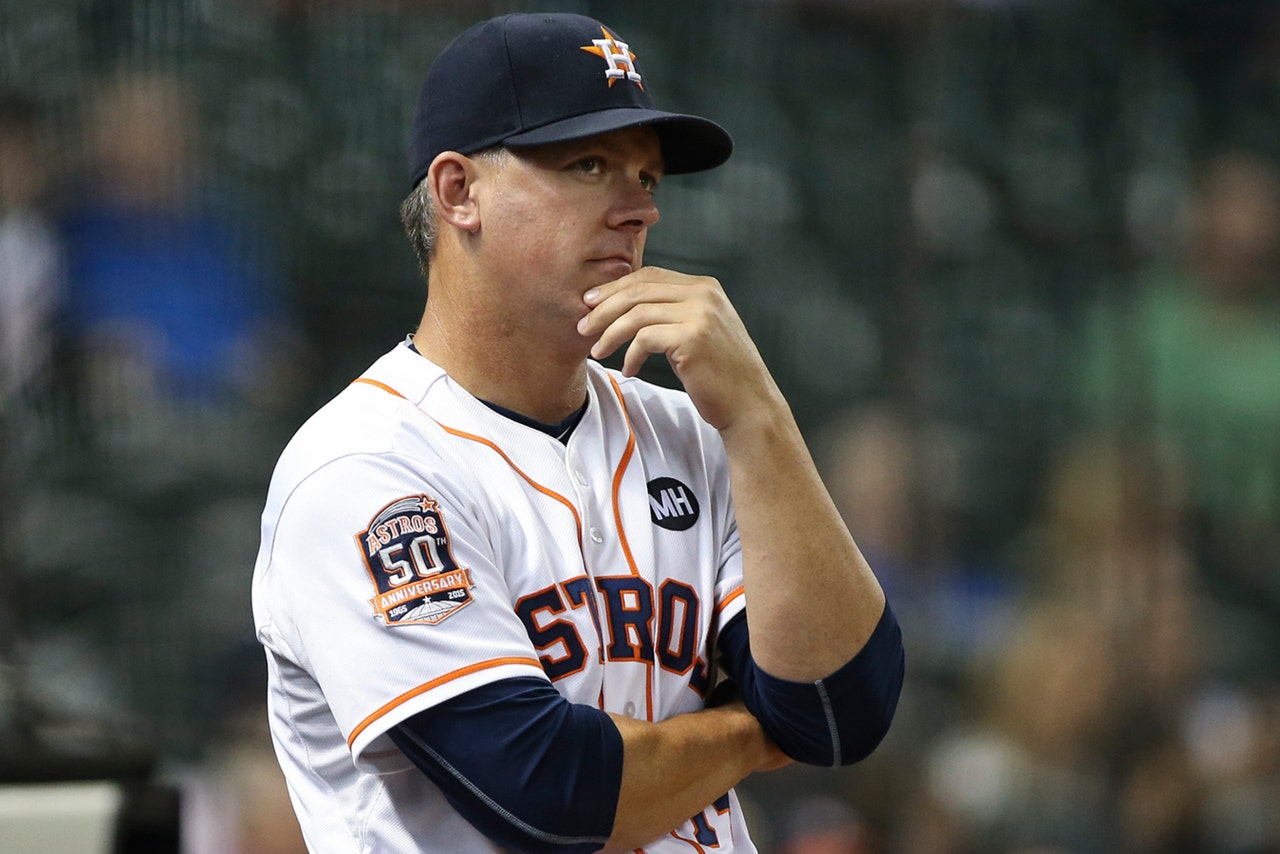 KISSIMMEE, Fla. – The change was unpopular, the explanation ill-conceived. But when Josh Byrnes hired A.J. Hinch to manage the Diamondbacks in May 2009, citing the need for "organizational advocacy," the former GM actually was ahead of his time.
The move proved a disaster -- the DBacks fired both Byrnes and Hinch less than 14 months later -- but Hinch grew from the experience. He then moved on to the Padres' front office, gaining further insight into managing while serving under Byrnes as assistant GM.
How did it work out for the Astros, who gave Hinch a second chance at managing last season? Pretty well, considering that Hinch took over a team that had averaged 104 losses the previous four years and lead them to its first postseason appearance in 10 years.
How did it work out for the industry, which reacted to the DBacks' hiring of Hinch with almost universal disgust? I was one of many in the media who was critical of the move and Byrnes' framing of it. But the rationales that made Hinch's hiring so controversial are now almost standard, barely drawing notice today.
Hinch, then five days short of his 35th birthday, had been a major-league catcher but lacked previous coaching or managing experience when Byrnes promoted him from farm director to replace Bob Melvin.
Back then, such hirings were rare. No longer.
Including Hinch, 12 of the 30 current managers – 40 percent – landed their jobs without previous managing experience in professional baseball. Only five of those had even coached in the majors.
Going from the front office to the field – the other unusual aspect of Hinch's hiring – is less typical but hardly unheard of. The Brewers' Craig Counsell, Mariners' Scott Servais and Tigers' Brad Ausmus followed that path (Servais and Ausmus coming from other teams), as did the Marlins' former manager, Dan Jennings.
Many current GMs want partnerships with their managers, alignments in philosophies, collaborations. They want the managers to widen their lens, view players from a broader perspective. They want what Byrnes was talking about with Hinch in '09.
"Even then, understanding the important role that the manager plays in the organization was key," said Hinch, who finished second to the Rangers' Jeff Banister last season for American League Manager of the Year.
"The No. 1 priority is the players. Getting a connection with the players. Being able to push each player's buttons, getting the most out of them. You learn how to direct players' careers at the major-league level by trying to tie them to organizational standards and organizational philosophies.
"We were onto something then. It wasn't accepted as freely as it is now. And I've been very candid. My career didn't really warrant acceptance in that regard. Some of these other guys had better playing careers. It became a touch easier for each guy progressively to take over a team. But if it wouldn't have been for that first time, I don't think I would have gotten this second chance."
******
In retrospect, and through little fault of his own, Hinch barely had a chance with the DBacks.
Melvin was popular with his players and staff; his good friend, pitching coach Bryan Price, resigned rather than work under a new manager. Staff ace Brandon Webb had an injured shoulder and did not pitch for Hinch in either '09 or '10. The bullpen in '10 finished with a 5.74 ERA, more than a full run per nine innings higher than the next-worst team's.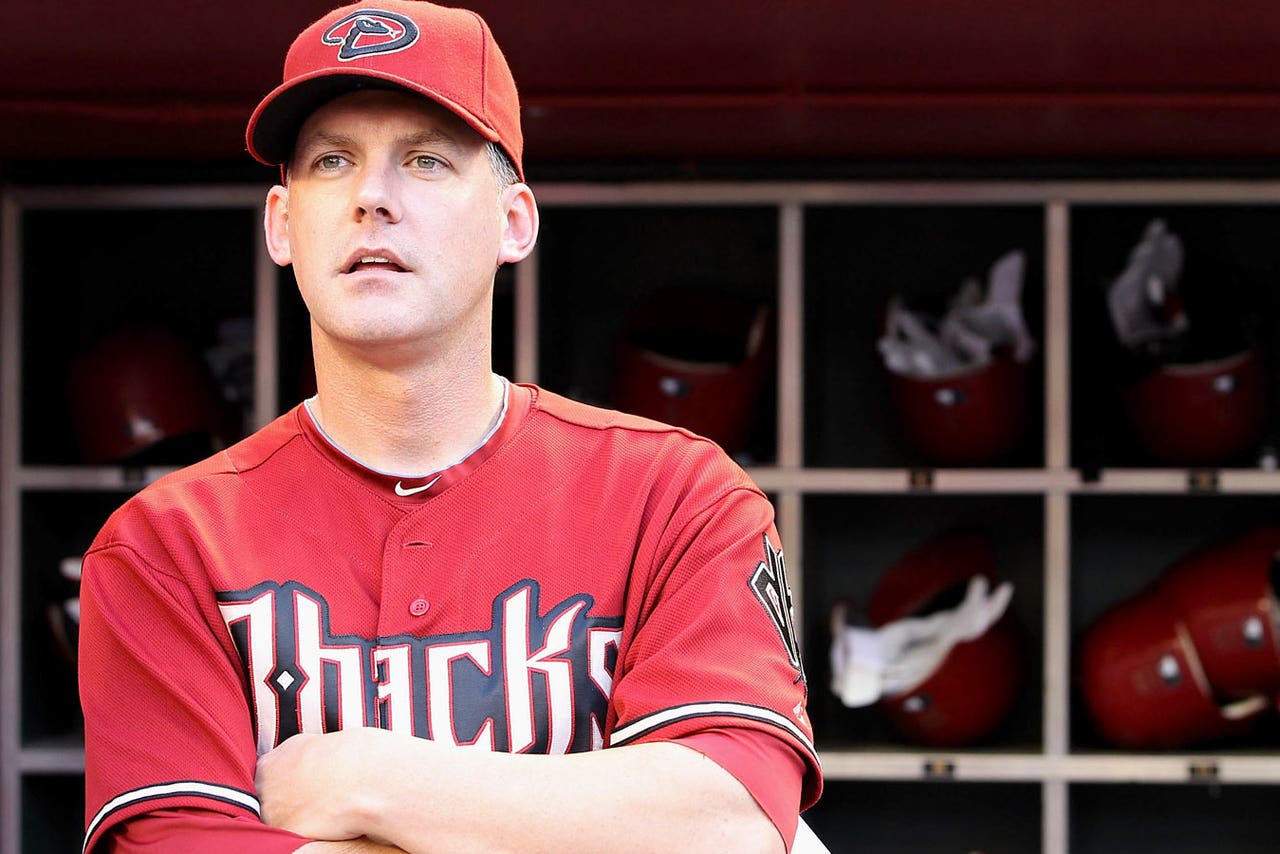 Hinch never had much of a chance in Arizona.

"He ran into a perfect storm in Arizona," said former outfielder Eric Byrnes, who had been Hinch's teammate with the Athletics and played for him with the DBacks in '09.
"He replaced a manager that everybody loved, he inherited a team on the decline and he had never managed a game in his life. There is not a person in the world who could have survived that situation."
Retired pitcher Dan Haren, who played for Hinch in both '09 and '10, went through a similar experience with the Marlins last season when Jennings came down from the front office to replace Mike Redmond.
For both managers, Haren said, the biggest problem was earning the players' respect.
"With A.J. specifically, it was hard getting past how young he was as well," Haren said. "I think he was 35, but he looked even younger. Players became selfish and began playing only for themselves, chasing stats and not caring about wins and losses.
"After '09, in the spring of '10, I think players accepted the move a bit more, but the results on the field just weren't good. I could see him improving as a manager that year, though. I think the game was so fast for him in the beginning, especially in the late innings."
Fans love playing manager, second-guessing every bullpen decision, but the job entails far more than in-game strategy. Hinch said he was taken aback by how difficult it was to follow Melvin and how difficult it was to go from player to manager without first holding a position of authority on the field.
He would later come to understand the importance of connecting with people, something he does quite naturally but was not as apparent during his tenure with the DBacks, when he was simply trying to survive.
"Separating from player to manager is a bigger gap than people realize," Hinch said. "Anyone who has done this the way I've done it, or Brad (Ausmus), or (Mike) Matheny or Walt Weiss, the guys who haven't gone through the rigors of building a coaching career, there are a few land mines in there.
"It's like baptism by fire."
******
Eric Byrnes figured that once Hinch started as a farm director, he was destined to be a GM. Hinch likely could have fulfilled that vision, particularly after returning to the front office. But he said he never lost his itch to manage, his passion to get back onto the field.
He interviewed with the Astros for the job that went to Bo Porter and the Cubs for the job that went to Joe Maddon. The Cubs interview, he said, pushed him "over the top." He had worked for Cubs GM Jed Hoyer with the Padres and got excited by the idea of building a contender.
One year later, when the Astros offered him the same type of possibility, he jumped.
He had worked closely with the Padres' Bud Black, observed the Giants' Bruce Bochy and Dodgers' Don Mattingly. And he determined that if he ever got another chance, he would be himself, let his personality show.
"There's no question that during the time in between, A.J. reflected, observed, thought about what he could do better if given another chance," said Josh Byrnes, who is now the Dodgers' vice president of baseball operations. "I give him a ton of credit for working to evolve and keep growing as a leader."
A year ago, standing in a hallway at the Astros' spring training clubhouse, Hinch slapped a player on the back, explaining to a visitor, "You've got to touch 'em." He maintains that connecting with players -- showing them that you have their back -- is an underrated part of the job.
"If someone describes me as relatable," Hinch said Sunday, "it's the best compliment I could get."
Well . . .
"He really relates," said Astros reliever Pat Neshek, who knew Hinch from their days together with the Padres. "He won't be like Tom Kelly in Minnesota: 'This is going to be the way it's done.' We work really hard. But he just relates. He's really good with his people skills."
Astros lefty Dallas Keuchel, the reigning American League Cy Young winner, said he is impressed not only by the way Hinch draws upon his front-office experience but also by the way he adjusted and made better decisions last season, almost like a player who is figuring it out.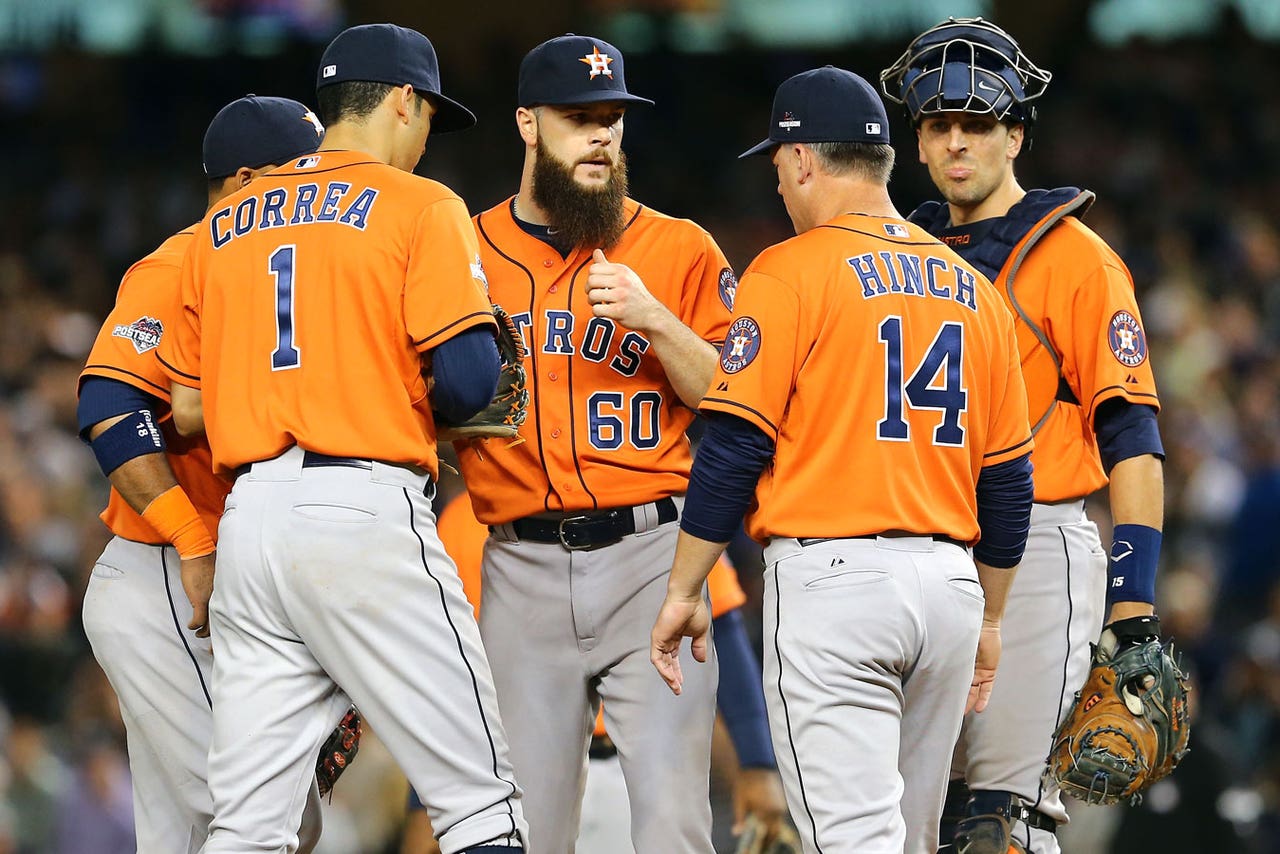 AL Cy Young winner Dallas Keuchel has been impressed with Hinch's decision-making.
When the Astros hired Hinch, some perceived that he might end up a puppet of Jeff Luhnow, the Astros' analytically driven GM.
"Not even close," Hinch said.
Does Luhnow dictate decisions?
"Never."
"It offends me if people think I can be manipulated," Hinch said. "I'm not that way. I'm probably as stubborn as anybody. But that doesn't mean that I'm not a good listener."
Hinch and Luhnow had a built-in trust – they knew each other as farm directors (Hinch with the DBacks, Luhnow with the Cardinals) and from scouting circles. Their relationship, Luhnow said, is "very collaborative and respectful," with both he and Hinch tending to their responsibilities and being accountable for them.
Luhnow, however, said he consults Hinch on most decisions, mindful that his manager previously served as assistant GM of the Padres and in other front-office capacities. Hinch likewise seeks input from the front office on various ideas.
"If you're a decision-maker -- a GM, a manager, a farm director, a scouting director -- you want to have all the information you need to make the best decisions," Luhnow said. "Some of the information may be in somebody else's area. Being able to communicate effectively is the key to making good decisions."
Said Hinch: "The openness, people can misconstrue for control. To have a healthy organization, there is a two-way street between the GM and manager. Doesn't mean we always agree. Doesn't mean we don't banter back and forth about how to get the most out of our players. But the mutual respect and mutual understanding of each other's jobs makes for a powerful combo."
And so the story comes full circle, to a manager who practices organizational advocacy naturally without ever using the term, to a sport that is redefining the manager-GM relationship in the way the DBacks originally intended in '09.
Eric Byrnes said that he knew that Hinch would make an excellent manager from the time Hinch hosted him on his recruiting trip to Stanford. Byrnes, who ultimately went to UCLA, again noticed Hinch's leadership qualities when they were teammates with the A's -- his mature demeanor, his intellectual outlook on the game, his ability to listen and ask questions.
Haren, too, said he is not surprised that Hinch is succeeding with his second chance.
"He's experienced now, so there is instant respect," Haren said. "He is obviously a bright guy and a forward thinker, and it seems to me that the Astros are very analytical, so it's a good match."
Seven years ago with the DBacks, maybe it wasn't.
Times change. Industries change. People change.
"He's really what I think most teams are looking for now," Haren said.
---
---