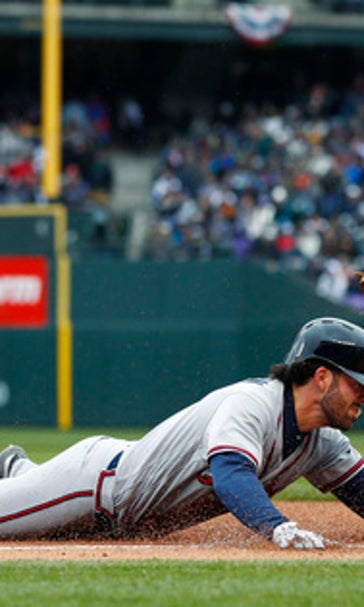 Hot-hitting Braves roll over Rockies 8-3 on frigid Friday
April 6, 2018
DENVER (AP) While his teammates shivered and the mercury plummeted, Brandon McCarthy embraced Colorado's wintry weather.
''Yeah, it felt like high school baseball. I don't mind pitching in cold. I got used to it growing up,'' McCarthy said. ''It's been a while since I've been back in it. It's much easier for the pitcher than the hitter, so keep that in mind and get loose.''
McCarthy tossed six solid innings and delivered a two-run double that chased German Marquez in the fifth inning of the Atlanta Braves' 8-3 win over the Colorado Rockies on a frigid Friday that marked the second-coldest game in Coors Field history.
''The cold, it's not something I'm scared of, it's something I almost get excited for,'' said McCarthy, who attended Cheyenne Mountain High School an hour south of Denver in Colorado Springs. ''In the cold, it's just something I know it sucks for hitters. And once I get loose it really isn't that big of a deal for pitchers.''
It was 27 degrees when the Rockies' home opener began after an hour-long delay caused by sleet and snow. That was just 4 degrees warmer than when these teams met in Denver on April 23, 2013, in the coldest first-pitch temperature in major league history.
The Braves won that one, 4-3.
McCarthy (2-0) allowed three runs and five hits, more than enough for the hot-hitting Braves, who lead the majors with a whopping 8-run average so far.
''Everybody's doing their part,'' McCarthy said. ''Pinch-hitters are coming in doing it, pitchers have been hitting, the offense has been consistent.''
No so the Rockies.
Marquez (0-1) following up a spectacular first start at Arizona by giving up seven runs, seven hits and six walks in just 4 2/3 innings.
''It was a little tough because I didn't have my grip at all,'' said Marquez, a 23-year-old Venezuelan who, unlike McCarthy, took the mound without long sleeves and never got a good feel for his pitches because of the finger-numbing cold.
Marquez allowed a solo homer to Ozzie Albies in the first and walked two batters before Preston Tucker's sacrifice fly and Dansby Swanson's two-run triple made it 4-0.
''It was my first time seeing snow. I was excited,'' said Albies, who's from Curacao. ''I was acting like a little kid out there. I put the barrel on the ball. That was awesome.''
His mound opponent was used to it.
''Maybe growing up in Colorado and playing baseball in this weather all through high school helped? Holy RBI double!! Amazing,'' tweeted McCarthy's wife, Amanda.
Colorado got a run back in the bottom half when Carlos Gonzalez lined a run-scoring triple to right-center. Gonzalez added a solo homer in the fourth, a 445-foot shot into the right field bleachers, and two batters later Trevor Story also went deep for the first time this season with a 442-footer.
McCarthy, the first Braves pitcher to last six innings so far, followed Swanson's two-out RBI triple in the fifth with a two-run double that made it 7-3 and chased Marquez.
''Any player with a bat in his hand can be dangerous,'' Rockies manager Bud Black said.
''Of course, that one stings a little bit more,'' Marquez said. ''As a pitcher, you try to get him out. But you know he's still an enemy and he's trying to hurt you, so you've just got to make pitches.''
He left his fastball out over the plate and McCarthy drove it into the right-field alley.
''I didn't swing before the game, I wasn't ready to hit in 10 degree weather off a guy throwing 95,'' said McCarthy, who struck out his first two times up. ''That last at-bat I started to get frustrated so I'm glad I was able to do something there.''
Peter Moylan, Jose Ramirez and Shane Carle combined to throw three scoreless innings for Atlanta.
SO CLOSE
Swanson, who singled in the third, came close to hitting for the cycle - he drove a pitch to the track in right field in the seventh. In the ninth, he lined out to shallow right.
HOT HITTERS
The Braves have scored an MLB-most 56 runs through seven games, breaking the franchise mark of 53 set by the 2006 team and the 1900 Boston Beaneaters.
''If I knew why or how, we'd have done it last year,'' Braves manager Brian Snitker said. ''It's just one of those things. Everybody is contributing. We've got a lot of guys swinging the bat with men on base.''
TRAINER'S ROOM
Braves: C Kurt Suzuki played for the first time since bruising his right hand when he was plunked by a pitch on March 30. Snitker said Suzuki will also catch Sunday. ''Going forward, it will be four out of five. I don't want to wear him out,'' Snitker said.
UP NEXT
Atlanta sends RHP Anibal Sanchez (0-0) to the mound Saturday night, and Colorado counters with RHP Bettis (1-0).
---
More AP baseball: https://apnews.com/tag/MLBbaseball
---
Follow Arnie Melendrez Stapleton on Twitter: http://twitter.com/arniestapleton
---
---