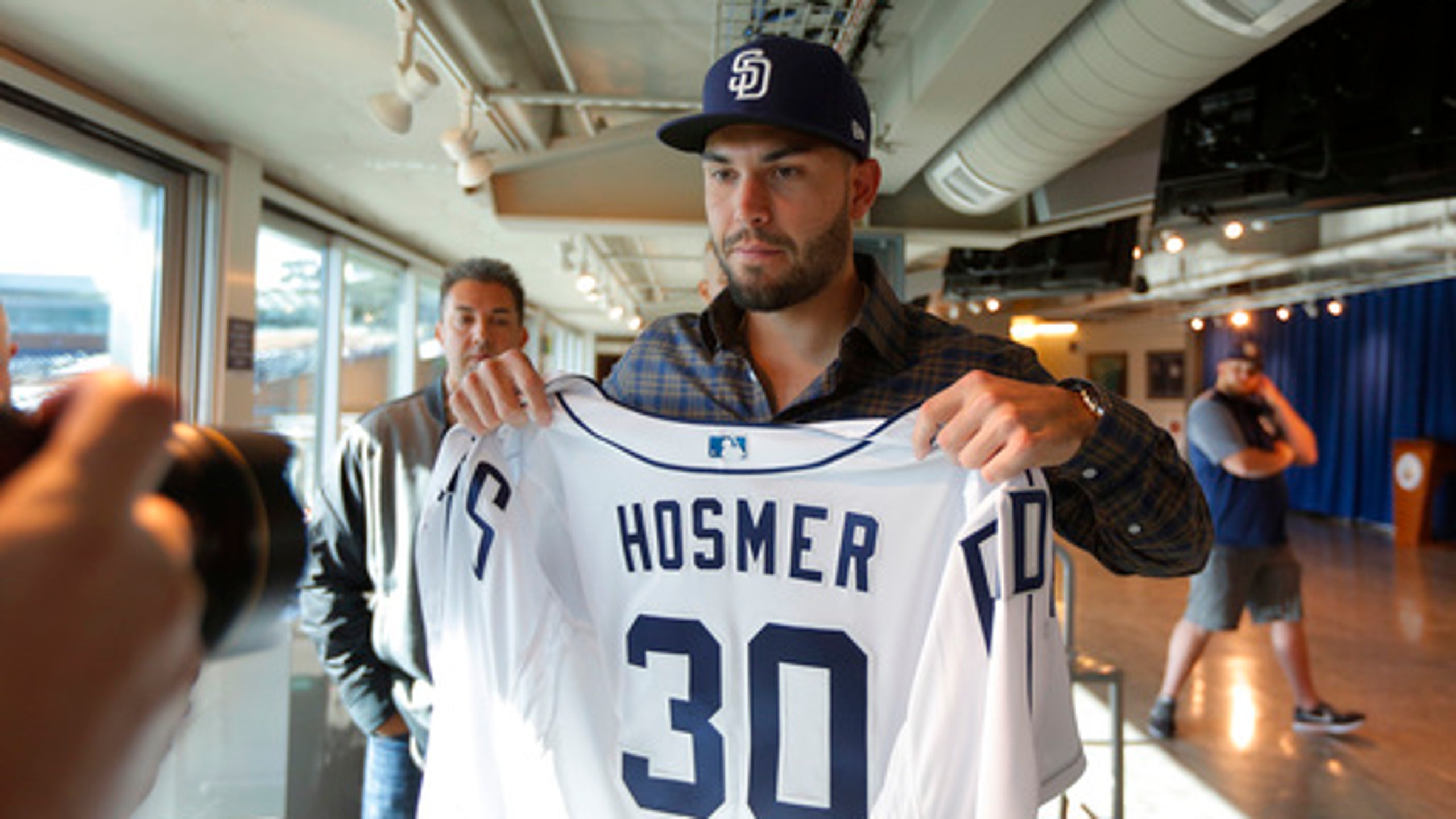 Hosmer joins Padres, wears number of late teammate Ventura
February 20, 2018
PEORIA, Ariz. (AP) For a few years now, the lowly San Diego Padres have preached about ''the process'' of their deep rebuild via the draft and signing international players after their win-now attempt with pricey veterans failed so spectacularly in 2015.
That process now includes 28-year-old first baseman Eric Hosmer and his potential $144 million contract, a testament to the strength of the Padres' farm system and the willingness of ownership to spend money.
Owners Peter Seidler and Ron Fowler consider the signing a ''significant moment'' in Padres history.
''Speaking for Ron and myself, when you have to sign a check like that you better have a smile on your face, and we do,'' Seidler said Tuesday after Hosmer was introduced at a news conference.
The draft and player development will remain core principles, ''but to get a player and person like Eric Hosmer is a big piece of where we are and what we want to do,'' Seidler said.
Hosmer has been asked to play a leadership role with the Padres after his experience in Kansas City, where he won a World Series with the Royals in 2015. He said he looks forward to that role, having seen the many young players the organization is developing in the major and minor leagues.
''It was fun to get the vision and see where San Diego is trying to lead this young group of guys,'' Hosmer said. ''For them to want to bring me in to be a part of this, to help guide these guys and to help bring this city a world championship ... I'm just happy to be a part of it.''
The Padres still have a long way to go. They haven't been to the playoffs since 2006, have had seven straight losing seasons and finished fourth in the NL West last year, 33 games behind NL pennant-winning Los Angeles.
General manager A.J. Preller said the Padres considered Hosmer a priority from the start of free agency.
''It was a process of us trying to show him, `Hey, this is .what the vision is, this is how you fit in, this is what we're all about,' getting to know him more on a personal level, and doing the homework necessary from that standpoint. I think our two interests lined up. I think this is a place he wanted to be.
Preller and manager Andy Green said the Padres knew all along they'd have to add players via free agency or trades.
''From our standpoint he's a piece that fits for us now and for the future,'' Preller said. ''He kind of complements what we build. We don't have a ton of big-body, left-handed hitting, tough-out, plate-discipline guys that have shown a propensity to get on base and defend the field and he can do that, so we're excited.''
Green said Hosmer's age is the reason he got the long contract, and that the team has always talked about ''layering in special talents'' from outside the organization who can help accelerate development of younger players and take pressure off them.
''He fits in perfectly,'' Green said. ''The last two years have been about talent acquisition, Rule 5 draft, bring talent in from the international, bring talent in from the draft, and now it's about building a culture. The groundwork's been laid for that culture-build. At some point in time it has to get transferred to a group of guys that can really carry it out and aren't just trying to find their way in the major leagues for the first time in their life, which is kind of where we've been the last few years from a position player standpoint.''
Hosmer has had some big moments at Petco Park. He homered off Johnny Cueto and went 2 for 3 in the 2016 All-Star Game, earning MVP honors. In the second round of the World Baseball Classic last March, he hit a go-ahead, two-run homer in the eighth inning of the United States' 4-2 victory against Venezuela. Team USA went on to win the championship.
''I've had a few good moments in San Diego up to this point and I look forward to having a lot more great moments there,'' Hosmer said.
Hosmer will wear No. 30 in honor of late Kansas City teammate Yordano Ventura, a pitcher who died in an auto accident in the Dominican Republic last year. Hosmer asked Padres third base coach Glenn Hoffman for the number.
''It really meant a lot to me, and `Hoff' was more than open to letting me carry on the number,'' Hosmer said Tuesday. ''And like I told him, I'll wear it with pride each and every day.''
Hosmer wore No. 35 with Kansas City, but the Padres retired that number in honor of Randy Jones, who won the 1976 NL Cy Young Award. Jones tweeted on Sunday that while it was great that the Padres were getting Hosmer, ''he's still not getting (hash)35.''
Hosmer's eight-year deal is front-loaded. He'll earn $20 million annually from 2018 through 2022, after which he can opt out. If he stays, he'll make $13 million per season for the last three years of the deal. He'll get a $5 million signing bonus payable within 30 days of contract's approval by the commissioner's office.
---
AP freelance writer Jose M. Romero contributed to this report.
---
Follow Bernie Wilson on Twitter at http://twitter.com/berniewilson
---
---