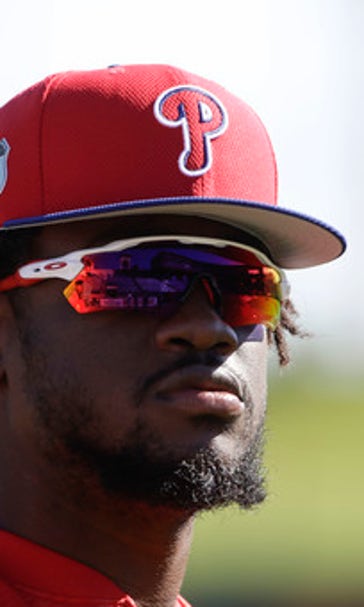 Herrera among the players in Phillies' new core
February 22, 2017

CLEARWATER, Fla. (AP) Two years after Philadelphia selected him from Texas in the winter-meeting draft, outfielder Odubel Herrera arrived at spring training as an All-Star and the Phillies' top position player.
Among the Gold Glove finalists, the 25-year-old Herrera agreed to a $30.5 million, five-year contract during the offseason and is part of Philadelphia's post-Ryan Howard era rebuilding.
''We all wanted to find out how he'd react with that nice contract. He reacted the right way, boy. He's doing all of the drills with a lot of energy, and it looks like he's enjoying himself,'' Philadelphia manager Pete Mackanin said. ''He's so full of energy. He's been chirping a lot with the guys, and he's setting the tone by example.''
Herrera hit .286 last year with a .361 on-base percentage, 15 home runs, 21 doubles and 25 steals in 32 attempts.
''He has good hand-eye coordination, unorthodox for sure, but he's one of those guys who I call a hit collector,'' Mackanin said. ''He just gets hits even though it doesn't look pretty all the time. With a little bit more plate discipline, he has a chance to win a batting title.''
Signed by Texas as a free agent from Venezuela in 2008, Herrera spent the majority of his time in the Rangers organization as a middle infielder. He made just 11 starts in the outfield in 610 minor league games.
He was given outfield time during the 2014-15 Venezuelan Winter League and at the start of the 2015 season supplanted Ben Revere as the Phillies regular center fielder.
''It's very satisfying, I'm learning a lot, and every day I feel like I learn something different,'' Herrera said through an interpreter. ''I have good mentors, good people that are focusing on me, trying to get me better.''
Outfielder instructor Juan Samuel, among those working with Herrera, was a three-time All-Star who moved from second base to center field entering his sixth major league season in 1989.
''I'm going to continue to do what I'm doing with him,'' Samuel said. ''There's still a lot of room for improvement there. I just want him to get to the point where playing that position becomes natural to him. I don't think it's come natural to him yet. I want him to get to the point where he doesn't have to think about things.''
Herrera projects to be the second-youngest player in the Phillies youthful starting lineup. Yet, his voice already is one that is listened to.
''It's fine if they look at me as a leader, but right now I'm just focused on my game,'' Herrera said. ''I want to get better. And if they can feed off of that, and get better themselves, that's good.''
Notes: RHP Jake Thompson threw off a mound Wednesday for the first time since a right wrist injury early in camp. Thompson is to continue his throwing program before progressing into exhibition games. ... RHP Victor Arano had a platelet rich plasma injection on Tuesday in Philadelphia and has been diagnosed with a sprain of the ulnar collateral ligament in his right elbow. Arano, a 22-year-old relief prospect who split time between Double-A and Class A last year, won't pitch for at least four weeks. ... Mark Leiter Jr., a 25-year-old son of former major league pitcher Mark Leiter, is to start for the Phillies on Thursday in their exhibition season debut against the University of Tampa.
---
---