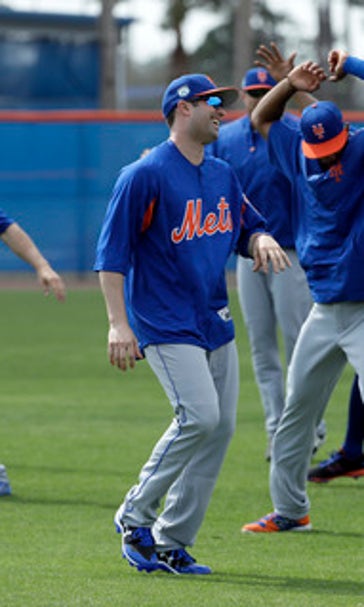 Healthy 2B Neil Walker happy to be with Mets
February 15, 2017

PORT ST. LUCIE, Fla. (AP) New York Mets second baseman Neil Walker dealt with back issues for almost five years and said not a day went by when he didn't feel some kind of pain.
''I'd probably wake up every single morning and as soon as I'd throw my feet over the side of bed, I could tell whether it was going to be a good or bad day,'' Walker said on Wednesday at the Mets' training camp.
Walker now says he has no reason to tiptoe around for fear of hurting his back after having surgery last September to repair a herniated disk.
''About three days after surgery when all the drugs were out of my system per se, that (morning) feeling was completely gone. Then it was just a matter of getting back on my feet and getting the strength back. It took about three months, but those feelings are all gone,'' he said.
''I couldn't be more excited about that,'' he said.
The Mets are excited about the prospect of a fit Walker, who hit 23 home runs and batted a team-leading .282 as a replacement for Daniel Murphy at second base.
Walker accepted the Mets' one-year, $17.2 million qualifying offer last November, making him the third-highest paid player in the organization behind Yoenis Cespedes and David Wright.
After a late-morning workout that saw Walker take grounders at second base - he will also play third and likely work out at first, and brought gloves for all three positions with him to camp - and swing without a hitch in batting practice, manager Terry Collins said he anticipates a big year from the 31-year-old.
''The way he played last year was brilliant, especially under the conditions he had to deal with,'' Collins said. ''One of the things that saved us is he hit so well right-handed with that bad back. Now he feels great. I think he's going to have a huge year.''
Walker gambled on himself on the one-year deal, opting to play with a likely contender in the Mets rather than choosing to go west and play for some clubs that were rebuilding.
He stopped short of naming the teams that would have offered him lengthier contracts, but he said he had always played in the East and had endured some rough seasons while with the Pittsburgh Pirates.
''I wasn't really excited about a lot of the (potential) landing spots,'' Walker said. ''I'm an East Coast guy and I've played on the East Coast my entire career. This made a lot of sense. There was a potential to go several places that were kind of in a rebuilding mode. Having been in Pittsburgh for a few 100-loss seasons, I wanted no part of that.''
''It could've ended up differently, but there was no telling. This was the right move,'' he said.
Collins said Walker also has a strong presence in the clubhouse and stepped right in to a leadership role last season when Wright went down.
''I think leaders are leaders, and I think Neil Walker's a leader. Even though, hey, it was a new team, he's one of those guys who's a good player, plays hard and the guys all like him. You saw it last spring. Therefore, he demands a lot from his teammates,'' Collins said.
''When we lost the voice of David in there, we needed someone to step up. Neil was the guy,'' he said.
NOTES: The Mets announced they will play an exhibition game against Army at West Point on March 31 at 3 p.m. It will be the final game for the Mets before they begin the regular season on April 3, at home against Atlanta.
---
---