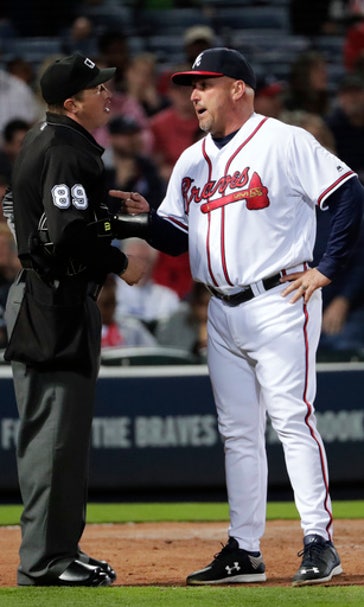 Gonzalez says Braves players still fighting despite losses
May 9, 2016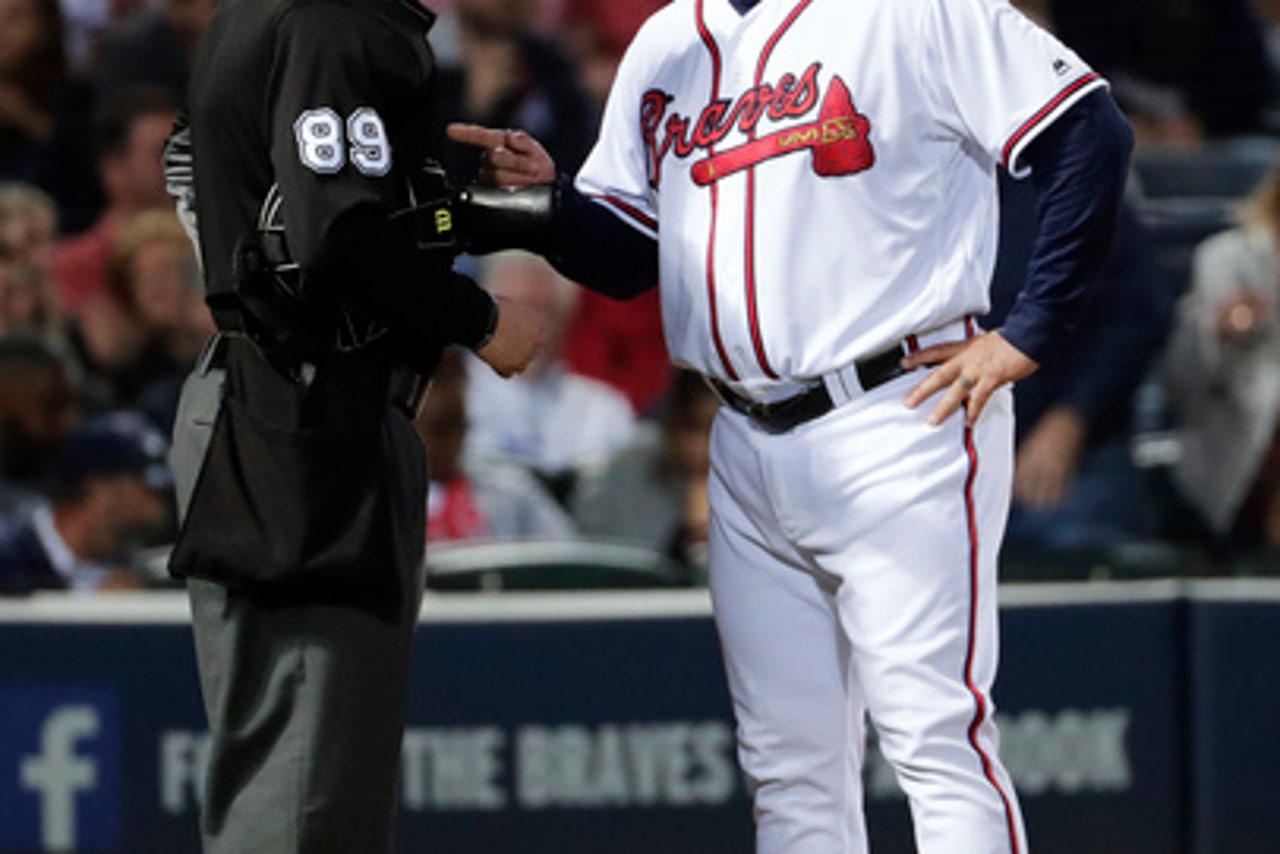 ATLANTA (AP) Fredi Gonzalez was expecting a stern message from a voice of authority following another Braves home loss on Sunday.
No, not a termination notice. This call would be even more difficult.
Gonzalez knew his father, Fredi, would challenge the embattled manager's strategy in Atlanta's 5-3 loss to Arizona in 11 innings. It has been a rough opening five weeks for Gonzalez and the Braves, who have the worst start in franchise history since at least 1900.
This was an especially painful setback.
The Braves gave up two homers to Diamondbacks backup catcher Chris Herrmann. Each homer came on 0-2 pitches that Gonzalez knew would make his father cringe.
''I'll get a phone call from my dad,'' Gonzalez said. ''He's old-school. He's going to wear me out about 0-2 base hits, 0-2 home runs, especially to lose games.''
Such homers are rare, especially in pairs. No player in the majors had hit two homers in a game on 0-2 counts since Houston's Lance Berkman on July 9, 2000, against Kansas City, according to STATS.
The Braves (7-23) are making all kinds of history in a bad way. They have the worst home start since the 1913 Yankees, who lost their first 17 home decisions, according to the Elias Sports Bureau. New York had one tie in that span. The Braves have their worst record through 30 games since at least 1900.
Gonzalez knows the lack of talent in a rebuilding season doesn't keep the manager from being blamed for losses. Even so, his players say Sunday's comeback was proof they haven't given up on Gonzalez.
''After the way we came back today, I think if anybody wonders if we're playing for Fredi or anything like that, we're still working and playing our asses off,'' said outfielder Jeff Francoeur.
There are reasons to suggest Gonzalez will be given more time.
The Braves have played the majors' toughest schedule so far. Their opponents had a .583 winning percentage as of Sunday.
Gonzalez also hasn't had a full roster. Outfielder Ender Inciarte, the biggest offseason addition, missed 26 games with a hamstring injury before returning Saturday. Foltynewicz was making only his second start since being recalled from Triple-A Gwinnett. Infielder Gordon Beckham may come off the disabled list for Tuesday's game against Philadelphia - the start of 13 straight games without an off day.
''We haven't had a chance to have the team together,'' Francoeur said. ''That's the frustrating part. ... It would be nice to have the 25 guys who are here and see what we can do and build some momentum. Honestly, I think we can.''
Gonzalez, who replaced Hall of Fame manager Bobby Cox in 2010, is 432-408 in his sixth season as the Braves manager. He was 276-279 in four seasons with the Marlins.
Since arriving in Atlanta, this is the roughest stretch he has had to battle through.
Gonzalez knew his father would ask why Herrmann was given a pitch he could hit. The first homer came on a high fastball from starter Mike Foltynewicz, a rare mistake in the young right-hander's encouraging start. The decisive homer came off reliever Jim Johnson.
''I thought the pitches were right, the calls, they just left them up a little bit,'' Gonzalez said.
After the loss, Gonzalez spoke with concern about the pained looks on his players' faces. The Braves badly needed a home win. Hope was provided by a three-run rally in the eighth that forced extra innings. Instead of a come-from-behind win, the Braves were handed their 15th home loss in 16 games.
''You know what we fight, we battle,'' Gonzalez said. ''Now we've just got to get some breaks.
''... They're wearing it. They're showing the emotions. They're showing the losses are tough.''
---
Follow Charles Odum on Twitter at www.twitter.com/CharlesOdum
---
---