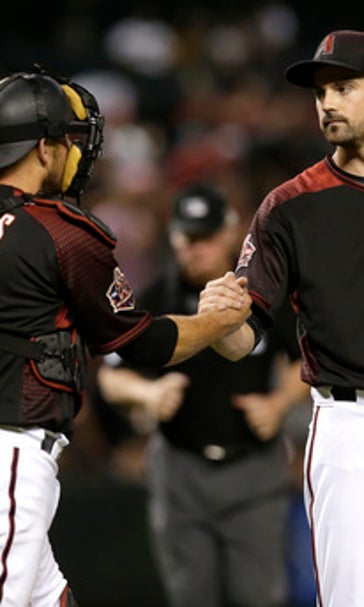 Goldschmidt, Peralta power Diamondbacks over Marlins
June 3, 2018
PHOENIX (AP) Paul Goldschmidt wasn't as worried about the bobbleheads as he was his team's offensive performance.
Still, hitting a home run on a night when 20,000 fans received Star Wars-inspired Goldschmidt dolls made it more fun for the All-Star first baseman and the Arizona Diamondbacks.
''Biggest home run I've ever hit,'' Goldschmidt said with a smirk. ''The bobblehead is what it is, but just trying to get on base.''
Goldschmidt and David Peralta homered, Zack Greinke pitched into the seventh inning and the Diamondbacks beat the Miami Marlins 6-2 on Saturday.
Goldschmidt's solo homer in the first inning was his third in eight games, and Peralta connected for his ninth of the season, a two-run shot in the third. The Diamondbacks have won four of five and have hit 14 home runs in their last five games, all at home.
''David Peralta, left on left, really clutch approach. Drives the ball into the right-center field area for a long home run,'' Arizona manager Torey Lovullo said. ''Our guys are going out there and executing and squaring up the baseball.''
Greinke (4-4) improved to 3-0 at home, striking out six and allowing a run on seven hits. Arizona (30-27) moved back into first place in the NL West, a half-game up on Colorado.
Miami starter Caleb Smith (4-6) allowed five runs on five hits in four innings. The Marlins have lost five straight.
Ketel Marte tripled in a run in the second and scored on Jeff Mathis' sacrifice fly, making it 3-0.
''I don't know if I was tipping but it was almost like they knew every pitch I was throwing,'' Smith said. ''Every swing, I couldn't get them off balance.''
The Diamondbacks scored in the fifth when reliever Tyler Cloyd intentionally walked two batters, including Marte with two outs to load the bases. Cloyd then walked Deven Marrero on a full count to give Arizona a 6-0 lead. Marrero is hitting .180 this season.
''That's great,'' Lovullo said of being in first place for the first time since May 20. ''We'll embrace that ... but I know 25 guys in that room aren't going to pay much attention to that.''
The Marlins challenged Starlin Castro's sixth-inning double into the nook in right-center field at the 413-foot sign, hoping the call would be overturned for a home run when replays showed the ball bouncing up after hitting the top of the fence. The call stood.
Castro scored on Brian Anderson's two-out triple, and Lewis Brinson hit his first career pinch-hit home run with one out in the ninth.
''I liked our at-bats actually the whole game,'' Marlins manager Don Mattingly said. ''I thought we could have fared better. We really squared some balls up. We got a few hits but we could have gotten a few more.''
BOBBLE POP
Goldschmidt hit his first career home run on his bobblehead night. He entered the game 2 for 12 (.167) on his previous four bobblehead days.
Goldschmidt was the first Diamondback to homer on his bobblehead day since Chris Young on Aug. 27, 2011 against San Diego.
TRAINER'S ROOM
Marlins: RHP Nick Wittgren went on the 10-day disabled list with bruised right middle finger. Cloyd was called up from Triple-A New Orleans in time to be activated.
Diamondbacks: LHP Jorge De La Rosa was placed on the 10-day disabled list with Achilles tendon soreness, and reliever Jake Barrett was called up from Triple-A Reno. ... LHP Robbie Ray (oblique) is scheduled for a bullpen session Monday. ... RHP Randall Delgado (oblique) will pitch for Class A Visalia on Monday for a rehab assignment. ... RHP Shelby Miller (Tommy John surgery) will pitch for Double-A Jackson on Monday.
UP NEXT
Marlins: RHP Dan Straily (2-1) starts Sunday in the series finale against Arizona. It'll be his third career start against the Diamondbacks.
Diamondbacks: RHP Matt Koch (3-3) faces the Marlins. He has held left-handed batters to a .188 average this season.
---
More AP baseball: https://apnews.com/tag/MLBbaseball
---
---