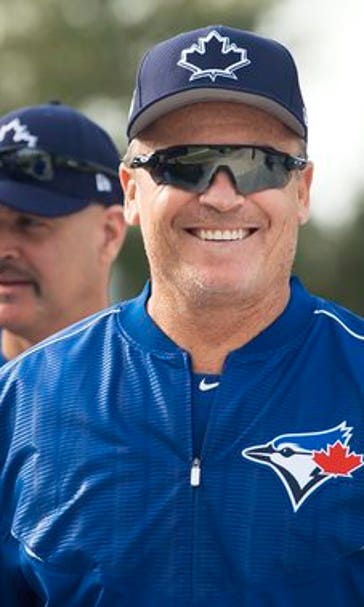 Gibbons, Blue Jays have higher hopes
February 15, 2017

DUNEDIN, Fla. (AP) Toronto Blue Jays manager John Gibbons is determined to guide his team into its third consecutive AL Championship Series. And to finally win it.
Recent flirtations with a pennant were satisfying for a franchise that failed to reach the postseason even once after winning a pair of consecutive World Series titles nearly a quarter-century ago. Gibbons wants greater satisfaction.
''Our goal is to get one step further, really,'' he said Wednesday after the first spring workout for pitchers and catchers. ''But you have to have a good team to get that far in back-to-back years, and that's what we have. A little different look this year, no doubt about that, but it's still a good, solid team.''
The most glaring difference will be the absence of Edwin Encarnacion, who hit 42 home runs and tied with David Ortiz for the league lead with 127 RBIs in his eighth and final season with the Blue Jays. Adding to the pain, the free-agent slugger landed with the Cleveland Indians, who dispatched Toronto in five games en route to the 2016 World Series.
''I don't think you ever totally replace Edwin, what he's done here,'' Gibbons said. ''But it's a business. He's gone.''
The Blue Jays anticipated the loss of that offensive production by acquiring free agent Kendrys Morales, a veteran switch-hitter who totaled 52 home runs and 199 RBIs over the past two seasons with the Kansas City Royals, who finished off the Blue Jays in the 2015 ALCS.
Toronto made a bigger splash on the open market by retaining its longtime star outfielder Jose Bautista, who failed to sweep potential suitors off their feet after contributing only 22 homers, 69 RBIs and a .234 average in an injury-plagued season.
Gibbons is thrilled to have him back.
''It's always good for us if he's around,'' he said. ''I think he's going to have a big year. He's one of the most motivated guys I've ever been around, and I'm sure he'll be extra motivated, knowing him.''
It won't be difficult for anyone in the Toronto clubhouse to become familiar with outgoing left-handed relief pitcher J.P. Howell, another free-agent acquisition with World Series aspirations.
''That's the dream, that's the goal and that's the vision,'' he said. ''That's the only place we're going to look.''
Right-hander Aaron Sanchez also has high hopes as part of a solid starting rotation that also includes the likes of Marcus Stroman, J.A. Happ, Marco Estrada and Francisco Liriano.
''I think everybody in this clubhouse is driven,'' he said. ''We got to the same spot twice and unfortunately came out on the losing side, so I think that's one of the humps that this whole organization is trying to overcome. It's World Series for us or it's very disappointing for us.''
---
---