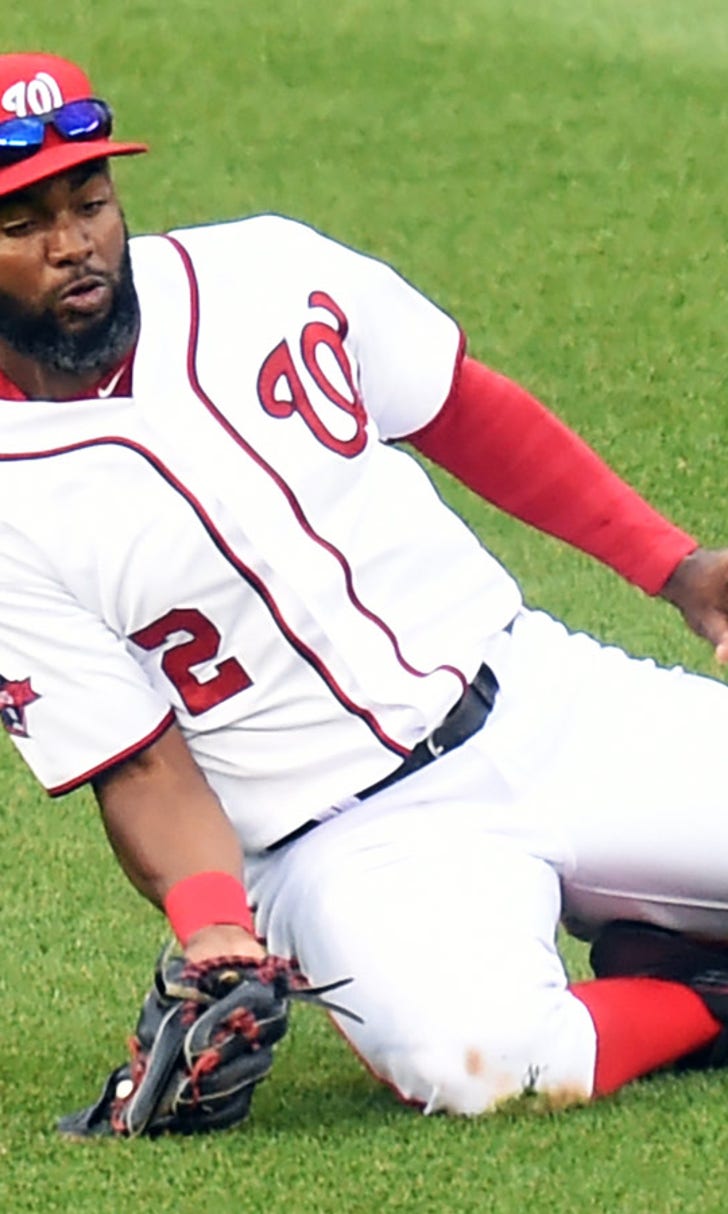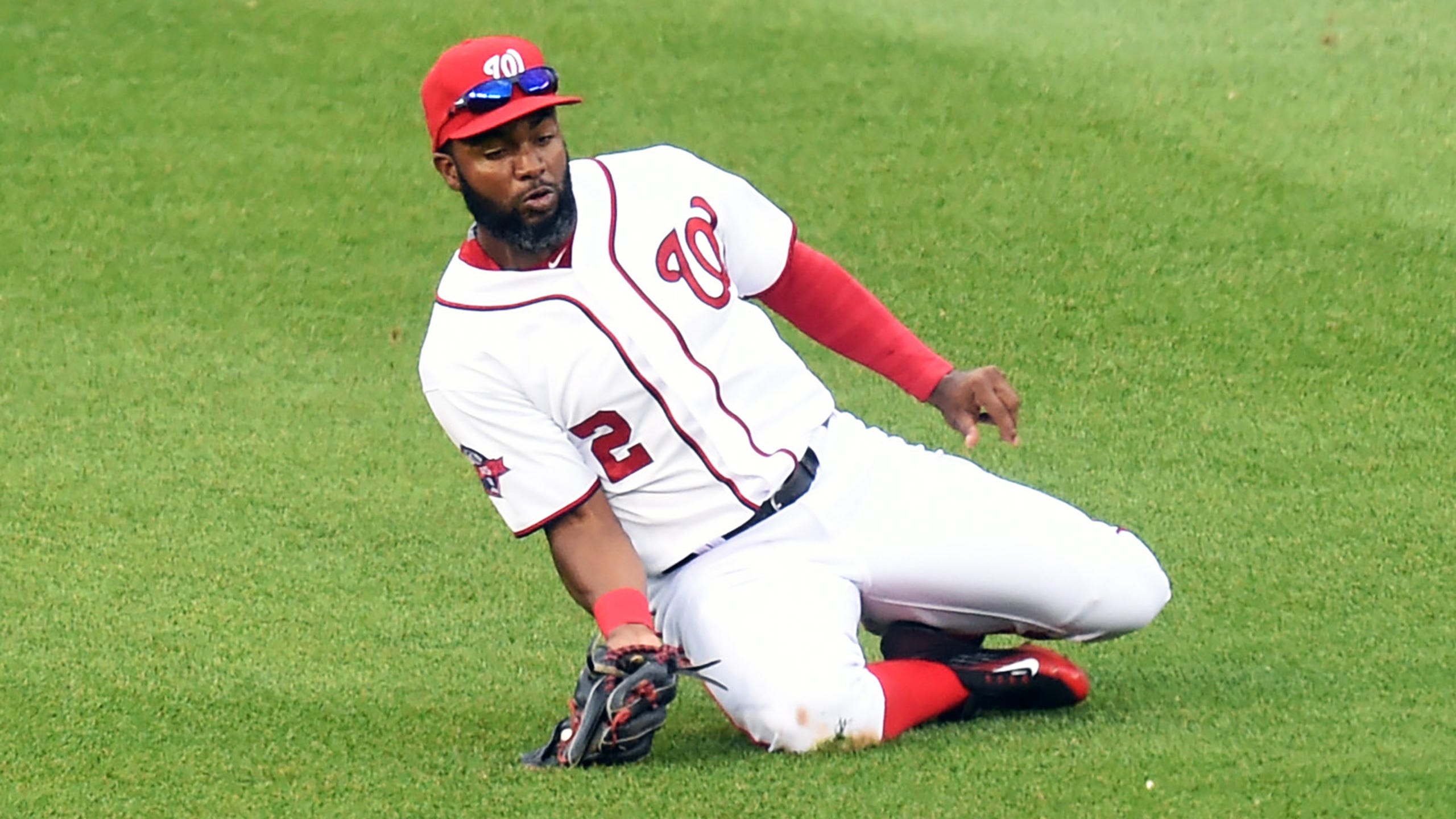 Giants have made very risky investments, but Denard Span isn't one
BY Jeff Sullivan • January 8, 2016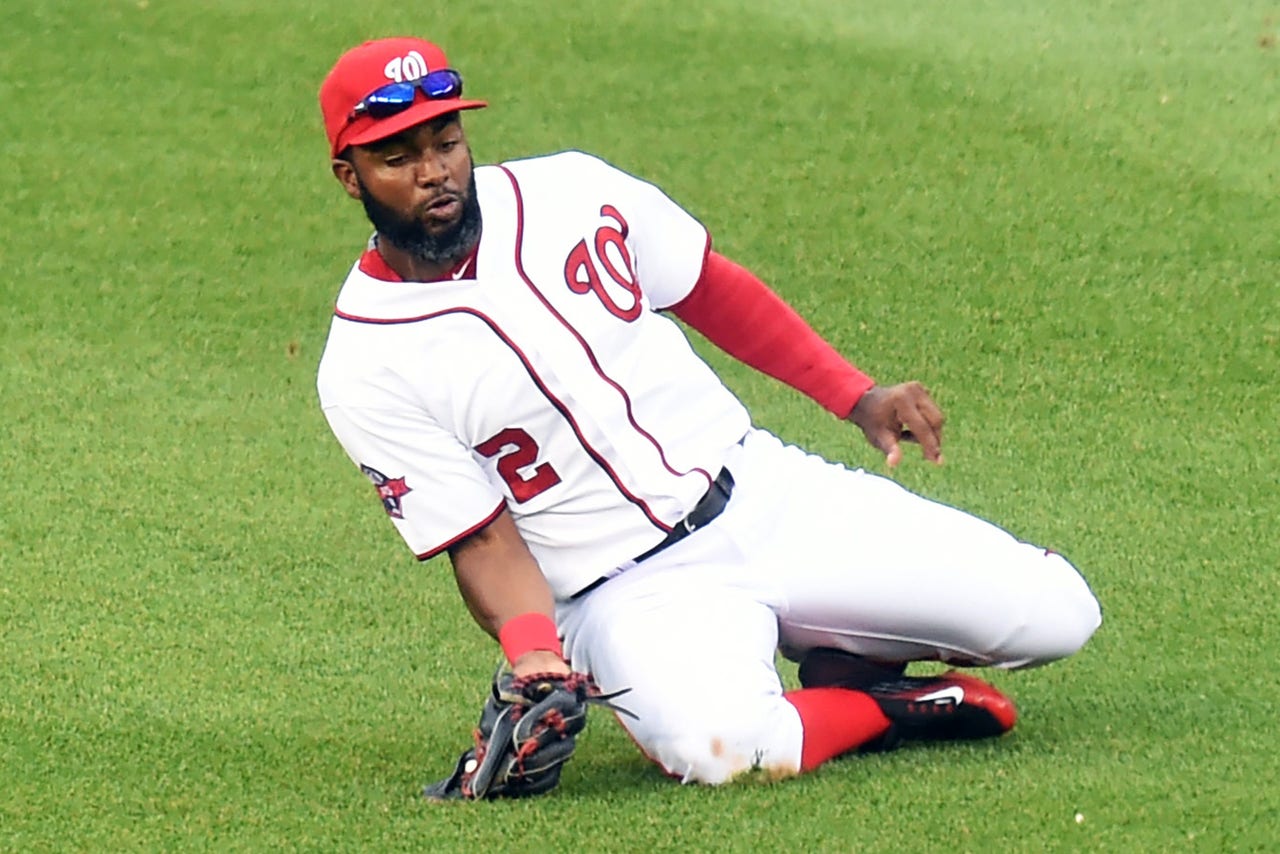 For the Giants, it's easy to say this has been an offseason of risk. They've invested a fortune in Johnny Cueto, suggesting they aren't too worried about his most recent second half. They've invested a slightly smaller fortune in Jeff Samardzija, suggesting they aren't too worried about his most recent second half. And now, as of Thursday, they've invested a smaller fortune still in Denard Span, suggesting they aren't too worried about his 2015 injury problems. It's simple to see how this could conceivably blow up in the Giants' faces. Hundreds of millions of dollars. Deeply flawed most recent seasons.
Of course, there's upside to the Cueto deal. Of course, there's upside to the Samardzija deal. And now, take Span. There's no getting away from the fact that he spent much of last year hurt, eventually undergoing season-ending hip surgery. But Span wasn't extended a qualifying offer, so the Giants aren't losing a draft pick. And it's a three-year commitment with a $31 million guarantee. There are incentives, and if Span hits them -- if he hits all of them -- then, over the next three years, he'll earn as much money as J.A. Happ. There's upside to the pitcher contracts, but the upside with Span seems plenty more reachable.
Leave aside for a moment the Giants didn't have a real in-house center fielder. Leave aside for a moment the market isn't flush with alternatives. There are a few places where I think teams are a little too cautious with their money. I think teams are still too cautious with talented Japanese and Korean players, placing the major leagues on too high a pedestal. And I think teams are too cautious with players who have injury questions. We've seen, for example, the Dodgers work to accumulate a bunch of affordable arms with injury backgrounds. That's taking advantage of what they perceive to be a soft part of the market.
Span fits in a similar place, except he's a position player, and not a pitcher, so he doesn't have the usual pitcher concerns. Everybody wants talent and health. It's expensive to get them both. The Giants are placing a bet on Span's talent, figuring better health is going to follow.
Span's right at that point where he's neither young nor old, by ballplayer standards -- he'll celebrate his 32nd birthday around the start of spring training. He had a delayed start last year due to abdominal surgery, but he hit well after his return. He was dogged by back spasms, however, that turned out to be connected to a hip problem, which was surgically resolved. An issue for interested teams is that Span hasn't played a game since his most recent surgery. Owners are reluctant to put money toward a player who's just going to sit on the DL, but Span appears to be in good health today, and his track record is one of consistency.
In 2012, he was worth more than 3 wins above replacement (WAR). It was the same story in 2013. In 2014 he made it to 4, and he was on pace for about another 3 last season were it not for the injuries getting in the way. Over Span's career, he's averaged 3.4 WAR per 600 plate appearances, which approximates a full season. A league-average player is somewhere closer to 2. To simplify, getting around the numbers: Span has long been an above-average player. Everyone eventually hits a decline, but declines tend to be gradual.
Let's try something kind of quick and easy. Over the past four years, injuries and everything, Span has averaged about 3.1 WAR a year. Pretty good. Now, he's into his early 30s, and he is coming off surgery, so let's say Span will lose half a win a season moving forward. It's our usual working estimate for players at this point in their careers. If you give Span that projection, and if you make a few educated assumptions about the market, then you would've looked for him to sign a three-year contract worth roughly $51 million. If you start him around 3.1 WAR, without yet docking that half-win, then you're looking at a three-year deal worth $64 million.
This is close to what Span might've expected, had he not gotten hurt. Maybe he would've landed four years. He would've lost a little money off the top, because the Nationals would've extended a qualifying offer, but a healthy Span could've nearly doubled the Giants' commitment. Because of the surgery, Span lost some leverage. The Giants are still taking the chance, not trying to limit Span to a one-year deal to rebuild value.
As far as the deal Span's actually signed -- the Giants are paying him like he's not even a 2-win free agent. This is the injury discount. Daniel Murphy got a bigger guarantee from the Nationals, even though he cost them a draft pick. Murphy, unlike Span, has more legitimate power. Murphy, unlike Span, isn't coming off surgery. But, all right, Span has health-related question marks. Murphy has defense-related question marks. Murphy's deal should work out just fine, but Span could be a value.
What admittedly gives me pause is that Span is represented by Scott Boras. Boras, you figure, isn't the biggest fan of letting his clients sign with teams for anything less than the most they can get. You generally don't see Boras clients signing as potential values, but Span isn't the usual Boras client, because of those injury questions. The market was already somewhat limited, and it could be the bulk of interested teams just wanted to give Span a one-year guarantee. That would make it easy to jump for the Giants' multi-year commitment, given that players like security. If Span didn't want to just re-enter the free-agent market a year from now, there are worse places to end up than San Francisco, which has a good team and a very Span-friendly environment.
Forgetting about any potential discount, Span's just a good fit. Over the past three years, out of everyone who's batted at least 1,000 times, Span has baseball's very highest contact rate, measuring the frequency of contact per swing attempt. In that sense he's a good replacement for Nori Aoki. So Span puts the ball in play, but he also walks, and though he seldom goes deep, that's exactly what should make him fit well in AT&T Park. More than any other stadium, AT&T destroys flyballs, but Span doesn't rely on long flies. He's more about singles and doubles, and the park will give him some extra triples.
He's the kind of player who should be impacted the least, offensively, and in the field, he's at least center-field depth. Assuming Span is recovering well, he has something similar to Aoki's offense, but he's better on the bases and he's better in the outfield. He can either bump Angel Pagan to left, or he can support Angel Pagan from left. Span should provide contact, speed and outfield options.
By and large, the market tends to know what it's doing. It won't often allow obvious great deals to fly by, because everyone has much of the same information. There are little pockets, though, areas where teams can be shy, and I think Span would be a case of that, with his value dropping too much because of his injuries. Teams don't like paying money to players who don't play, and so the Giants swooped in and answered what they hope is their last question.
No, there's no guarantee Span is ever Span again. That risk gets built into every contract. I feel like it was built too much into this one. This should be the least risky of the Giants' three big risks.
---
---