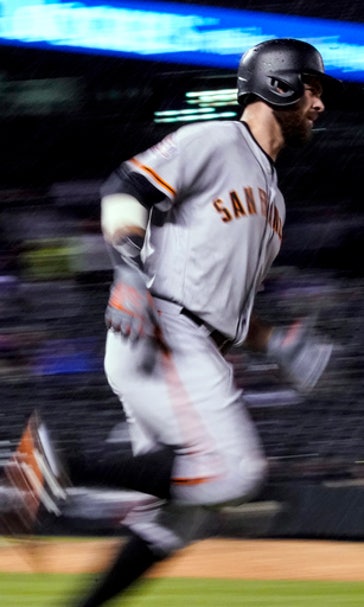 Giants 1st baseman Brandon Belt has appendectomy
June 2, 2018
SAN FRANCISCO (AP) Giants first baseman Brandon Belt underwent an appendectomy late Friday and was placed on the 10-day disabled list Saturday.
He was resting after the procedure and expected to be released from a Bay Area hospital Saturday, the club said.
Giants manager Bruce Bochy said the procedure went well.
Belt is expected to miss about three weeks.
Belt had one at-bat in a 4-0 victory against the Phillies on Friday night. He was removed in the third inning and taken to a hospital. Bochy said Belt hadn't felt well before the game and then got worse.
Belt is batting .307 with 11 home runs and 31 RBIs in 53 games.
''I think you're talking about one of the most professional hitters in baseball at this point, you look at the OPS (on-base plus slugging) and everything, on-base (percentage) and all of that,'' Bochy said.
Belt ranks 10th in the majors with a .950 OPS and ninth with a .403 on-base percentage.
With Belt out, Pablo Sandoval will platoon with Buster Posey at first.
Belt came down with appendicitis on the same day the Giants activated second baseman Joe Panik.
Also Saturday, infielder Alen Hanson returned from a rehab assignment nursing a hamstring injury and was activated from the DL, and outfielder Gregor Blanco was designated for assignment.
Blanco will be outrighted on Sunday, and will report to Triple-A Sacramento on Tuesday, Bochy said.
---
More AP baseball: https://apnews.com/tag/MLBbaseball
---
---