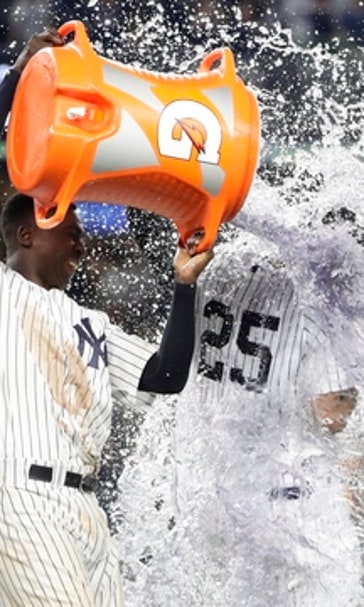 Gardner, Torres rally Yanks over Astros 6-5 in 10 innings
May 30, 2018
NEW YORK (AP) Gleyber Torres made a throwing error after gloving a grounder on the very first pitch of the game. The second baseman let a two-hopper kick off the heel of his glove in the seventh for the fourth of the Yankees' five errors.
He came to the plate after in the 10th after Miguel Andujar's two-out double, got upset with a called strike and stepped out. Then just over a month into his big league career, the 21-year-old came through with his second game-ending hit.
''I just take a breath and stay focused,'' Torres said following his opposite-field single against Brad Peacock that lifted New York over the Houston Astros 6-5 Tuesday night. ''And after that enjoy the moment.''
Brett Gardner led off the bottom of the first with a home run against unbeaten Charlie Morton, then hit a tying, two-run drive with one out in the ninth inning off Chris Devenski for his fourth hit. New York, which leads the major leagues with five victories when trailing after eight innings, had not won when making five errors since beating the Chicago White Sox 3-2 on April 19, 1997.
''Any time you make five errors and can hang around and sneak away with a win, you'll take it,'' Gardner said.
New York also came up with a startling defensive play in the 10th when Aroldis Chapman threw a 100 mph fastball to the backstop that took a fortuitous carom to catcher Gary Sanchez, who threw out Tony Kemp at third base.
''We drew that up. We saw Baltimore do that to us early in the season,'' Yankees manager Aaron Boone said jokingly. ''I thought it was a really heads-up play by Gary. He's seen enough balls kind of ricochet off there.''
Morton struck out 10 in six innings , left with a 5-3 lead and appeared set to win his 11th straight decision and become the American League's first eight-game winner. Manager A.J. Hinch chose not to use closer Ken Giles for the third straight day.
Devenski walked Anjudar leading off the bottom of the ninth, Torres struck out and Gardner drove a fastball just over a leaping George Springer at the right-field wall for his third home run in four games.
''The walk is what killed me,'' Devenski said. ''That walk is unacceptable in that situation, it caused a lot of damage there.''
Aaron Judge followed with a double and Giancarlo Stanton reached on a two-out infield single that ended an 0-for-16 slide before Devenski struck out Sanchez.
Chapman (2-0) walked Kemp with two outs in the 10th, threw a wild pitch with Springer at the plate and nearly hurled another one before Sanchez caught the bounce-back off ''N'' in the ''YANKEES.COM'' ad atop the low wall behind the plate. Sanchez fired a perfect throw to Andujar for the tag.
Sanchez said it was just a reaction play. Kemp couldn't believe what happened.
''Full moon tonight,'' Kemp said accurately. ''The ball just didn't drop our way.''
Andujar was playing off the base and conceding it on a steal attempt.
''You want to be aggressive. If we were going to have a chance, I had to be on the base,'' Andujar said through a translator.
Andujar doubled down the left-field line off Peacock (1-3) with two outs in the bottom half. Torres, who had an RBI single in the second , lined a fastball to right and Andujar slid in as Springer's throw was wide to the first-base side. Torres raised his hands and then his helmet after rounding first base.
He has a .321 average and 26 RBIs in 32 games. Torres' game-ending, three-run homer beat Cleveland on May 6.
''Being that young and playing for this organization, this is a lot of pressure,'' pitcher CC Sabathia said. ''Him being able to deliver in these moments just means there's more to come.''
Sabathia, Andujar and Sanchez also made errors in the Yankees' worst-fielding game since July 21, 2014, against Texas. Torres has four errors in four games and six in 32 games since his big league debut. New York's two wild pitches raised the total with Sanchez behind the plate to a major league-high 30.
''They're young, so you've got to live with the mistakes,'' Sabathia said.
ALL TOGETHER NOW
Playing their 51st game, the Yankees for the first time started their projected lineup heading into spring training. While first baseman Greg Bird returned from ankle surgery Saturday, a regular was rested in each of the previous three games.
ASTROS OFFENSE
Evan Gattis had a pair of RBIs for the Astros, including a tying home run starting the second , and Marwin Gonzalez split the outfielders with a two-run double that rolled to the warning track in left-center and put the Astros ahead 3-2 in the fourth. After Sabathia's throwing error on Jose Altuve's comebacker in the fifth, the Astros scored unearned runs on Yuli Gurriel's RBI single and Gattis' sacrifice fly.
THE JUDGE
Judge's fifth-inning homer, which bounced out of the second deck in right, was his 71st in 234 games and tied Ryan Howard for the fastest to reach the mark.
GARDY
Gardner became the second Yankees player to hit a leadoff homer and a tying homer in the ninth inning or later, according to STATS, joining Snuffy Stirnweiss at the St. Louis Browns on Aug. 27, 1947.
''He makes this team go,'' Sabathia said.
PUNCHOUTS
Tripp Gibson had eight called strikeouts, including six against the Yankees.
TRAINER'S ROOM
Astros: C Brian McCann was put on the 10-day DL because of right knee soreness and returned to Houston, making Max Stassi the starting catcher. C Tim Federowicz was brought up from Triple-A Fresno.
UP NEXT
RHP Luis Severino (7-1, 2.28) starts for New York in Wednesday's series finale and LHP Dallas Keuchel (3-6, 3.39) for Houston. Severino is 5-0 with a 1.87 ERA in his last eight starts. Keuchel is 6-4 with a 1.82 ERA in 10 outings against the Yankees, including the postseason.
---
For more AP baseball coverage: https://apnews.com/tag/MLBbaseball
---
---