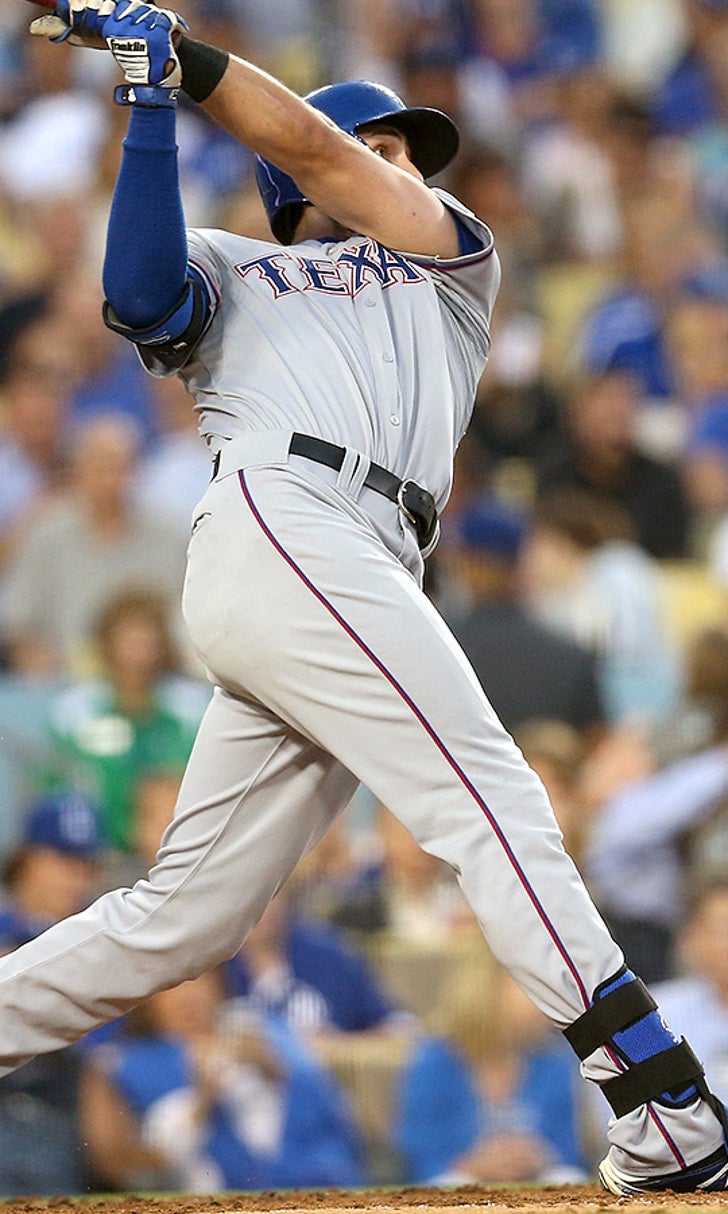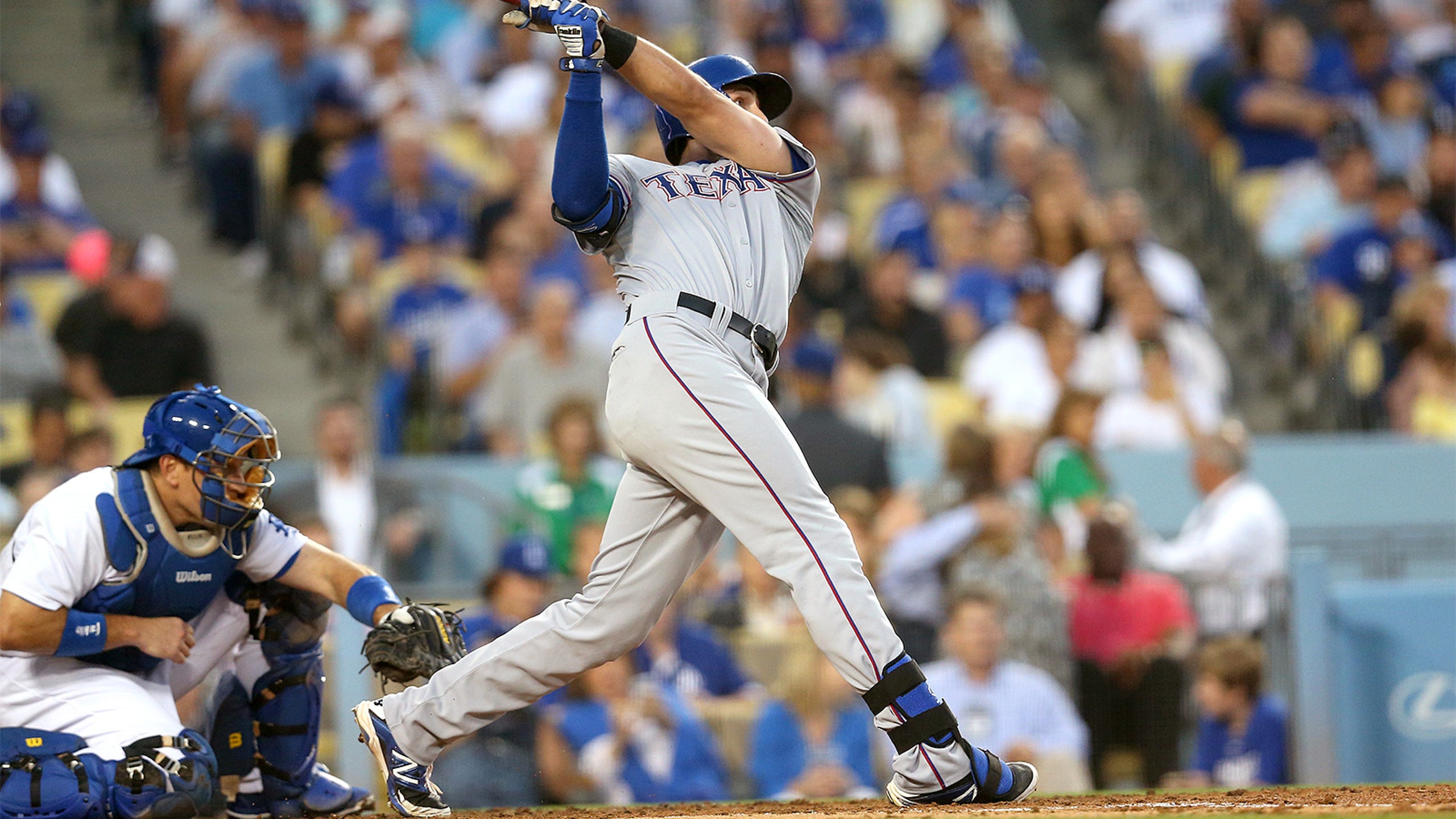 Gallo homers off Kershaw in Rangers' win over Dodgers
BY foxsports • June 18, 2015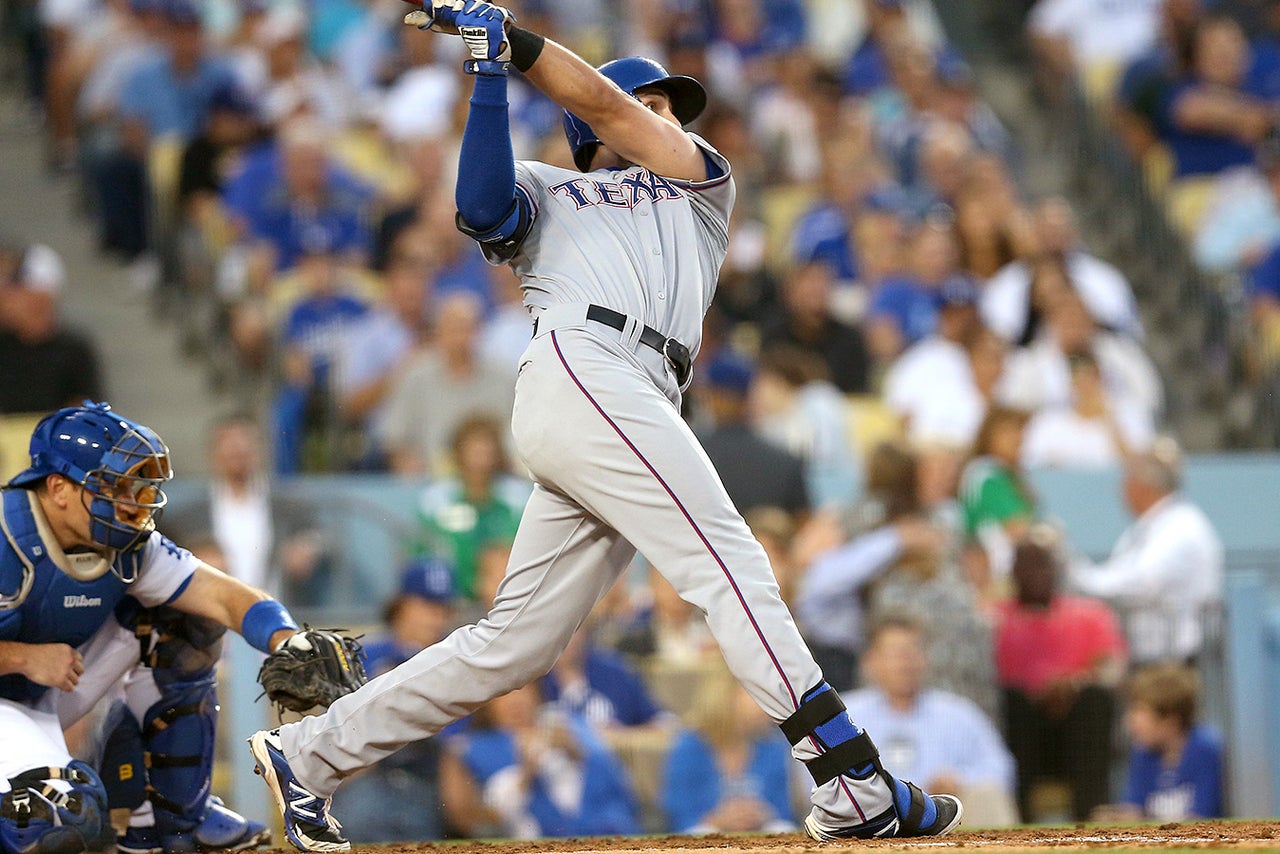 Like many free-swinging sluggers, it's either feast or famine for Joey Gallo -- home run or strikeout. In his first confrontation with Clayton Kershaw, the Texas Rangers' 21-year-old rookie fanned twice against the reigning NL MVP and hit a very long two-run homer in between.
Prince Fielder also went deep to help Texas beat the Los Angeles Dodgers 5-3 on Monday night as the teams switched venues following back-to-back home wins by the Rangers.
Kershaw gave up a leadoff single in the third inning to opposing pitcher Wandy Rodriguez, then struck out his next two batters before Gallo drove a 1-1 pitch more than halfway up the right-field pavilion for a 3-0 lead.
The homer was the fifth for Gallo, who earlier this month became the first player in franchise history to homer in each of his first two big league games. This was his first one on the road.
"I didn't know what to expect. I was just looking for something I could just put any kind of barrel on," Gallo said. "He threw a slider the pitch before and I got a pretty good look at it. Then he threw it over the plate and I was able to square it up, but it wasn't easy."
Rodriguez (4-2) shrugged off leadoff doubles by Yasiel Puig and Scott Van Slyke in each of the first two innings to win his third straight decision in a span of six starts. The left-hander is 4-0 with a 2.28 ERA in seven starts on the road.
Keone Kela pitched a hitless ninth for his first major league save. Regular closer Shawn Tolleson got the night off following three consecutive appearances.
Kershaw (5-4) allowed four runs and five hits through six innings and struck out 10 after going 3-0 with a 0.94 ERA over his previous four starts. It was the first career appearance against the Rangers for the three-time Cy Young Award winner, who was born in Dallas.
"This is probably the most frustrating game that I've pitched in a long time, all things considered," Kershaw said. "It was just a lot of frustration built up, for sure."
With outfielders Josh Hamilton and Delino DeShields both on the disabled list, Texas manager Jeff Banister gave Gallo his second start in left after 11 starts at third base and one as the designated hitter. Gallo had trouble tracking a flyball to the warning track by Adrian Gonzalez in the third, but turned himself around just in time to make the putout.
Fielder, originally scheduled to get the night off against Kershaw with the Rangers playing without the benefit of a DH, made his 11th start at first base because Kyle Blanks had inflammation in both Achilles tendons.
Fielder led off the second with a double and scored from third on an unconventional fielder's choice. Rougned Odor's Texas Leaguer dropped in front of center fielder Chris Heisey, and Adam Rosales was forced at second base after playing it halfway.
Fielder led off the ninth with his 299th career homer on a 3-0 pitch from Josh Ravin, who one night earlier allowed a game-ending homer in the ninth to Robinson Chirinos in the Rangers' 3-2 victory.
It was the fifth time in his career that Fielder homered after getting the green light on 3-0.
"I think I have it pretty much anytime I want," he said.
The Rangers added a run in the fourth with the help of a wild pitch and a balk by Kershaw. Odor's RBI single made it 4-0.
Van Slyke, in his first game off the disabled list, hit a two-run homer during the Dodgers' three-run sixth. Kike Hernandez followed with a double, and Rodriguez snared a line drive by A.J. Ellis before giving up an RBI single to pinch-hitter Alex Guerrero on his 92nd and final pitch.
TRAINER'S ROOM
Dodgers: Van Slyke had missed 17 games because of inflammation in his back. ... RHP Chris Hatcher was placed on the 15-day DL, retroactive to June 15, because of an oblique strain on his left side.
UP NEXT
Rangers: RHP Anthony Ranaudo (0-1) will be recalled from Triple-A Round Rock on Thursday to make his second spot start of the season, giving everyone in the regular rotation an extra day of rest. On April 15, Ranaudo gave up six runs and six hits in 1 1-3 innings of a 10-2 home loss against the Angels.
Dodgers: RHP Zack Greinke (5-2) is 0-2 in his last seven starts despite a 2.28 ERA. The Dodgers scored fewer than three runs in five of those games, including last Saturday's 2-1 loss at San Diego, when the 2009 AL Cy Young Award winner went the distance for the first time this season.
---
---