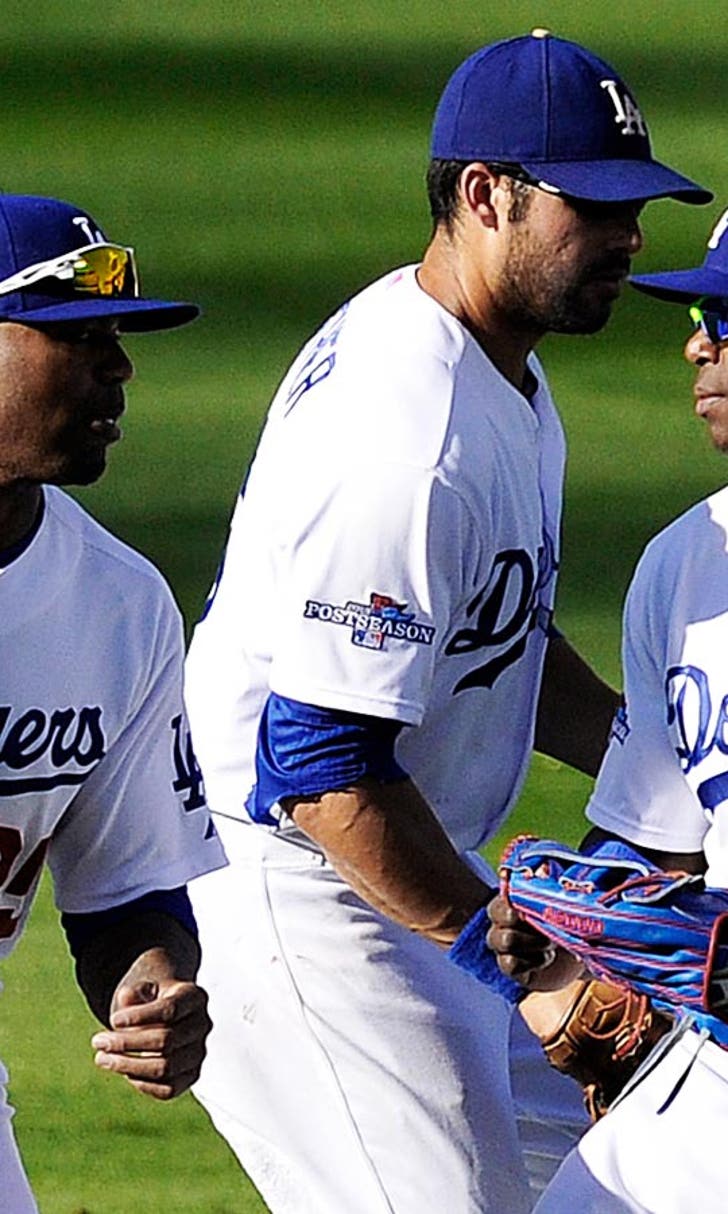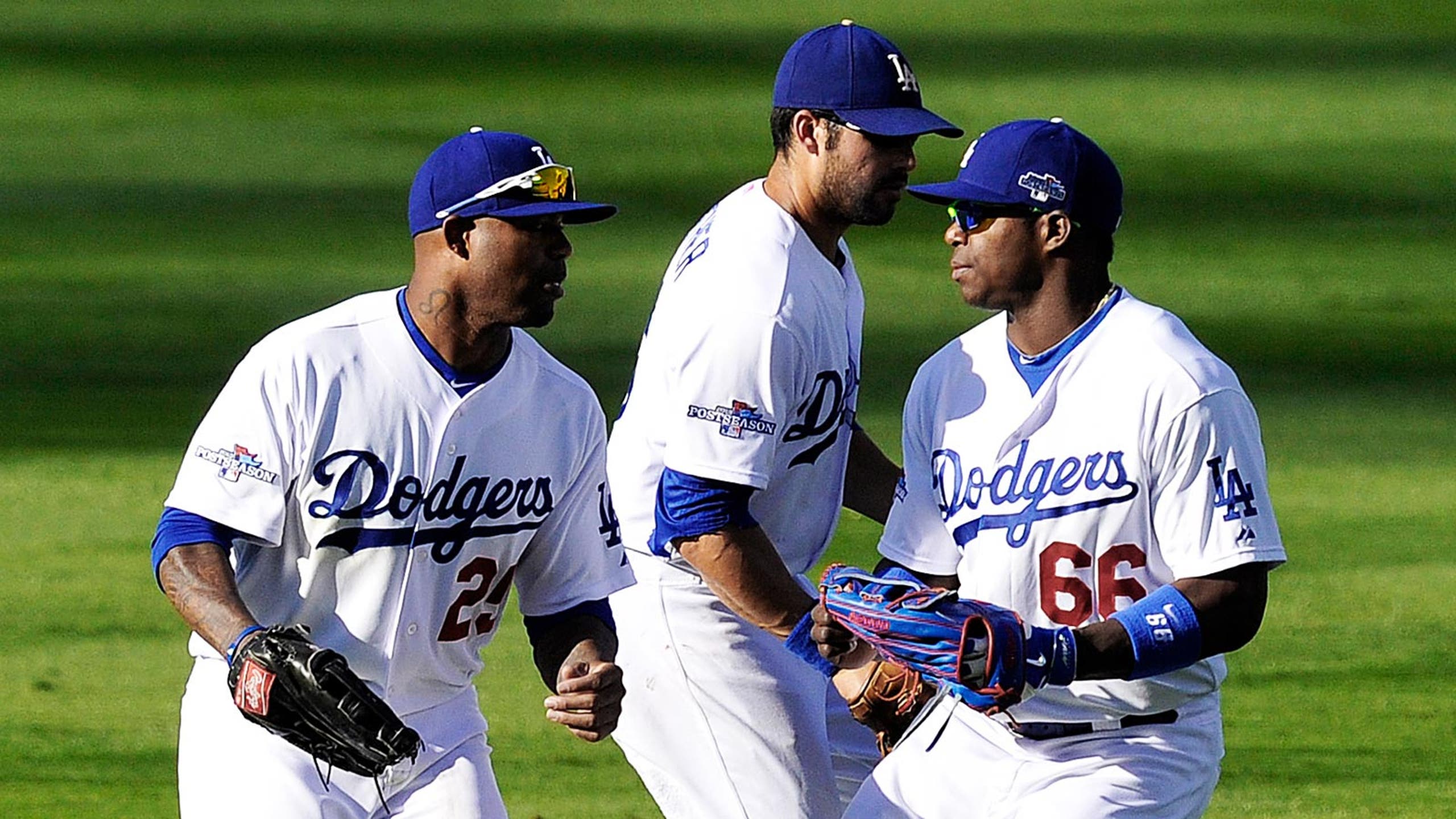 Four outfielders will benefit players, Dodgers in long run
BY Gabe Kapler • February 21, 2014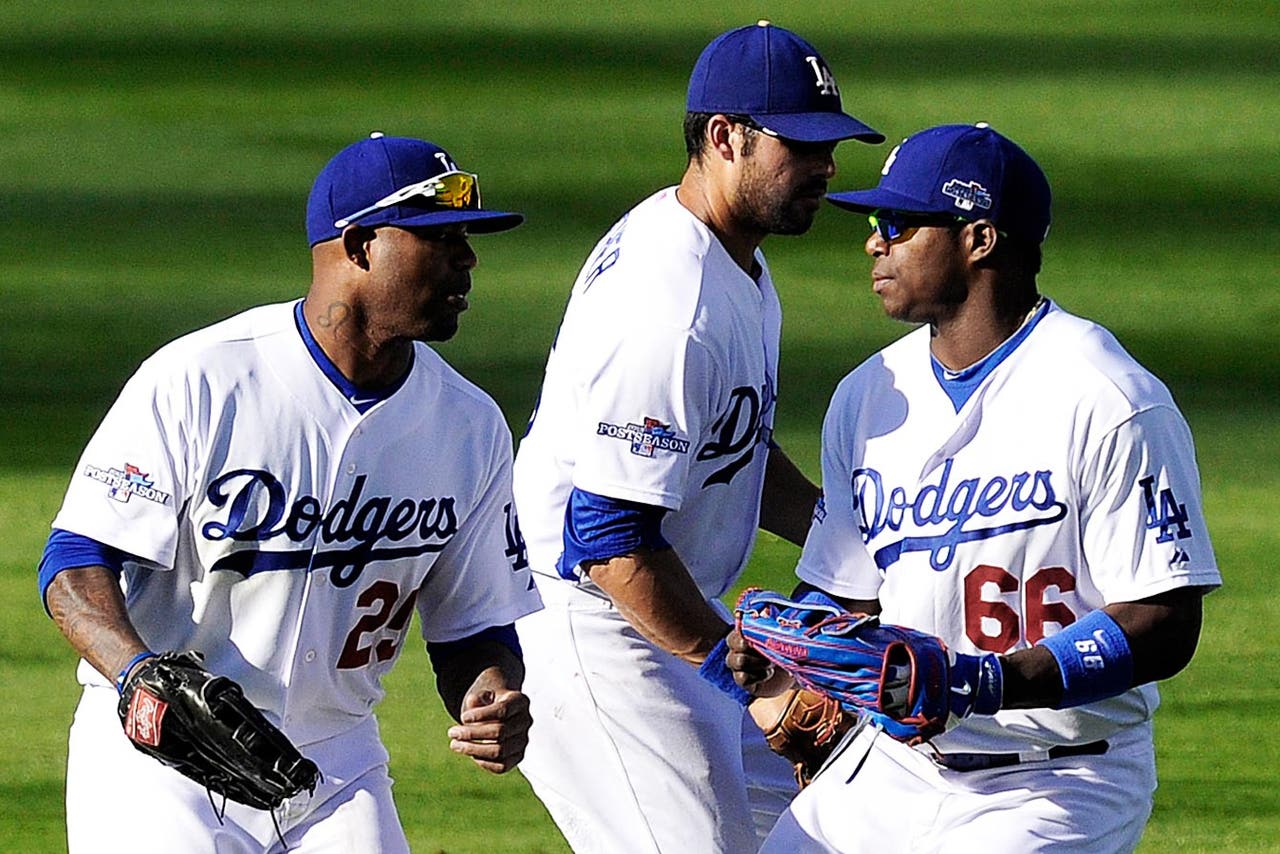 The Los Angeles Dodgers outfielders have nothing to fret about. There are plenty of games to go around for all four of them.
Over the course of the last three seasons, Andre Ethier has averaged 142 games, Matt Kemp 113, and Carl Crawford 92. I'll assume that Yasiel Puig will play the average of the three veterans at 116.
Is it fair to project a few more games for Puig? Perhaps. However, given his propensity for getting nicked up last year and the fact that he reported to camp at 251 pounds, 16 pounds heavier than he was at the end of last season, it wouldn't be unreasonable to assume fewer games.
There are 486 regular-season games for the four men, meaning each can start 121.5 games. If they each play their projected number of games, they still can't quite fill the sum.
"The team's made a financial commitment to all of us," Ethier said on Friday. "If, all of a sudden, a guy says he's happy accepting that kind of role, wouldn't you as a fan say, 'He's happy being complacent?'"
In 2011, Kemp was the NL MVP runner-up and has been on record as saying he's nobody's fourth outfielder.
I played with Carl Crawford, I know his personality and competitive nature and he doesn't need to be publicly quoted for me to know he won't be fulfilled with a part-time label.
Puig is the most deserving based on last year's athletic display, his physical tools and a perceived, projected improvement to acquire the most starts.
The depth that the Dodgers have created with their current outfield situation isn't just best for the Dodgers, it's best for this quartet.
When Don Mattingly makes out the lineup cards days in advance, he'll do so with more information at his fingertips than skippers boasted 10 years ago.  Mattingly will be armed with data similar to what's featured on a site like brooksbaseball.com that will help him determine how a pitcher like Michael Wacha of the Cardinals might attack the strike zone. Mattingly can then deduce that in October of last year, Wacha used his changeup 25 percent of the time and didn't throw one cutter.
Mattingly's next step might be determining which of his foursome has the least success vs. the changeup. In 2013, Puig  carried a 63 percent swing rate at off-speed pitches out of the zone, Crawford 46 percent, Ethier 47 percent and Kemp 33.
Now, there are mounds of data to pour through, this is the tip of the iceberg. But only hypothetically, Mattingly might use this information to rest Puig against Wacha. If I'm the Cards' young arm, I know I'm going feed the wild horse a steady diet of changeups below the zone and off the plate.
This helps the Dodgers field their best offensive lineup, theoretically giving them a chance to plate more runs, thereby improving their chances of winning that game.
It allows the big-bodied Puig to take a blow and relax, getting ready for the right pinch-hitting or running situation. Ultimately, it may help the players' bottom line. At year's end, fewer at-bats weighted in favor of the pitcher could mean a higher on-base, slugging percentage, K/9, wOBA, etc. ... ultimately helping Puig appear more valuable when he gets to arbitration or free agency.
As a member of the Boston Red Sox and Tampa Bay Rays, I was the full-time, fourth outfielder. Grady Little, Terry Francona and Joe Maddon started me several times a week against pitchers, mostly left-handed, that I'd have the best opportunity to beat up.
This allowed me to stay much healthier than I did when I played every day for the Rangers and the Detroit Tigers prior. I then realized how valuable I became as a platoon player in 2008 and '09 when put in precisely the right situations.
In those games, over the course of those two years against left-handed pitching, I was slightly more productive offensively than Miguel Cabrera, posting a .405 wOBA to Miggy's .402. Was I on his planet overall? Of course not! But that's the beauty of having the right group of outfielders to mix and match.
Even then, I knew I'd have no chance to earn as many starts as each of the Los Angeles outfielders will be blessed with in 2014. Those guys must and will get their plate appearances.
You see, the Dodgers want the outfield quartet to understand that what is in the best interest of the club's arriving at the World Series in late October may also be in the selfish interest of the players long term.
---
---